SpaceX considers South Texas for private launch site
BY STEPHEN CLARK
SPACEFLIGHT NOW
Posted: April 10, 2012


SpaceX is examining a prospective launch site in South Texas for commercial Falcon rocket missions and testing of reusable suborbital boosters, but the company has not made the final selection of a location for a privately-owned launch base, a company spokesperson said Tuesday.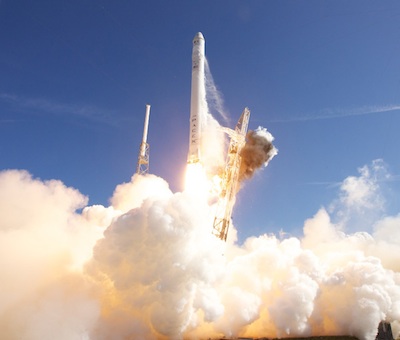 File photo of a Falcon 9 launch from Cape Canaveral, Fla. Credit: SpaceX/Chris Thompson

The Federal Aviation Administration issued a notice it will prepare an environmental impact statement for the site, which is located in Cameron County, Texas. The notice was published in the Federal Register on Tuesday.
If built, the facility would host up to 12 launches per year, including flights of SpaceX's Falcon 9 and Falcon Heavy launch vehicles and tests of reusable suborbital rockets, according to the FAA notice.
The notice says the proposed launch site would be on privately-owned land and consist of a vertical launch area and control center. It is located adjacent to the eastern terminus ot Texas State Highway 4, about 3 miles north of the Mexican border, 5 miles south of Port Isabel and South Padre Island, and 20 miles east of Brownsville.
"SpaceX is considering multiple potential locations around the country for a new commercial launch pad," said Kirstin Brost, a SpaceX spokesperson. "The Brownsville area is one of the possibilities."
Elon Musk, SpaceX's founder and CEO, told Spaceflight Now in November the company is evaluating commercial launch sites in Florida, Texas, Hawaii and Puerto Rico.
The commercial launch facility needs to be on U.S. soil to comply with arms export regulations, Musk said.
SpaceX has an operational launch pad at Cape Canaveral Air Force Station, Fla. A launch pad for polar-orbit Falcon launches is under development at Vandenberg Air Force Base, Calif. Both facilities sit on retired pads used by the Titan 4 rocket.
"The Cape and Vandenberg are great for U.S. government launches, but not well optimized for commercial," Musk said in November. "Just as it makes sense to use commercial airports for commercial air flights, I think the same principle applies to rockets."
SpaceX says launches for government customers would continue to occur from Cape Canaveral and Vandenberg.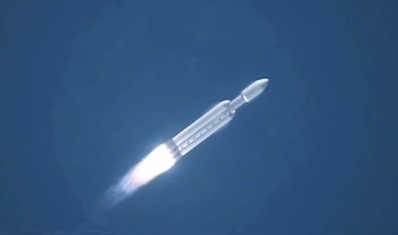 Artist's concept of a Falcon Heavy rocket. Credit: SpaceX

SpaceX has not set a date for the opening of a commercial launch base, but construction of a new site would take several years. The FAA notice did not include a timeline for the completion of the environmental impact statement.
Launches from the proposed Cameron County base would fly east over the Gulf of Mexico, according to the FAA.
"Operations would consist of up to 12 launches per year with a maximum of two Falcon Heavy launches," the notice said. "All Falcon 9 and Falcon Heavy launches would be expected to have commercial payloads, including satellites or experimental payloads. In addition to standard payloads, the Falcon 9 and Falcon Heavy may also carry a capsule, such as the SpaceX Dragon capsule."
Powered off the ground by 27 liquid-fueled Merlin engines, the Falcon Heavy is scheduled to launch as soon as 2013 on a test flight from Vandenberg. Fully fueled and assembled for launch, the Falcon Heavy will weigh 3.1 million pounds and stand 227 feet tall, according to SpaceX.
The Falcon 9 rocket has successfully launched twice, and its third flight is scheduled for no earlier than April 30 with a Dragon spacecraft bound for the International Space Station.
Suborbital flights at a commercial site could include SpaceX's Grasshopper vehicle, a testbed for a reusable orbital launcher. The Grasshopper will fly initial low-altitude missions from SpaceX's rocket testing grounds in McGregor, Texas, between Dallas and Austin.
Gwynne Shotwell, SpaceX's president, declined to comment in an interview last month on when Grasshopper flights could begin.