Parachutes for Boeing crew capsule tested over Nevada
BY STEPHEN CLARK
SPACEFLIGHT NOW
Posted: April 3, 2012


Boeing dropped a mock-up of its CST-100 commercial crew capsule over the Nevada desert Tuesday, successfully testing the craft's three main landing parachutes, the first in a series of demonstrations to prove the design of the vehicle's landing system.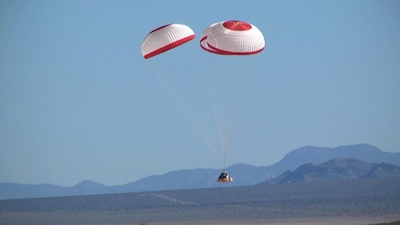 Credit: Boeing

An Erickson Sky Crane helicopter hoisted the capsule to an altitude of about 11,000 feet and released it, according to a Boeing press release.
"Three main parachutes deployed to slow the capsule's descent before six airbags inflated, providing a smooth ground landing," the company said in a statement. "The event was the first drop test of the fully combined vehicle landing system, including all elements."
The drop test occurred at the Delamar Dry Lake near Alamo, Nev., a former emergency landing site for the X-15 rocket plane. Crewed flights of the CST-100 will initially return to Earth at White Sands Missile Range, N.M.
"This successful test is a tremendous milestone that brings Boeing one step closer to completing development of a system that will provide safe, reliable and affordable crewed access to space," said John Mulholland, vice president and program manager for Boeing commercial programs.
The CST-100 spacecraft, which has a diameter of about 15 feet, is big enough to carry up to seven astronauts to and from low Earth orbit. Boeing is developing the CST-100 with a financial investment from NASA.
The space agency will pay Boeing up to $112.9 million under a Space Act Agreement signed last year. NASA pays the company as it accomplishes key milestones in the vehicle's development. The successful completion of the parachute drop test campaign will trigger a $4.8 million payment from the government, according to the accord.
Boeing completed the CST-100 preliminary design review March 12, a significant milestone in the development of a spacecraft. A series of firings of the capsule's launch abort engine was finished March 9, a step that prompted a $10 million payout from NASA.
Before the parachute drop test demo, NASA had paid Boeing approximately $85 million, more than three-quarters of the $112.9 million agreement.
Bigelow Aerospace, a Las Vegas-based firm designing a private space station, is partnering with Boeing on the CST-100 vehicle. Bigelow Aerospace built the test article used Tuesday.
NASA's second round of commercial crew development, or CCDev 2, agreements are designed to mature spacecraft systems before entering the next phase of the program, which aims to complete the design and begin testing of integrated spacecraft and launch vehicles.
The four companies with CCDev 2 agreements - Boeing, Sierra Nevada Corp., SpaceX and Blue Origin - will finish their assigned work this summer.
NASA is seeking a commercial provider to provide transportation for International Space Station crews by 2017.
Boeing says another parachute test later in April will demonstrate the system's drogue chutes, which were not part of Tuesday's drop.
Landing air bag tests are on tap for May, and a heat shield jettison test is scheduled for June. A hotfire of the capsule's orbital maneuvering and attitude control engine is also expected in June, according to Boeing.