Senate appropriators offer rebuke of commercial crew
BY STEPHEN CLARK
SPACEFLIGHT NOW
Posted: April 2, 2012


Unhappy with delays, shifting contracting strategies and a proposed budget increase, lawmakers took aim on NASA's commercial crew initiative last week in a continuing narrative of questioning as the agency fights to maintain the program's relevance.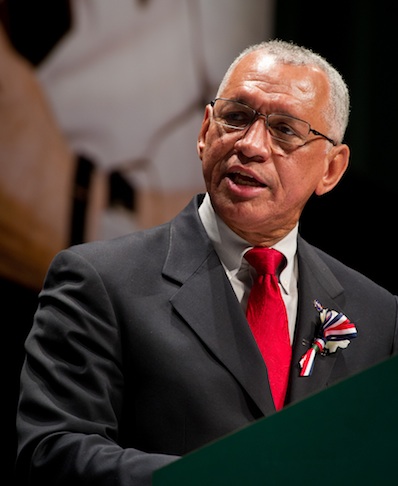 File photo of NASA Administrator Charlie Bolden. Credit: NASA/Bill Ingalls

Some legislators, fearing job losses in their constituencies, have viewed the commercial crew program with skepticism since it was announced as NASA's near-term strategy for human spaceflight when the Obama administration canceled the behind-schedule Constellation moon program in 2010.
NASA Administrator Charles Bolden testified before the Senate appropriations subcommittee for commerce, justice and science March 28, fielding questions and criticisms from lawmakers of both parties.
"I happen to support the commercial endeavor for both cargo and crew," said Sen. Barbara Mikulski, D-Md., chairwoman of the subcommittee responsible for drafting a Senate version of NASA's budget. "I think it's bold and I think it's promising, but I'm concerned that it's behind schedule."
Congress cut NASA's fiscal 2012 commercial crew budget request by more than half, appropriating $406 million to the program for the fiscal year ending Sept. 30. The budget forced NASA to abandon its procurement strategy in the next phase of the program and return to Space Act Agreements, a more flexible, less rigid mechanism to partner with commercial providers.
Instead of signing contracts with the companies developing spacecraft and rockets to carry humans into orbit, NASA will make roughly two-year agreements to fund industrial work without the level of insight gained in traditional federal contracts.
Companies in the next stage of the program, due to begin in late summer, will finish the design and much of the development of human-rated launchers and spacecraft, leading to flight tests by mid-decade.
But because of the funding hit in fiscal 2012, the start of manned commercial flights to the International Space Station will likely not begin until 2017. Until then, NASA will purchase round-trip flights for U.S. astronauts on Russian Soyuz capsules.
While engineers believe the space station can last much longer, the program's five international partner agencies have only committed to keep the complex operating until 2020.
Phil McAlister, head of NASA's commercial spaceflight office, has said any more delays in the start of U.S. domestic crew service to the space station would raise questions about the viability of the commercial crew strategy. Without NASA's $830 million request to fund the program in fiscal 2013, officials say the 2017 date will undoubtedly slip again.
"We've extended the life of the space station to 2020," Mikulski said. "Isn't this a hell of a lot of money for a three-year effort?"
"I don't limit it to 2020," Bolden replied, adding "to fly it beyond that ... requires approval of all the international partners."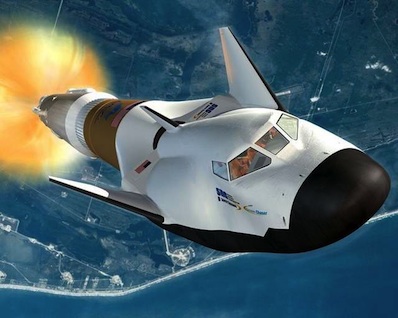 Artist's concept of the Dream Chaser space plane, a craft being designed by Sierra Nevada Corp. The spacecraft would blast off on a United Launch Alliance Atlas 5 rocket. Credit: Sierra Nevada Corp.

Sen. Kay Bailey Hutchison, R-Texas, accused NASA and the White House of reneging on an agreement made with Congress in the fall of 2011 stating the agency's top three priorities: Exploit the International Space Station, develop the Space Launch System and Orion spacecraft for deep space exploration, and complete construction of the James Webb Space Telescope, the $8.8 billion successor to Hubble.
Hutchison said NASA was diverting funding from the SLS and Orion programs, which are geared for human expeditions to the moon, asteroids, Mars and other deep space destinations, in favor of commercial transportation to low Earth orbit.
Bolden and Hutchison traded similar remarks in a March 7 hearing before another Senate committee. The Johnson Space Center in Houston is headquarters for the NASA's Orion program.
Hutchison noted the level authorized by Congress is $500 million, significantly less than the $830 million requested by the White House for fiscal 2013.
"This is being asked for without any type of independent cost verification for the program, and at $830 million, exceeds the authorized amount by $330 million," Hutchison said, recommending NASA "go back to the drawing board and support commercial crew in a fiscally responsible way."
Bolden said some funding can be taken from the Space Launch System and Orion programs because work is progressing well in those areas. Congress provided more funding than requested for SLS and Orion in fiscal 2012, while cutting the proposal for commercial crew.
Hutchison urged Bolden to select no more than two companies to receive federal funding in the next phase of the commercial crew program. NASA officials want to keep multiple companies in the running to build crew spacecraft as long as possible to foster competition and suppress costs.
NASA plans to award each winner in the CCiCap, or commercial crew integrated capability, phase between $300 million and $500 million by late summer, expecting providers to finalize their rocket and spacecraft designs by mid-2014.
"It's the first time we've asked industry to sign up to a full-up end-to-end cost and schedule," McAlister said in a March 12 interview. "We want to know what it's going to take to get to the end game, and how fast do you think you can get it?"
Up to now, commercial firms have received government funding to develop and test subsystems, build ground test vehicles and formulate designs.
NASA projects it will cost the federal government $5 billion or $6 billion to help fund at least two commercial partners through development. The cost estimate does not account for operational crew rotation services.
"If we provided the authorized level for this year for commercial crew, and add the funds from last year that have yet to be spent, NASA would have over $900 million available for commercial crew selections," Hutchison said. "That amount of funding fits within NASA's stated estimated cost of $300 million to $500 million per commercial crew entrant if two are selected. If you adhere to three or four, you are going to go over the budget, you're going to continue to cut back on Orion and the launch vehicle, and it's going to mean that our long-term future is jeopardized."
Sen. Richard Shelby, R-Ala., echoed Hutchison's questioning. Alabama is home to the Marshall Space Flight Center, the facility in charge of NASA's Space Launch System.
"When is this administration going to get the message that the Congress," Shelby asked, "is not willing to subsidize so-called commercial vendors at the expense of NASA's core mission of engineering and exploration?"
"I would caution everyone to be somewhat resistant to talk about delays," Bolden said. "We would much rather see them delay than to fly and fail, because we cannot use a failed system."