Part 2: Q&A with Arianespace CEO Jean-Yves Le Gall
BY STEPHEN CLARK
SPACEFLIGHT NOW
Posted: March 22, 2012


Spaceflight Now recently sat down for lunch with Arianespace chairman and CEO Jean-Yves Le Gall, who offered his views on Arianespace's position in the commercial launch market, pricing trends, and the future of the Ariane rocket family.
Here is part two of our discussion.
Question: Can you talk about the future of the dual-launch strategy? Do you have any problems with satellite availability and matching payloads?
Le Gall: For today, this strategy obviously works. We've never delayed any satellite because we didn't have a co-passenger. We have enough satellites. Today, in our order book, we have 33 satellites to launch. Out of these 33, we have about half in the class of 3 tonnes, and half of them in the class of 5-to-6 tonnes. Those are a perfect fit. After that, we discuss with our customers. If you look at this year, we have enough pairs to sustain seven launches of Ariane 5, including the ATV.


Question: Have you had to change the way you finance your company or the way you do business because of the weakening euro, and the chance it may perhaps unravel?
Le Gall: It is clear that the exchange rate between the euro and the dollar is an issue for us. We are always implementing a hedging policy in order to minimize the bad effects of changes in the euro-dollar [exchange rate]. But it is clear also that since the launch prices are in dollars and our costs are in euros, we do prefer a situation when the euro is not too strong. For the global European economy, it's not so bad to have a strong euro. But today, we are within a world where the exchange is about 1.3 [dollars to euros]. Of course, we would prefer if it was 1.2. We have implemented some hedging tools in order to avoid effects on our business of quick changes in the exchange rate between the euro and the dollar.
Question: In terms of your business, we're having some economic problems in Europe because of the sovereign debt crisis. That affects many governments. Many governments in Europe, of course, fund their space programs. Have you seen a ripple effect on Arianespace business yet?
Le Gall: It is clear there are budget problems in Europe. Budget problems may delay some government-funded projects, but by chance, we are much more active on the commercial market than the government market. But it will also create some questions when funding new Ariane developments. In spite of this very tough economic situation, all European governments are still favor of funding space policy.
Question: With orbital debris, there is more and more congestion. Has it become much of an issue for launchers like Arianespace where you have concerns about debris affecting missions?
Le Gall: No, we have concern about debris. But the only thing we have to do is to avoid creating new debris. From this point of view, our launchers are clean. That means we won't create much debris in optimizing all the missions and avoiding having exploding parts and so on.
Question: One area that we had to work with you on was the hosted payload arena. How has it affected your business thus far and what are your projections going forward?
Le Gall: We launched last year a hosted payload, which was the CHIRP payload on the SES 2 satellite. It is clear that hosted payloads makes this business more robust. We welcome hosted payloads because, in some ways, it transfers from the government market, and we are not in this government market, to the commercial market. The figure which impressed me a lot in the launch of the CHIRP hosted payload in French Guiana is that an official from the U.S. government explained that the cost of this payload in orbit is 15 percent, six times lower, than if it was a dedicated U.S. satellite. So, in my opinion, it's very good because it's less business for companies which work directly with the U.S. government. At the same time, I do not think that if CHIRP had not been a hosted payload, the U.S. government would have had enough money to fund a dedicated satellite. But for us, it's a transfer to the commercial business. We see that some commercial satellites would never exist without hosted payloads.
Question: In terms of the relations between the French, and the Europeans overall, and the U.S., is there enough of a strong bond among allies to basically compete for U.S. government missions effectively against U.S. launchers?
Le Gall: Today, we have a very strong point in our offering, which is the Guiana Space Center, which offers all the guarantees to launch U.S. military payloads. We have excellent security conditions. We launch many defense satellites. I think, for us, this is probably the best argument in favor of launching hosted payloads, or even U.S. military satellites, from French Guiana.
Question: Going back to dual-launch, in last year's annual report, Arianespace said it may need to rethink that strategy or make technical and economic adjustments to preserve it. Have you made any such adjustments to ensure the viability of that strategy going forward?
Le Gall: I met many of our customers yesterday and this morning, and they stick to what we call the two sweet points, which are satellites around 3 or 3.2 tonnes and satellites around 6 tonnes. This is for a very simple reason. They do not want to have a satellite which can be launched only by one launcher. So the Proton today, with the same approach as Ariane, has a performance which is about 6.2 tonnes. It means that customers do not want to go beyond 6.2 tonnes because even though today we are very successful, if they order the satellite which was 7 tonnes, and tomorrow there is a problem with Ariane, they must stick with Ariane and they cannot be launched. They want to continue to have satellites which can be launched by either Ariane or Proton. It means that the ceiling of mass is 6.2 tonnes, even if there is a discussion between a customer and a manufacturer to increase to 7 tonnes or 7.5 tonnes. At the end of the day, when you have a business plan and you give weight to the risk if you can be launched only by Ariane, people move back and settle on 6.2 tonnes. Between 3.2 tonnes and 6.2 tonnes, we have today a launch vehicle which has a performance of 9.5 tonnes. We can cope with satellites on the market today.
Question: On the medium end of that scale, in the 3.2-tonne range, do you see much growth in that mass?
Le Gall: Not so much. There were some ideas to grow because of SpaceX proposing a capacity of 4 tonnes or something like that. But now SpaceX is not very credible.
Question: What's your feeling about SpaceX? You said it's not credible.
Le Gall: I think that, to be credible, SpaceX will have to perform a number of successful launches, and after that, we will see. But today, we don't see so many launches.
Question: How many would they have to do?
Le Gall: I don't know, but let's say five or six, or something like that.
Question: When would you like to see an Ariane 5 replacement?
Le Gall: I think that whatever the European governments decide, either to upgrade the Ariane 5 or to develop from scratch a new launch vehicle, it will seven to eight years. That means about 2020.
Question: That is assuming there is a decision this year.
Le Gall: Right, at the end of this year there is a ministerial meeting of the ESA Council. If there is a decision, it will be for a first flight in 2020, 2018, or 2019.
Question: Would it be a specific replacement or a supplement to Ariane 5?
Le Gall: In both cases, it will be the same.
Question: Would you be looking for something that has the same performance as Ariane 5?
Le Gall: No, in fact, if there is an upgrade of Ariane 5, it will be with extra capacity, probably with 1.5 or 2 extra tonnes. If it is an Ariane 6, people speak about a launcher which will be around 6 tonnes. I think we still have to wait a few months because there are different points to be considered before choosing this new launch vehicle, and that is the discussion in Europe.
Question: What kind of cost would you estimate is needed to develop a new rocket, and what specific performance metrics would you want to improve?
Le Gall: I've heard a cost of about a few billion euros. As for the performance, it's about 6-to-6.5 tonnes.
Question: Compared to what for a single launch?
Le Gall: Ariane 5 today does not perform single launch, just dual-launch. If there is an option to upgrade Ariane 5, it will be by a few tonnes. If there is an option to develop a new launch vehicle, it will be a launch vehicle in the range of 6 tonnes.
Question: For single or dual launches?
Le Gall: For single launches.
Question: Would you replace the Ariane 5 or would you continue to use that?
Le Gall: I don't know. It's too long-term.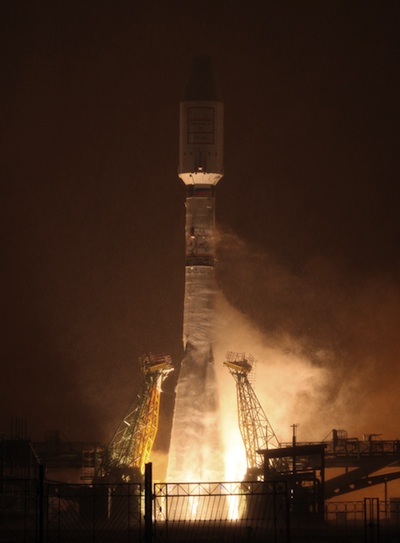 File photo of a Soyuz rocket launch. Credit: Arianespace

Question: Could you share your thoughts on some of the more recent entrants to the launch vehicle family, particularly with the new Angara comes online or when the new Long March family comes out, or the Indian launchers?
Le Gall: You see, all these people have many projects. But in this business, projects are existing when you start to launch. Let us wait for the first launch. When I arrived in this business 10 years ago, we already spoke about the first flight of Angara. That was 10 years ago. We didn't see any flights. And the next Long March? We'll see. But today, the Long March is mostly out of the market due to the ITAR regulations.
Question: Will that change anytime soon?
Le Gall: It doesn't seem to be that will be a trend.
Question: If the ESA Council decides on the development of a new launcher, which would preclude you from doing dual-launches in the distant future, what would that do to your competitiveness?
Le Gall: I'm not comfortable speaking about Ariane 6 too much yet. It is not yet the business of Arianespace. It is now the business of the European Space Agency, and there are changes every week because we are in a process where people think and try to adapt. We will rendezvous at the end of the year at the ministerial conference, and a decision should be taken then. Today, we see the two options, and upgrade of Ariane 5 or a new launch vehicle. Once you decide on those, you can say much more.
Question: You said five commercial Soyuz this year?
Le Gall: Five this year, yes. Two from Baikonur: MetOp and Globalstar. And three from French Guiana.
Question: Do you have payloads for the French Guiana flights?
Le Gall: One is Galileo, the other one will be the second Pleiades satellite for CNES, and the third one, we still have to see what we will put on it.
Question: How much availability is there in the manifest for 2013?
Le Gall: 2013? We could find some room because we launch two payloads for each mission, and there are delays in satellite availability, so if someone comes to us and says they would like to have a slot in mid-2013, we would probably find it.
Question: How is the business going? Is it a good profitable business now in the launch industry, or is the pricing so competitive that it's hard for anybody to make a profit?
Le Gall: Everywhere in the world, this industry is subsidized. Even companies who say they are completely private, they receive hidden subsidies. These are the rules of the game, and I think today the commercial guarantors are lucky because they have launch prices which are, in one way or another, subsidized by the government, either in Europe, in the U.S., in Asia, in China, and so on. If tomorrow, we had a real private company who would have to pay everything since the beginning of development through in-orbit delivery, the prices of launchers would be much higher.
Question: Do you see SpaceX as totally private?
Le Gall: SpaceX is a completely private company, but they receive huge contracts from the U.S. government.
Question: What is Arianespace's involvement in the Liberty project?
Le Gall: Liberty is a nice use of technology developed for Ariane and the space shuttle. This project is made by ATK in the U.S. and Astrium in Europe, and if this project finally exists, Arianespace will bring its expertise for launch operations. I want to remind you that this project, Liberty, today is funded by the companies. They did not get a single dollar from NASA.
Question: Is there any discussion about who will administer the launch services for Liberty?
Le Gall: We will see. If this project exists, it is clear that Arianespace has the expertise of launch operations. But we will see, if this project goes forward, who will manage that.
Question: What range are your prices now for launches?
Le Gall: We are about the same level of price as Proton, or not much more expensive. But our quality is much better.
Question: Is that for the total launch service, or per payload?
Le Gall: Per payload.
PREVIOUS PAGE: Le Gall discusses launch prices, economic pressures on spaceflight