SpaceX wins deal to launch satellites for Asia, Mexico
BY STEPHEN CLARK
SPACEFLIGHT NOW
Posted: March 13, 2012


WASHINGTON -- Two SpaceX Falcon 9 rockets will launch four communications satellites with innovative electric propulsion systems for Asia Broadcast Satellite and Satmex in 2014 and 2015, securing another commercial launch deal for the private U.S. booster, the company announced Wednesday.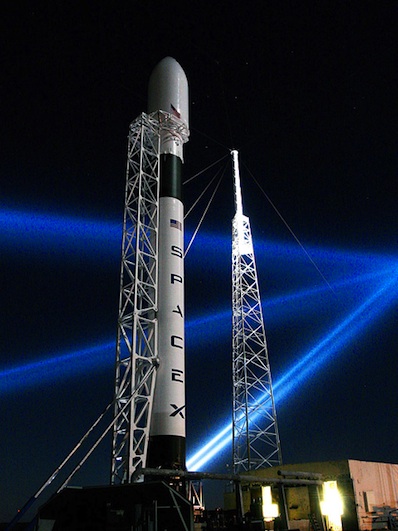 File photo of a Falcon 9 rocket. Credit: SpaceX

Boeing Co. will build the four satellites, which will feature an all-electric propulsion system that does not use conventional chemical fuels.
"This announcement marks SpaceX's first launch contract in Mexico," said Elon Musk, SpaceX's CEO and chief technology officer. "It is also the second launch contract in Asia that we have signed in the last month. Asia and Latin America represent two of the world's hottest markets for commercial satellite operators. SpaceX is ready to provide them with the solutions they need to add capacity and meet growing demand."
The first two satellites, named ABS-3A and Satmex 7, will launch together in late 2014 or early 2015 from Cape Canaveral, Fla. Each satellite weighs less than 4,000 pounds at launch, according to Diana Ball, a Boeing spokesperson.
The payloads for a second Falcon 9 launch, set for the fourth quarter of 2015, have not been identified.
Each satellite weighs about 4,000 pounds. Without the need to carry tanks full of chemical propellant, the spacecraft can be launched on smaller, less expensive boosters and still retain powerful communications payloads.
It was the first deal for a new line of Boeing communications satellites using the company's Boeing 702SP, or small platform, spacecraft bus.
"This award advances Boeing's commitment to being a full-service satellite provider for both commercial and government customers," said Craig Cooning, vice president and general manager of Boeing space and intelligence systems. "Boeing invested two years in designing the 702SP 'small platform' satellite, which will operate in the 3- to 8-kilowatt power range. This is a natural evolution of our highly successful Boeing 702 product line and enables Boeing to continue its legacy of creating capable, low-risk, flexible designs at affordable prices."
ABS-3A will provide C-band and Ku-band services over the Atlantic Ocean, while Satmex 7's hybrid C-band and Ku-band payload will cover Latin America.
"Over the past decade, we have seen launch prices increase dramatically, making access to space out of reach for many programs," said Tom Choi, CEO of ABS, a Hong Kong-based operator. "As one of the fastest growing satellite operators in the world, ABS requires access to space that combines affordability and lift capacity for our future satellite programs. Together with Satmex, our co-launch partner, we embark upon an innovative prospect of dual launching four medium-powered satellites on two launches on the Falcon 9. We are extremely happy to be working with Satmex and SpaceX to dramatically realign the cost structure of space access in order to bring the affordable capacity demanded by our customers."
The ABS/Satmex deal is SpaceX's fourth launch contract for communications payloads heading to geosynchronous transfer orbit. A Falcon 9 rocket will launch the SES 8 communications satellite for SES of Luxembourg in mid-2013.
Thaicom, an operator affiliated with the government of Thailand, last year reserved a Falcon 9 launch for its Thaicom 6 satellite in 2013. In February, AsiaSat booked two launches for the AsiaSat 6 and AsiaSat 8 payloads in 2014.
Gwynne Shotwell, SpaceX president, said the launches require the development of an upgraded Falcon 9 booster featuring more powerful Merlin 1D engines, generating more thrust and lift capacity for the two-stage launcher.
Shotwell said Wednesday the next-generation Falcon 9 rocket will likely lift off for the first time in early 2013 from Vandenberg Air Force Base, Calif. The mission will place the Cassiope space weather research and communications satellite into an elliptical polar orbit for MacDonald, Dettwiler and Associates Ltd., a Canadian contractor.
The upgraded Falcon 9 launcher should arrive at the Vandenberg launch site in late 2012, according to Shotwell.
SpaceX is outfitting a decommissioned Titan 4 rocket launch pad to house the privately-developed Falcon rocket.
The new version of the Falcon 9 rocket will also feature modified propellant tanks and a 5.2-meter, or 17-foot, diameter payload fairing.
Falcon 9 missions so far have not used a fairing because they have carried Dragon spacecraft, the SpaceX capsule designed to haul cargo to the International Space Station.
This year's Falcon 9 launch manifest will continue with more Dragon missions, including a test flight to the space station set for launch as soon as April 30.