Veteran astronaut to head up commercial space federation
Posted: March 13, 2012


The NASA astronaut holding the single-mission endurance record and spent more time spacewalking than any other American has left the space agency to become president of the Commercial Spaceflight Federation.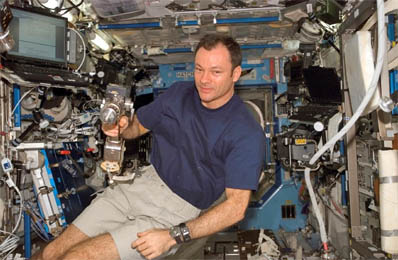 Credit: NASA



Michael Lopez-Alegria departed NASA to head up the advocacy group that has over 40 firms bound together to promote the commercialization of space travel.

"I am honored to accept the position of President of the Commercial Spaceflight Federation. I have been impressed with the all that the commercial spaceflight industry has accomplished and I look forward to joining the team as it continues to take important strides that are fundamental in maintaining our nation's preeminence in space," said Lopez-Alegria.

Lopez-Alegria flew on four missions and performed 10 spacewalks during his career. He most recently served in the Flight Crew Operations Directorate at NASA's Johnson Space Center in Houston as assistant director for the International Space Station.

"Mike has faithfully served the Flight Crew Operations Directorate for many years," said Janet Kavandi, director of Flight Crew Operations at Johnson. "His unique background and diplomatic skills have made him an outstanding FCOD assistant director for space station and lead for the Multilateral Crew Operations Panel. Mike's tireless dedication to the safety and well-being of space station crews is well known. We will miss him and wish him well in his future endeavors."

During his career, Lopez-Alegria logged more than 257 days in space, including 215 days as commander of the Expedition 14 mission to the space station, which stands as the single longest spaceflight by an American. Lopez-Alegria also logged more than 67 hours during his 10 spacewalks, more than any other American, and second only in the record books to Russian cosmonaut Anatoly Solovyev.

"Mike has been a huge asset to the astronaut office during the course of his career," said Peggy Whitson, chief of the Astronaut Office at Johnson. "His contributions in spacewalking, shuttle, space station and Soyuz operations are notable and very distinguished. Personally, we will miss his humor and insights and wish him all the best."

Lopez-Alegria flew on three space shuttle missions. The first, STS-73 in 1995, focused on science experiments. He then served as NASA's director of operations at the Yuri Gagarin Cosmonaut Training Center in Star City, Russia, where he was in charge of American astronauts training for flights to the Russian space station Mir and the ISS. Lopez-Alegria later flew on STS-92 in 2000 and STS-113 in 2002, delivering critical truss elements to the station.

Expedition 14 Commander Lopez-Alegria and his crew launched to the ISS on a Soyuz spacecraft from the Baikonur Cosmodrome in Kazakhstan on Sept. 18, 2006. This fourth and final mission earned Lopez-Alegria the spaceflight record. The crew conducted a seven-month mission to operate, maintain, build and use the station and its science facilities. During the expedition, two uncrewed Russian Progress cargo vehicles arrived and departed the station and a space shuttle assembly mission reconfigured the station's power supply. Lopez-Alegria's mission ended with a Soyuz landing on the Kazakh steppe on April 21, 2007.

Lopez-Alegria was selected for the Commercial Spaceflight Federation position following a vote of its board of directors.

As president, Lopez-Alegria succeeds Rear Admiral Craig Steidle.

Eric Anderson, chairman of the Commercial Spaceflight Federation and chairman of Space Adventures, Ltd., stated, "We are incredibly excited to have someone as capable as Michael Lopez-Alegria leading the Commercial Spaceflight Federation. Michael is a leader and a true pioneer whose first-hand experience with spaceflight and the International Space Station will be invaluable to our members and to the Federation."