What is the International Space Station's weakest link?
BY STEPHEN CLARK
SPACEFLIGHT NOW
Posted: February 29, 2012


Aided by a robust, conservative structural design, officials say they foresee no technical problems keeping the International Space Station from running until at least 2020, but managers have ordered follow-up reviews of several components flagged by a cursory engineering analysis.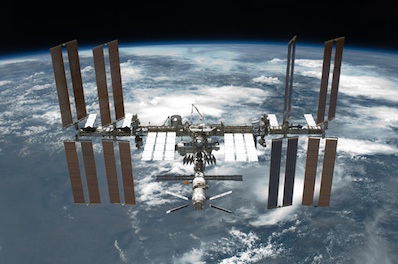 File photo of the International Space Station. Credit: NASA

Engineers are studying the outpost's structural stability and spare parts needs to ensure the orbiting laboratory can continue operating until at least 2020.
Managers ordered the analysis after the space station program was extended five years from 2015. Engineers are also looking at the feasibility of another life extension until 2028, the 30th anniversary of the launch of the outpost's first module.
Mark Mulqueen, ISS vehicle director for Boeing Co., said keeping the station's environmental control and life support systems, or ECLSS, functioning over the next decade will likely be engineers' toughest challenge.
"I don't think it's sparing or the structure to get to 2020," Mulqueen said. "It's probably continued refinement of how we successfuly operate our ECLSS system on-orbit. There has been a lot of effort going into understanding that."
That space station's structural strength is also being studied, with engineers first looking at the lab's oldest components launched before 2001.
"I think we don't really see a major concern," said Mark Mulqueen, the ISS vehicle director for Boeing Co. "We're looking at thermal cycles for another 15 years to understand those impacts on us. We're just crossing T's and dotting the I's to make sure everything is documented. Right now, we're not projecting any controls on operations of station."
But a first-look analysis on the station's U.S. segment showed a few areas needing more attention, according to Mike Suffredini, NASA's space station program manager.
"I think it will be fine," Suffredini said. "Whether we have to do additional analysis, I think we will. The way this works is we do sort of generic enveloping analysis and see how the structure looks, and when we do that, we find some poke-outs."
If problems are discovered and engineers are unable to clear them, NASA can adjust the station's operating regime, add thermal blankets, structural stiffeners or other mitigators to address the issue.
Calling them "areas of interest" rather than problems, Suffredini said engineers are focusing on the zenith, or space-facing, port on the station's Unity module, the connecting adapter between Unity and the Russian Zarya module, and the interface between the outpost's truss backbone and the station's Destiny laboratory.
Russia is conducting its own review of its modules. The station's oldest piece, the Russian-built, U.S.-funded Zarya module, is already cleared through 2030.
The components flagged by the broad engineering analysis will receive closer scrutiny.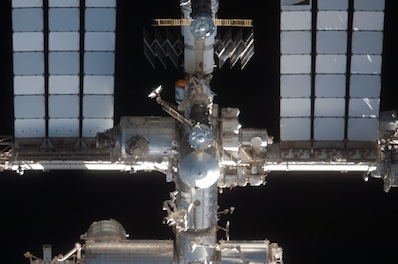 File photo of the International Space Station's Zarya, Unity and Destiny modules, along with portions of the outpost's central truss. Credit: NASA

"What you do is you do very specific analysis then to clear it, and I don't believe today that we'll have any issue when we do the specific analysis of clearing those areas for 2020, but then we'll have to look closer at 2028," Suffredini said.
Dockings of visiting spacecraft, thermal cycles during each orbit of Earth, reboost maneuvers and crew exercise can affect the space station's structural health. Without the ability to inspect the shell of the craft, like airplane engineers would do on Earth, NASA must use computer models to predict how cracks and deformities propagate in space.
"We're counting every orbit, all the docking cycles, and any plume cycles that affect our structure, so we're doing that same cycle-count and understanding if we're using up life faster than what we planned because we increased the cycle-count for some reason, whether it be we're in a different orbit, we're seeing higher dynamic loads going on from the crew, whatever the reason may be," Mulqueen said. "We're counting those cycles and we're tracking them against what the cycle-count was projected to be, then we talk impacts to overall life or we look at operational concerns, but right now there's no operational concerns on the table that we're recommending to NASA to reduce anything."
A Government Accountability Office report in December said 15 areas of the station's port-side P6 solar array truss section no longer meet their 60-year design life.
Launched in 2000, the P6 truss segment and its 240-foot solar arrays were mounted on another truss section on the Unity module's zenith port for nearly seven years, twice as long as designed. The interim location subjected the structure to more extreme hot and cold temperatures than planned.
Astronauts moved the P6 truss to a permanent location in 2007.
"According to program officials, the P6 truss may require mitigation to remain sound through 2020 and potentially beyond," the GAO report said. "NASA is evaluating mitigation processes, such as adding thermal insulation blankets and changing how and where vehicles dock to the ISS, to slow down the rate at which the locations on the P6 truss, as well as the other locations, are expending structural life."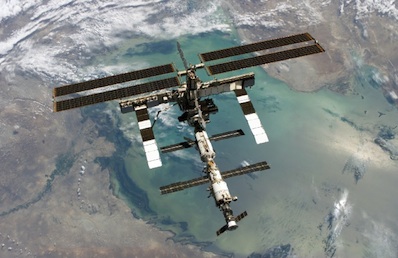 File photo of the International Space Station as it appeared in 2005, with the P6 truss and solar panels in an interim location. Credit: NASA

In an interview with Spaceflight Now, Mulqueen said the P6 truss issue has been resolved, but analysis continues on the Unity, or Node 1, module. Unity is located near the station's center-of-mass, putting additional stress on the module.
"We have been looking at that quite in-depth to make sure we've got adequate life on that module and on that joint where the whole stack stood above station for those number of years, seven years or so," Mulqueen said. "The P6 structure is very robust. It's been in a different thermal environment, and with more radiators deployed, but it's a rather robust structure."
The station's structural components were designed to survive for up 60 years, four times their expected operating life. It is an example of the vehicle's conservative design, which account for significant margins to ensure the station remains safe during many unforeseen events, according to Mulqueen.
Engineers say the retirement of the space shuttle is positive for the station's structure. Every docking of a 100-ton shuttle orbiter shook the station, shaving life from its structure. Without the shuttle, station will use up less life in the next decade.
Arrivals of smaller Russian, European, Japanese and commercial resupply and crew rotation missions do not have as big of an effect on the structure, Mulqueen said.
But the phase-out of the shuttle presents a challenge for managers trying to ensure there are enough spare parts aboard the space station to deal with breakdowns. Mulqueen believes there are enough spares aboard the complex through 2015, and most spare parts needed through 2020 are already on the station.
NASA and international partners plan a steady stream of resupply flights throughout the decade, with regular logistics missions on Russian Progress freighters, Europe's Automated Transfer Vehicle, Japan's H-2 Transfer Vehicle, and commercial U.S. spacecraft under development by SpaceX and Orbital Sciences Corp.
Another life extension beyond 2020 would likely require launches of more spares, Mulqueen said.
"There's no more shuttle in the future, and the U.S. vehicles aren't coming up yet, so we have to get high-pressure gas into our recharge system," Mulqueen said. "That's probably a challenge in the future, getting up our spare gases. We're working that right now with NASA, so future resupply is probably going to be a challenge."