ATK five-segment rocket motor to enter qualification
BY STEPHEN CLARK
SPACEFLIGHT NOW
Posted: February 28, 2012


Engineers in Utah started crafting another five-segment solid rocket motor this week for a ground-shaking test firing to qualify the 22-million horsepower booster for flight on NASA's Space Launch System in 2017.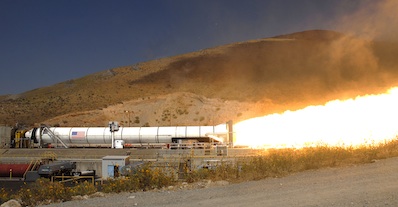 File photo of a five-segment development motor firing in Utah. Credit: ATK

The qualification campaign, led by rocket-builder ATK, will prove the solid-fueled motor is ready to help propel the Space Launch System from Earth on two test flights in 2017 and 2021. The 320-foot-tall rocket will launch unmanned first, and NASA says the second mission will carry astronauts on a trip around the moon inside an Orion capsule.
Each launch will be powered by two five-segment solid rocket boosters and hydrogen-fueled first stage engines left over from the space shuttle program.
Satisfied with the motor's design after three development motor firings in the Utah desert, ATK and NASA will ignite another rocket in a test stand in the spring of 2013.
"We're in the process of having QRRs, which are the readiness reviews for the first qualification motor firing," said Todd May, NASA's SLS project manager at the Marshall Space Flight Center in Huntsville, Ala. "That motor is scheduled to be tested in the spring of 2013. That test will baseline the performance and qualify the motor for flight."
The qualification readiness reviews are due to be finished in April, then technicians in June will begin casting each of the motor's segments with a recipe of solid propellant.
The motor's fuel is a form of powdered aluminum made combustible by an oxidizer called ammonium perchlorate. The mix also includes a polymer, epoxy and iron oxide.
Once technicians pour the propellant into the motor's 12-foot-diameter hollow casings, it cures to look and feel like a pencil eraser. The rocket holds 1.3 million pounds of propellant when fully loaded.
A second qualification motor test is scheduled for the summer of 2014, according to Trina Patterson, an ATK spokesperson.
Work on the first piece of case hardware for the first qualification firing, called QM-1, started Monday, Patterson said.
Three development motor firings from 2009 until 2011 demonstrated the rocket at ambient, hot and cold temperatures. Temperatures can affect the performance of a solid rocket motor.
Engineers were pleased the results of all three tests.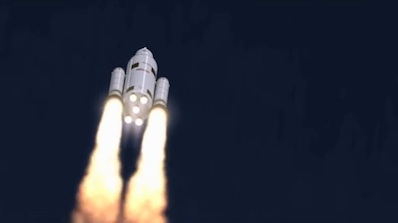 Artist's concept of the Space Launch System with an evolved five-engine first stage. Credit: NASA

The Space Launch System motor is a stretched version of the space shuttle's four-segment solid rocket booster. The extra segment lengthens the motor to 154 feet, allowing it to generate up to 3.6 million pounds of thrust during a two-minute burn, more power than produced by the shuttle booster.
ATK started work on the five-segment motor for the Ares rocket program, which was canceled in 2010. The rocket would have been the first stage of the Ares 1 launcher.
When NASA revamped its space exploration plans, the space agency opted to recycle the five-segment motor design and rely on existing hardware to keep costs down on the Space Launch System, which is designed to help astronauts reach a variety of deep space destinations, including the moon, asteroids and Mars.
"That motor is very much shuttle-heritage," May said. "We did a lot of work in the Ares program. We've got a pretty good handle on how large segmented motors perform. We believe these QMs we've got scheduled will be plenty to characterize it. And remember the first launch in 2017 is a test launch, so you'll get some more data from that launch as well."
Combined with three liquid-fueled main engines, the earliest version of the Space Launch System will blast off with 8.4 million pounds of thrust, more than the Saturn 5 moon rocket or the space shuttle.
NASA says the SLS program will cost about $10 billion between 2011 and 2017.
For the third flight of the huge launcher in the early 2020s, NASA plans to develop a next-generation booster and a high-performance upper stage to nearly double the rocket's lift capacity to 130 metric tons, or 286,000 pounds, to low Earth orbit.
NASA expects to release a $200 million, 30-month award to multiple companies later this year to study advanced liquid or solid rocket booster concepts, according to May.
Industry has until April 9 to respond to the NASA solicitation for the advanced booster risk-reduction contract.
"That's a $200 million award going over 30 months. So we'll get the concepts, both liquid and solid, and what we're looking for is risk reduction, what are the biggest risks to each of those concepts, and what are the contractors proposing to reduce that risk," May said.
"We'll consider just about anything," May said. "We give them a set of requirements and an interface to the rocket and say give us your best ideas."