Next Sirius XM Radio satellite facing multi-month delay
BY STEPHEN CLARK
SPACEFLIGHT NOW
Posted: February 27, 2012


Sirius XM Radio's next broadcasting satellite will remain on Earth several months longer than expected to address a technical concern on the spacecraft, according to a company spokesperson.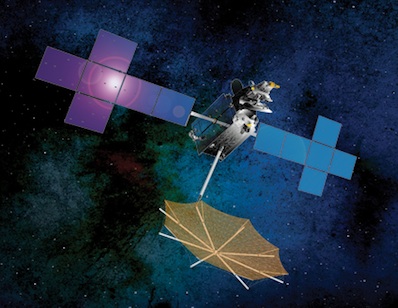 Artist's concept of the Sirius FM6 spacecraft in orbit. Credit: Space Systems/Loral

"The planned launch of [the] Sirius FM6 satellite has been delayed in order to confirm its readiness status," Patrick Reilly, a Sirius XM spokesperson, said in a written statement provided to Spaceflight Now, adding the launch has not yet been rescheduled.
Sirius XM satellites beam news, entertainment, traffic, weather and sports radio programming to more than 20 million subscribers across the continental United States.
"The delay will not affect any of Sirius XM's services," Reilly said. "The existing fleet of Sirius XM satellites continues to operate well and provide uninterrupted services."
Reilly did not disclose the specific reason for the delay, but a report by Russia's Interfax news agency said engineers will inspect Sirius FM6's solar array deployment mechanisms.
The Interfax report from earlier in February said the power-generating solar panels on SES 4, a satellite launched Feb. 14, did not unfurl on an initial command. Instead, the spacecraft used a back-up propulsive method of extending one of the solar array wings.
Yves Feltes, an SES spokesperson, said Monday the solar panels are now fully deployed, along with the satellite's communications antennas. Having accomplished its post-launch altitude-raising maneuvers, SES 4 is now in a circular orbit more than 22,000 miles above the equator, on schedule to begin service over the Americas, Europe and Africa.
SES 4 and Sirius FM6 were both manufactured by Space Systems/Loral of Palo Alto, Calif.
There has been no decision yet to transport the spacecraft back to California from its launch base at the Baikonur Cosmodrome in Kazakhstan, according to industry sources.
SES 4 blasted off Feb. 14 on an International Launch Services Proton rocket. Before the delay, another commercial ILS Proton booster was due to launch Sirius FM6 as soon as March 5.
The next commercial Proton mission is now scheduled for March 25 with the Intelsat 22 communication satellite, followed by the April launch of Yahsat 1B for the Al Yah Satellite Communications Co. of Abu Dhabi.