Budget proposes $2 billion for U.S. weather satellites
BY STEPHEN CLARK
SPACEFLIGHT NOW
Posted: February 17, 2012


NOAA's fiscal year 2013 budget request calls for more than $2 billion for the agency's weather and climate satellite programs to cover geostationary and polar-orbiting spacecraft, a space weather mission, and a joint U.S.-European ocean research observatory.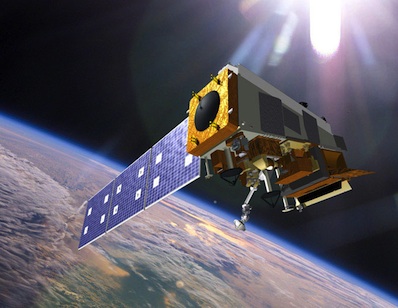 Artist's concept of a JPSS spacecraft in orbit. Credit: NOAA/Ball Aerospace

The National Oceanic and Atmospheric Administration is requesting $2.04 billion for its satellite division, a 9 percent increase over fiscal year 2012, which ends Sept. 30.
The budget blueprint proposes spending $916 million on the Joint Polar Satellite System, a next-generation satellite program to monitor weather and climate patterns from polar orbit. The JPSS funding level would be a slight reduction from the $924 million appropriated in the current fiscal year.
The JPSS program currently includes two satellites, with the first mission due to launch in early 2017, according to John Ewald, a NOAA spokesperson.
NOAA's next series of geostationary weather observatories, known as the GOES-R program, would receive $802 million in fiscal year 2013, more than $180 million more than this year.
The four-satellite GOES-R program will provide continuous storm-tracking weather coverage through 2036. The first spacecraft is scheduled for liftoff in October 2015, according to Ewald.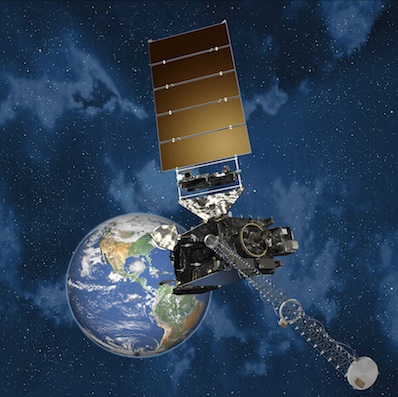 Artist's concept of a GOES-R satellite in space. Credit: NOAA/Lockheed Martin

Jason 3, a joint program with the European weather agency Eumetsat, is budgeted for $30 million in the White House request. NOAA is responsible for procuring a launch vehicle and microwave radiometer instrument for Jason 3, the next spacecraft in a series of ocean altimetry missions to monitor global sea surface topography and wave height.
NOAA is getting approximately $20 million for Jason 3 this year, $33 million less than the agency's request. Difficulties obtaining appropriations from Congress have pushed Jason 3's launch to at least April 2014.
The Deep Space Climate Observatory, or DSCOVR, would be funded at almost $23 million in fiscal year 2013. The fiscal year 2012 budget passed by Congress gives NOAA about $30 million for DSCOVR.
NOAA is refurbishing the DSCOVR spacecraft, originally developed by NASA for an Earth science mission, to host a suite of space weather sensors to help forecast geomagnetic storms, which can disrupt power grids, communications, navigation services and endanger astronauts in space.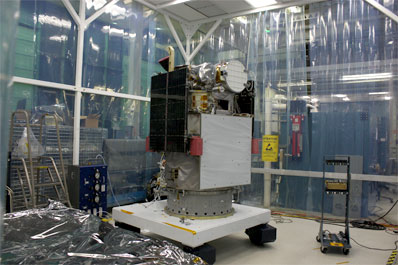 The DSCOVR spacecraft is being refurbished at NASA's Goddard Space Flight Center in Greenbelt, Md. Credit: Stephen Clark/Spaceflight Now

The SOHO and ACE satellites, which currently provide space weather forecast services, are operating well beyond their design lifetimes and could fail soon, according to NOAA.
The U.S. Air Force is providing a rocket for DSCOVR for a launch readiness date in mid-2014, Ewald said.
The budget does not request funds for COSMIC-2, a multi-satellite mission to measure atmospheric temperature and moisture profiles using GPS radio occultation techniques. NOAA requested money for COSMIC-2 in previous years, but Congress approved no funding this year.
COSMIC, a partnership program with Taiwan, stands for Constellation Observing System for Meteorology, Ionosphere, and Climate.
COSMIC-2 would have included 12 small spacecraft to continue measurements of the first-generation COSMIC satellite fleet, which launched in 2006.