U.S. government revokes LightSquared license
BY STEPHEN CLARK
SPACEFLIGHT NOW
Posted: February 16, 2012


The Federal Communications Commission announced this week it will prohibit LightSquared, a private mobile broadband satellite operator, from beginning service of a high-speed Internet network because it interferes with critical GPS navigation signals.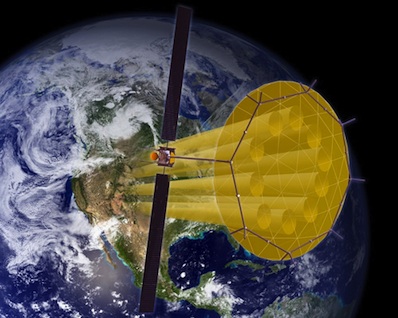 Artist's concept of the SkyTerra 1 satellite over North America. Credit: LightSquared

The ruling comes after a year of extensive engineering tests and political infighting over the LightSquared network, which aims to deliver broadband Internet to 260 million Americans by 2016.
LightSquared launched a dedicated L-band communications satellite, named SkyTerra 1, in November 2010.
But soon after the launch, U.S. government officials voiced concerns that the network's signals would intrude into a spectrum occupied by the Global Positioning System, potentially wreaking havoc on the navigation of military equipment, precision munitions, ships, commercial airliners and private vehicles.
LightSquared proposed deploying a terrestrial network of cell towers to start service, and the FCC granted conditional approval of the plan in January 2011.
The FCC decision was in response to a letter from the head of the National Telecommunications and Information Administration, which studied LightSquared's potential impacts on the GPS signal.
NTIA informed the FCC of its findings in a letter dated Feb. 14.
"NTIA, the federal agency that coordinates spectrum uses for the military and other federal government entities, has now concluded that there is no practical way to mitigate potential interference at this time," said FCC spokesperson Tammy Sun, who released a written statement Tuesday.
"Consequently, the Commission will not lift the prohibition on LightSquared. The International Bureau of the Commission is proposing to (1) vacate the Conditional Waiver Order, and (2) suspend indefinitely LightSquared's Ancillary Terrestrial Component authority to an extent consistent with the NTIA letter," the FCC statement said.
LightSquared, which started to meet an FCC mandate to expand the reach of broadband services in the United States, said it has invested $4 billion in the program, and the company vowed to fight the FCC decision, which came down Tuesday.
The FCC previously granted approval for LightSquared to build its network in 2005.
"At the government's mandate, LightSquared began investing billions of dollars in America's infrastructure – without asking for any money from the American taxpayer," LightSquared said in a statement released Wednesday. "Yesterday, after LightSquared had already spent nearly $4 billion, the FCC changed its mind. There can be no more devastating blow to private industry and confidence in the consistency of the FCC's decision-making process."