NASA science chief advocates ties with human spaceflight
BY STEPHEN CLARK
SPACEFLIGHT NOW
Posted: February 4, 2012


Former astronaut John Grunsfeld, who took office as the head of NASA's science division in January, said he intends to streamline the partnership between the space agency's research department and human spaceflight directorate in his tenure at NASA Headquarters in Washington.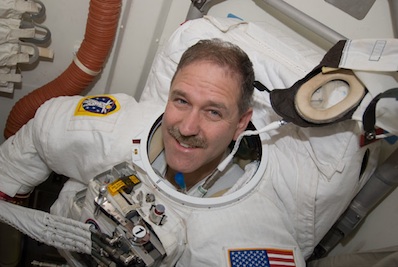 Grunsfeld is a veteran of five space shuttle flights, including three servicing missions to the Hubble Space Telescope. Credit: NASA

The relationship between research and human exploration, sometimes viewed as competitive among scientists, should be cooperative to ensure successes and advancements in both areas, according to Grunsfeld.
"We have to avoid the temptation, and I know it's human nature, to pit one community against the other, whether it's astronomy vs. biology or planetary science vs. extragalactic," Grunsfeld said. "The same is true for human spaceflight."
Grunsfeld told Spaceflight Now he met with Bill Gerstenmaier, head of NASA's human exploration division, in his first week in office.
"One of the reasons I'm in this job now is because NASA Administrator Charlie Bolden believed that teaming with human spaceflight on those things that make sense, on our exploration program, for science to take advantage of the resources of human spaceflight, for human spaceflight to be informed by the science we can do at planetary destinations, for instance, can make the whole program stronger," Grunsfeld said.
Grunsfeld, a five-time space shuttle flier and astronomer, replaced Ed Weiler, who retired from NASA in September after more than 30 years as a manager in the agency's science program.
"I do plan to work very closely with Bill Gerstenmaier to see what synergies we can have," Grunsfeld said.
"John's understanding of the critical connection between scientific research and the human exploration of space makes him an ideal choice for this job," Bolden said in a December statement announcing the selection of Grunsfeld for the science post.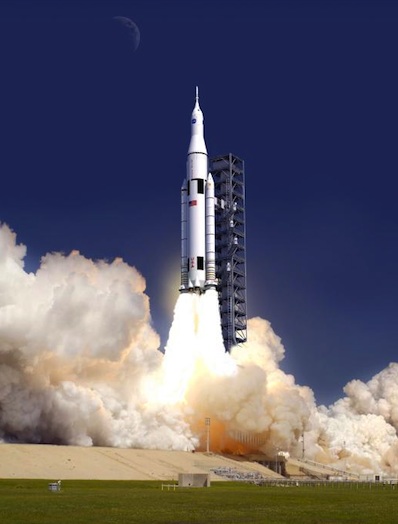 Artist's concept of the Space Launch System. Credit: NASA

The science division's new director said he would continue promoting robotic precursor missions to potential human destinations. NASA has identified asteroids and Mars as long-term goals for the manned space program, while the earliest crewed flight of the new Orion capsule and Space Launch System booster will circumnavigate the moon in 2021.
"The new Space Launch System starts at 70 metric tons [capacity to low Earth orbit] with a very large fairing," Grunsfeld said. "That can enable science missions that we would never be able to imagine if we were restricted to Delta 2s and Atlas 5s."
"If we had one Space Launch System launch with a very large telescope, something that might be able to characterize an Earth-size planet around a nearby star, we would still have to carry an enromous amount of ballast to keep from over-accelerating the rocket," Grunsfeld said.
Although the SLS could loft hefty optical payloads for Earth science and space science, it is projected to cost more than $1 billion per launch.
Grunsfeld said he also advocates taking advantage of private rockets being developed for NASA's commercial crew and cargo programs. Once the new launchers are certified, they could carry NASA scientific probes into space at much lower costs than existing boosters.