SpaceX fires powerful abort thruster for manned Dragon
BY STEPHEN CLARK
SPACEFLIGHT NOW
Posted: February 2, 2012


SpaceX announced Wednesday the successful firing of a prototype abort engine for the company's Dragon spaceship, a crucial step in the contractor's program to outfit the capsule for astronaut crews.
Credit: SpaceX
According to SpaceX, the SuperDraco engine recently completed a series of tests at SpaceX's facility in McGregor, Texas.
The demonstrations included full-duration, full-thrust and throttled firings, according to SpaceX. NASA officials said the engine attained full power within about 100 milliseconds of the ignition command and fired for 5 seconds, the expected duration of a SuperDraco burn during a launch abort.
"Eight SuperDracos will be built into the sidewalls of the Dragon spacecraft, producing up to 120,000 pounds of axial thrust to quickly carry astronauts to safety should an emergency occur during launch," said Elon Musk, SpaceX's founder and CEO. "Those engines will have the ability to deep throttle, providing astronauts with precise control and enormous power."
SpaceX is developing the SuperDraco under a $75 million agreement with NASA's commercial crew program, which seeks to foster private sector development of rockets and spacecraft for NASA astronauts.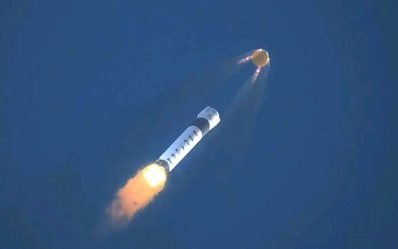 In the event of an emergency, the Dragon's eight SuperDraco thrusters would fire to pull astronauts away from a dangerous rocket. Credit: SpaceX

NASA awards SpaceX the funding in increments based on the successful completion of a series of milestones.
The space agency also has funded Space Act Agreements with Sierra Nevada Corp., Boeing Co. and Blue Origin. Each firm is designing and testing components for crew-carrying spacecraft, and NASA expects service to begin by 2017.
The testing of the hydrazine-fueled SuperDraco thruster will culminate this spring as one of the last milestones in the current year-long commercial crew development agreement, which is scheduled to end in May.
The SuperDraco is a more powerful version of the Draco thrusters used on the unmanned Dragon capsule, which is scheduled to make its first cargo delivery to the International Space Station this spring.
"SpaceX and all our industry partners are being extremely innovative in their approaches to developing commercial transportation capabilities," said Ed Mango, manager of NASA's commercial crew program. "We are happy that our investment in SpaceX was met with success in the firing of its new engine."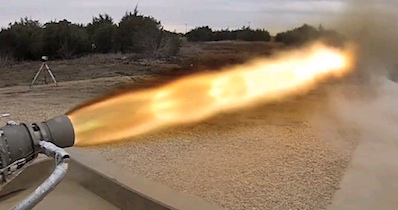 The SuperDraco test firings occur at SpaceX's facility in McGregor, Texas. Credit: SpaceX

The SuperDraco engines would not only be fired to save crews from a launch mishap. If the thrusters go unused during launch, they would remain attached to the Dragon for a propulsive rocket-powered landing back on Earth at the mission's conclusion.
The engines will be reusable and could even aid Dragon landings on other planets, according to SpaceX.
"SuperDraco engines represent the best of cutting edge technology," Musk said. "These engines will power a revolutionary launch escape system that will make Dragon the safest spacecraft in history and enable it to land propulsively on Earth or another planet with pinpoint accuracy."