Romney visits Space Coast, weighs in on NASA's future
BY STEPHEN CLARK
SPACEFLIGHT NOW
Posted: January 27, 2012


Republican presidential candidate Mitt Romney stumped on Florida's Space Coast on Friday, identifying human survival, science and health, commercial applications and national defense as top objectives of the U.S. space program.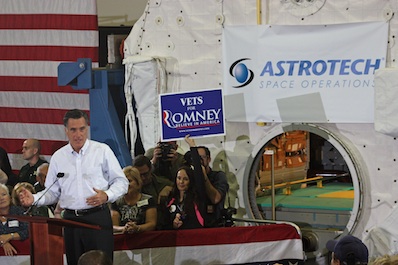 Romney appeared at a rally held at the Astrotech spacecraft processing facility in Cape Canaveral. Credit: Stephen Clark/Spaceflight Now

"A strong and vibrant space program is part of being an exceptional nation," Romney told a crowd of several hundred supporters at Cape Canaveral, Fla. "A mission for that space program is essential."
But Romney stopped short of endorsing a specific vision for the space program, two days after rival Newt Gingrich proposed building a permanent settlement on the moon by 2020.
"In the politics of the past, to get your vote in the Space Coast, I would come here and promise hundreds of billions of dollars, or I would lay out what my mission is and say here's what we're going to accomplish," Romney said, attempting to draw a contrast with Gingrich. "I'm not going to do that."
Romney and Gingrich are leading the Republican field, seeking the party's nomination to face off against President Barack Obama in the November general election.
"You start out by saying what's the objective," Romney said. "And then you say let's gather the data to see what information we have. And then you create hypotheses to see what different choices might be. And then you choose one, you select that as your mission, and you expect a leader to deliver and get it done."
Speaking in Cocoa, a community near the Kennedy Space Center, Gingrich on Wednesday said he viewed spaceflight from a "romantic" point of view, adding he is tired of a "timid" approach to space exploration.
Gingrich vowed to set up a lunar colony, generate prizes and incentives for commercial space ventures, and develop technology to carry humans to Mars, all in the next eight years.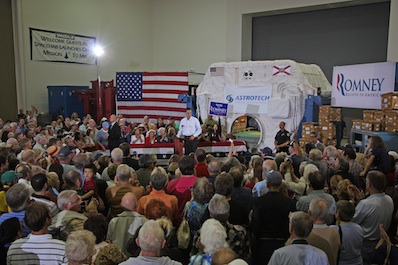 Romney appeared at a rally held at the Astrotech spacecraft processing facility in Cape Canaveral. Credit: Stephen Clark/Spaceflight Now

NASA's current plan includes designing and building a heavy-lift booster called the Space Launch System, which could be ready for a test launch by 2017. NASA officials hope the SLS and an Orion spaceship will carry a crew on a flight around the moon by 2021.
The space agency is partnering with commerical space firms to develop private space taxis to ferry astronauts crews to and from the International Space Station. But budget fluctuations have delayed the onset of commercial crew service until 2017, and until then, NASA must purchase astronaut seats on Russian Soyuz capsules.
Romney made no mention of NASA's latest plans for human spaceflight, which were put in place after the White House canceled the Constellation moon program in 2010.
"The space program, in my view, has a lot of different objectives, all of them important," Romney said. "One of them is existential. What do I mean by that? Well, there are things going on in the universe that could dramatically affect the Earth, like climate or perhaps even a catastrophic event of some kind. So we've got to [study] those things and prepare possible responses."
Romney said he will seek advice from academia, the U.S. military, commercial partners and from within NASA he crafts a space policy.
"Technology and science leads to the development of products that can improve our economy," Romney said. "There is another area: the health and the well-being of our citizens. Through space we learn technology that can affect how long we're able to live. These are important missions, and there's one more that I will mention, and that is a mission and objective of defense."
Romney also honored NASA's fallen astronauts on the 45th anniversary of the Apollo 1 fire that took the lives of Gus Grissom, Ed White and Roger Chaffee on a Cape Canaveral launch pad. Saturday is the 26th anniversary of the space shuttle Challenger disaster, and NASA will mark nine years since the loss of shuttle Columbia on Feb. 1.
"I intend to get the job done right to make sure we protect our interests, protect our future, protect our health and protect ourselves from threats from space," Romney said.