Section of bridge collapses after struck by rocket vessel
BY JUSTIN RAY
SPACEFLIGHT NOW
Posted: January 27, 2012;
Updated at 3 p.m. with more details


The ocean-going cargo vessel used to transport rocket stages from the manufacturing factory in Alabama to the two primary U.S. launch sites in Florida and California struck a bridge in southern Kentucky Thursday night, causing a section to collapse.
The Eggner's Ferry Bridge, which crosses Kentucky Lake and the Tennessee River, was opened to traffic in 1932.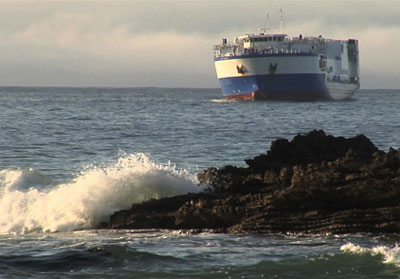 File image of the Delta Mariner. Credit: ULA video



Known as the Delta Mariner, it is owned and operated by Foss Marine. The shipping firm transports United Launch Alliance Delta 4 and Atlas 5 components to Cape Canaveral, Florida, and Vandenberg Air Force Base, California.

The ship was carrying rocket parts to Cape Canaveral from the factory in Decatur, Alabama, when the crash occurred at U.S. Highway 68 and Kentucky Highway 80 over the Tennessee River Thursday at 8:15 p.m. Central Time.

"There are no injuries on the Mariner or the bridge. Initial inspections have shown that the flight hardware being transported was not damaged," ULA said in a statement.

A further update from the rocket-maker says the vessel was hauling an Atlas 5 rocket first stage and Centaur upper stage for the Air Force's Advanced Extremely High Frequency (AEHF-2) mission scheduled to launch in April and an interstage adapter for NASA's Radiation Belt Storm Probes (RBSP) mission scheduled to launch in August.

"There is no schedule impact to either launch date expected at this point," ULA says.

"The Mariner cargo area of the ship and the flight hardware did not experience any damage. The hardware is well instrumented and all data from these instruments is being reviewed to confirm that there were no issues."

A remarkable aerial image shows the missing outer section of the bridge that was completely knocked away from the collision. The center spans of the bridge remain standing in that view.

The Coast Guard is conducting an investigation.

Local news reports say there were cars traveling across the bridge when the accident happened, but no one was hurt.

Maps show the Mariner was heading northward on a course to intercept the Mississippi River on the week-long, 2,000-mile trek from Decatur to Cape Canaveral.

The 312-foot roll-on, roll-off ship was commissioned in 2002. See file photos of the Mariner delivering a Delta 4-Heavy to Vandenberg.

Video and pictures can be seen on the local NBC affiliate's website here and here.