NASA turns off aging Rossi X-ray Timing Explorer
BY STEPHEN CLARK
SPACEFLIGHT NOW
Posted: January 9, 2012


AUSTIN, Texas -- NASA decommissioned the Rossi X-ray Timing Explorer last week, ending a 16-year-mission that gave researchers glimpses of the inner workings of black holes and neutron stars, the space agency announced Monday.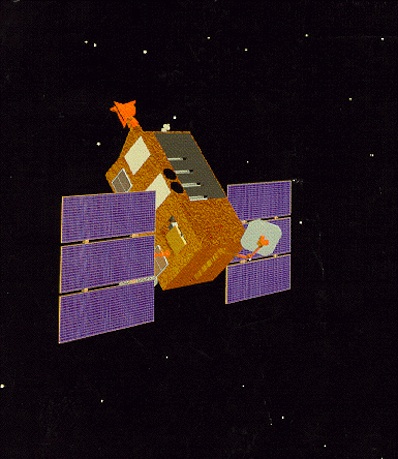 Artist's concept of the RXTE spacecraft. Credit: NASA

RXTE returned its final science data Jan. 4 and engineers decommissioned the spacecraft the next day, according to NASA.
"The spacecraft and its instruments had been showing their age, and in the end RXTE had accomplished everything we put it up there to do, and much more," said Tod Strohmayer, RXTE project scientist at NASA's Goddard Space Flight Center in Greenbelt, Md.
RXTE launched aboard a Delta 2 rocket Dec. 30, 1995, from Cape Canaveral, Fla.
The mission's three instruments observed the universe in the X-ray spectrum, measuring changes in emission from microseconds to months, according to NASA. The payloads were provided by Goddard, the University of California at San Diego and the Massachusetts Institute of Technology.
RXTE's precise timing capability helped astronomers study neutron stars, or pulsars, the highly-compressed remnants of dead stars that accumulate hundreds of millions times the mass of Earth into a volume the size of a city. Pulsars can spin hundreds of times per second.
The satellite also observed X-ray signals in the rapidly swirling accretion disks surrounding black holes. RXTE provided the first observational evidence of "frame-dragging" in the vicinity of a black hole, an effect predicted by Einstein's general relativity theory, according to a NASA fact sheet.
The project was named for Bruno Rossi, an MIT astronomer and X-ray physics expert who died in 1993.
The decision to end RXTE's operational mission came after independent researchers in 2010 ranked the project's priority as low compared to other NASA scientific spacecraft.
The satellite was put into a tumble in its orbit 294 miles above Earth, a NASA spokesperson said. The observatory's orbit has an inclination of 23 degrees to the equator.
"After two days we listened to verify that none of the systems we turned off had autonomously re-activated, and we've heard nothing," said Deborah Knapp, RXTE mission director at Goddard.
NASA officials said the 7,000-pound spacecraft is expected to fall back into Earth's atmosphere some time between 2014 and 2023. Fluctuations in solar activity cause the atmosphere to expand and contract, making it difficult to accurately predict when uncontrolled satellites will re-enter.