NASA seeks to bolster ties with commercial crew firms
BY STEPHEN CLARK
SPACEFLIGHT NOW
Posted: December 26, 2011


NASA and private space firms are determined to strengthen partnerships in the next phase of development in the agency's commercial crew transportation program, which is due to kick off in February, officials said last week.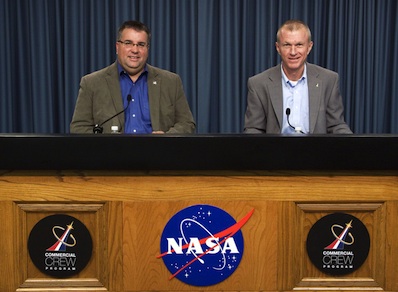 Ed Mango, NASA's commercial crew program manager, and Brent Jett, deputy program manager, present a strategy update to commercial partners Dec. 20. Credit: NASA

A memorandum of understanding is now available to commercial partners to better communicate industry concerns and NASA requirements in the absence of a fixed-price contract, which NASA was planning to implement next year to continue to development of crew transportation vehicles.
But NASA received less than half of the funding it requested for the program in fiscal year 2012. The appropriation passed by Congress and signed by President Barack Obama calls for $406 million dedicated to the commercial crew effort through Sept. 30, 2012.
NASA decided to abort the contract solicitation for the commercial crew program, which aims to develop vehicles to resume transportation of U.S. crews to the space station and halt reliance on Russian Soyuz capsules for the job.
Agency officials cited the reduced budget figure and uncertainties in future appropriations as the reasons for the switch in strategy.
The decision allows for more flexible Space Act Agreements to be instituted instead of contracts, giving NASA and industry more leeway in continuing the design and testing of components that one day will be used on spacecraft hauling NASA astronauts to the International Space Station.
NASA will release an announcement for proposals to industry in February with an eye toward announcing awards to two or more companies in July or August, according to Ed Mango, the agency's commercial crew program manager. NASA gives up some bargaining ability without a contract, officials said.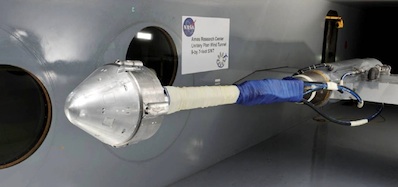 A scale model of Boeing's CST-100 capsule undergoes wind tunnel testing at NASA's Ames Research Center at Moffett Field, Calif. Credit: Boeing Co.

"The Space Act gives us a lot of flexibility, but it doesn't insure that we're going to get exactly what we need coming out the other side," said Bill Gerstenmaier, associate administrator for NASA's human space programs, in a Dec. 15 conference call with reporters.
In a forum held Dec. 20 at the Kennedy Space Center, program managers said regular contact with commercial firms could reduce any risk.
"We felt that the technical risk could be mitigated in the next phase," said Brent Jett, deputy manager of NASA's commercial crew program.
NASA has also published detailed human-rating requirements that industry needs to meet in order to transport agency astronauts. With the standards now public, companies know how NASA will assess spacecraft safety issues once contracts are in place.
Gerstenmaier said the Space Act Agreements will continue development to near the point of critical design reviews, when projects transition into certification and integrated testing.
NASA plans to use contracts to certify the commercial crew systems and purchase services for operational flights.
Space Act Agreements require companies to finance a portion of the program with private capital, lessening the cost to the government and allowing NASA to spread their limited resources among more firms. Companies previously lobbied for Space Act Agreements to continue because they said contracts come with the burden of costly federal regulations.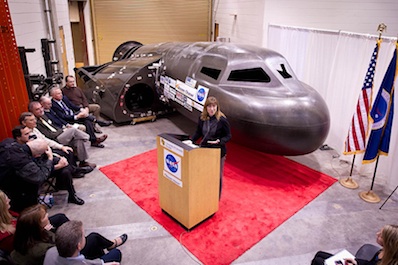 NASA Deputy Administrator Lori Garver speaks at the headquarters of Sierra Nevada, Corp. in Colorado. An atmospheric flight test vehicle for the company's Dream Chaser space plane. Credit: NASA/Bill Ingalls

The agency has ongoing funded Space Act Agreements with Boeing Co., SpaceX, Sierra Nevada Corp. and Blue Origin. NASA signed unfunded agreements with United Launch Alliance, ATK and Excalibur Almaz.
The funded agreements are worth nearly $316 million and run through approximately May.
Some of the $406 million will wrap up the current round of commercial crew work, which is called CCDev 2. The rest of the budget will kick off the next phase, according to Mango.
Mango described the next group of Space Act Agreements as a "pretty big jump" from previous work, which focused on designing and testing individual parts of rockets and spacecraft.
"This next phase needs to be more than just element designs," Mango said.