NASA science portfolio gets former astronaut as leader
BY JUSTIN RAY
SPACEFLIGHT NOW
Posted: December 19, 2011


The "Hubble Hugger" himself, former astronaut John Grunsfeld, will assume control of NASA's science directorate at the agency's headquarters in Washington effective Jan. 4, 2012.
He succeeds Ed Weiler, who retired from NASA on Sept. 30.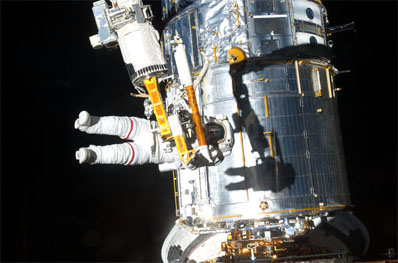 Grunsfeld works on Hubble during a spacewalk in 2009. Credit: NASA



"It is an honor and a privilege to be offered the opportunity to lead NASA's Science Mission Directorate during this exciting time in the agency's history," Grunsfeld said. "Science at NASA is all about exploring the endless frontier of the Earth and space. I look forward to working with the NASA team to help enable new discoveries in our quest to understand our home planet and unravel the mysteries of the universe."

The directorate governs NASA's diverse portfolio of space and Earth science missions. It is comprised of several divisions, including heliophysics, astrophysics, planetary science and Earth observing.

Grunsfeld, the veteran of five space shuttle missions and three trips to service and upgrade the Hubble Space Telescope, currently serves as the deputy director of the Space Telescope Science Institute in Baltimore that manages the observatory's science operations.

His astronaut career began in 1992 and led to flying aboard the shuttle Endeavour's ASTRO 2 ultraviolet astronomy mission in March 1995. Grunsfeld also made a brief visit to the Russian space station Mir aboard Atlants' STS-81 flight in January 1997.

Maintaining and rejuvenating Hubble then became the focus on his spaceflights, going up in December 1999 aboard Discovery's STS-103 a rescue mission of sorts to restore the telescope to operations after gryoscope failures, then revolutionizing the observatory's scientific potential in March 2002 on Columbia's STS-109 flight and the final servicing in May 2009 aboard Atlantis' STS-125 that extended the iconic spacecraft to life.

In all, he logged over 58 days in space and performed eight spacewalks to work on Hubble amounting to 58 hours and 30 minutes of EVA time.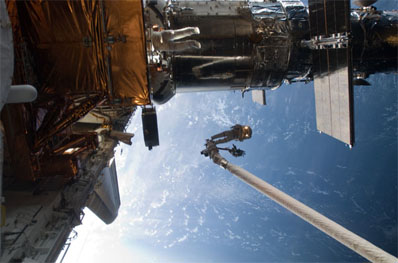 Grunsfeld works on Hubble during a spacewalk in 2009. Credit: NASA



"John's understanding of the critical connection between scientific research and the human exploration of space makes him an ideal choice for this job," NASA Administrator Charles Bolden said. "I look forward to working with him to take the agency's science programs to even greater heights and make more of the ground-breaking discoveries about Earth and our universe for which NASA is known."

Grunsfeld graduated from the Massachusetts Institute of Technology in 1980 with a bachelor's degree in physics. Returning to his native Chicago, he earned a master's degree and, in 1988, a doctorate in physics from the University of Chicago using a cosmic ray experiment on space shuttle Challenger for his doctoral thesis.