Cassini radar paints new view of icy Enceladus
BY STEPHEN CLARK
SPACEFLIGHT NOW
Posted: December 3, 2011


NASA's Cassini spacecraft captured unprecedented radar imagery of Saturn's icy moon Enceladus last month, uncovering new details of the moon's highly reflective frozen surface.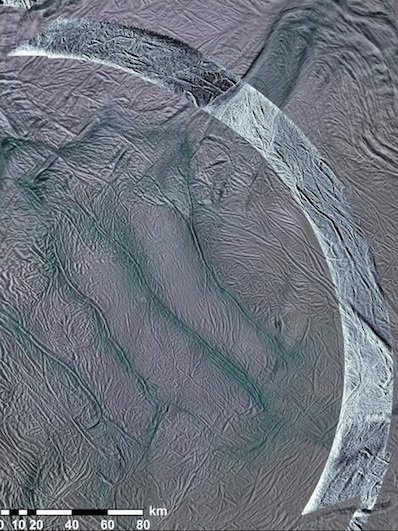 Cassini's radar observed a swath of Enceladus about 15 miles wide around the moon's south pole. Credit: NASA/JPL-Caltech/SSI

Cassini hurtled 300 miles above the moon's south pole region Nov. 6. The flyby was the first opportunity for the probe's Ku-band imaging radar to measure the topography of mysterious grooves and ice textures.
The radar beam swept across a long, narrow swath just north of the south pole.
NASA says the radar imagery does not show the "tiger stripes" of Enceladus, long fissures from which icy material and water vapor erupt like huge geysers. Future passes over Enceladus could study the tiger stripes.
The radar data shows a groove 2,100 feet and 1.2 miles wide in one region. The valley has slopes of about 33 degrees, according to NASA.
On the other side of the south pole of Enceladus, Cassini's radar revealed bumpy terrain that appears very bright in the radar imagery.
"It's puzzling why this is some of the brightest stuff Cassini has seen," said Steve Wall, deputy team lead of Cassini's radar team. "One possibility is that the area is studded with rounded ice rocks. But we can't yet explain how that would happen."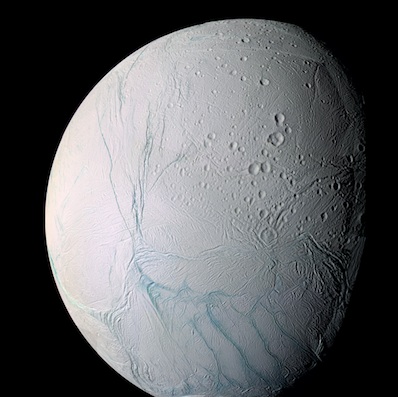 File photo of Enceladus from a flyby in 2006. Credit: NASA/JPL-Caltech/SSI

Cassini's radar was designed to peer through the murky haze in Titan's atmosphere to resolve river channels and lakes. Titan is Saturn's largest moon and resembles the way Earth may have looked before life appeared billions of years ago.
Researchers have also used the radar to observe Saturn itself. The Enceladus flyby was the first chance for the radar to image an icy moon other than Titan.
The Nov. 6 flyby was the 16th close pass of Cassini to Enceladus. The next flyby is scheduled for March 27.
Scientists believe the moon's surface is extremely cold. With temperatures as low as -330 degrees Fahrenheit, the icy crust of Enceladus reflects almost all the sunlight reaching it.
The geysers of water vapor erupting from the moon's south pole may be driven by a warm, liquid interior. The moon's surface is constantly changing through ongoing tectonic activity, and the crust may be as young as 100 million years old.