ESA shutting down Phobos-Grunt listening campaign
BY STEPHEN CLARK
SPACEFLIGHT NOW
Posted: December 2, 2011


The European Space Agency announced Friday it would cease attempts to contact Russia's Phobos-Grunt Mars probe, as hopes diminish of ever recovering the stranded spacecraft and guiding it toward the red planet.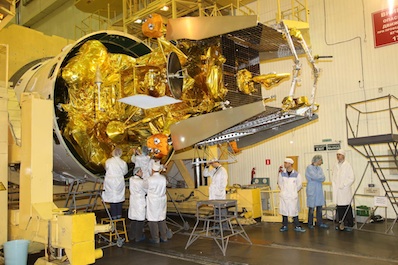 Photo of Phobos-Grunt undergoing launch preparations. Credit: Roscosmos

ESA continued trying to establish communications this week with tracking stations in Australia and the Canary Islands, but the 29,000-pound Phobos-Grunt spacecraft never responded.
"In consultation and agreement with Phobos-Grunt mission controllers, ESA engineers will end ESTRACK ground station support today," the space agency posted on its Twitter page. "ESA ground teams remain available to assist the Phobos-Grunt mission if indicated by any change in situation."
The agency's communications site in Perth, Australia, contacted Phobos-Grunt at least twice Nov. 22 and Nov. 23, but the probe has remained mysteriously silent since then.
The successful communications passes each included a command sent from the ground for Phobos-Grunt to switch on its transmitter. The Perth station received limited telemetry from the spacecraft, which ESA passed on to Russian engineers at NPO Lavochkin, the mission's prime contractor in Moscow.
The behavior of the spacecraft led engineers to believe it may have trouble charging its batteries, so it could only be alive and able to communicate on the daylight side of its orbit.
ESA started issuing commands to Phobos-Grunt using a tracking facility in Maspalomas in the Canary Islands this week, but it also had no success.
The commands this week were designed to raise the craft's orbit to allow additional communications opportunities. Because of Phobos-Grunt's low orbit, each pass lasted no more than about seven minutes, limiting chances to troubleshoot anomalies on the probe.
Phobos-Grunt's current orbit stretches from an altitude of 130 miles to about 190 miles. It's inclination angle is 51.4 degrees to the equator.
Engineers added feedhorn antennas to 49-foot-diameter dish antennas in Perth and Maspalomas. The feedhorn devices were installed to reduce the power of signal transmissions because Phobos-Grunt's computers may think the craft is on the way to Mars, when radio signals from Earth would be weaker than in orbit.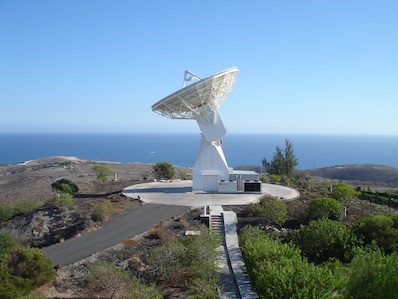 Photo of ESA's tracking station in Maspalomas, Spain. Credit: ESA

ESA controllers made several dozen communications attempts through both stations before calling off efforts Friday. The Maspalomas and Perth stations are part of ESTRACK, a global network of tracking sites maintained by Europe.
NASA also tried listening for signals from Phobos-Grunt using an antenna in Goldstone, Calif. NASA officials said it never heard from the spacecraft before ending the listening campaign to prepare for the launch of the Mars Science Laboratory on Nov. 26.
Phobos-Grunt launched Nov. 8 from the Baikonur Cosmodrome in Kazakhstan. Rockets on-board the spacecraft were supposed to fire twice after launch to propel Phobos-Grunt toward Mars, where the mission was expected to enter orbit and touch down on the planet's largest moon.
The lander was supposed to retrieve rocks from the moon Phobos and return the samples to Earth in 2014. Grunt means soil in Russian.
Phobos-Grunt also carries a Chinese orbiter to study Mars.
NASA orbital debris expert Nicholas Johnson expects Phobos-Grunt will decay from orbit in late January or February, but Russia will continue trying to regain control of the spacecraft to make possible a guided re-entry.
Otherwise, the fuel-laden craft could fall from orbit uncontrolled. Most of the spacecraft and its propellant will burn up in the atmosphere, but some debris could reach the Earth's surface.