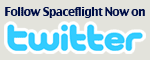 NewsAlert





Sign up for our NewsAlert service and have the latest space news e-mailed direct to your desktop.


Privacy note: your e-mail address will not be used for any other purpose.









Delta 4 rocket to provide launch services for WGS 5
BY JUSTIN RAY
SPACEFLIGHT NOW
Posted: December 1, 2011


As United Launch Alliance's Delta 4 rocket gets ready to launch the next craft for the U.S. military's backbone communications satellite constellation in January, the Air Force has awarded the booster the rights to deploy the subsequent bird as well.

The fourth Wideband Global SATCOM satellite is scheduled for blastoff from Cape Canaveral on Jan. 19 aboard the rocket. The Delta 4 also carried WGS 3 aloft in December 2009.

Now, the Air Force has announced a $150 million firm-fixed-price contract with ULA to launch the WGS 5 spacecraft aboard a Delta 4 rocket in early 2013 from Cape Canaveral.

The rocket will be constructed at ULA's factory in Decatur, Alabama, then delivered to the launch site for flight from Complex 37.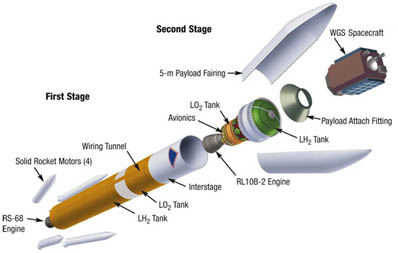 An illustration of a Delta 4 rocket with WGS. Credit: ULA



The Boeing Company is building at least 7 of the satellites to provide global communications services to the U.S. military around the world. They are replacing the aging Defense Satellite Communications System spacecraft that are slowly retiring from service.

In a recent interview, Mark Spiwak, the WGS program director at Boeing, said the company expects to finish constructing WGS 5 next February for a targeted launch in January 2013.

With WGS satellites weighing about 6.5 tons at launch, a Delta 4 rocket flying in the Medium+ (5,4) configuration is required for hauling the craft into supersynchronous transfer orbits. That version of the modular rocket is distinguished by a five-meter composite nose cone, a similarly-sized cryogenic upper stage and a quad arrangement of strap-on solid rocket boosters.


ULA's launch highlights movie from WGS 3



For the previous WGS 3 launch, the Delta 4 injected its payload into a highly elliptical orbit ranging from 273 miles at its lowest point to 41,620 miles at the highest mark, tilted 24 degrees to the equator.

The spacecraft's own onboard propulsion system then fired in the following days to circularize the orbit at 22,300 miles to match Earth's rotation in the geosynchronous belt.

The first two WGS satellites launched in 2007 and 2009 from the Cape aboard ULA's Atlas 5 rocket.