SpaceX has short list for commercial launch site
BY STEPHEN CLARK
SPACEFLIGHT NOW
Posted: November 18, 2011


SpaceX is eyeing Puerto Rico, Texas, Hawaii, or Florida to be home of a new commercial launch facility for its Falcon rocket family, the company's founder and chief executive tells Spaceflight Now.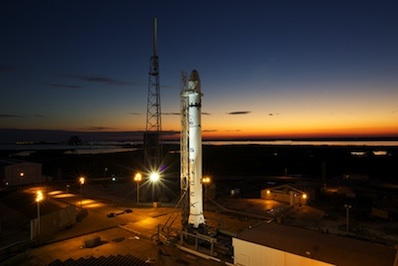 File photo of a Falcon 9 rocket on the launch pad in Florida. Credit: SpaceX

The site would handle commercial missions, while flights for federal government customers could continue to be based from Cape Canaveral, Fla., or Vandenberg Air Force Base, Calif.
"Our growing launch manifest has led us to look for additional sites. We're considering several states and territories," said Elon Musk, the founder and CEO of SpaceX. "I envision this site functioning like a commercial Cape Canaveral."
SpaceX has launched two medium-lift Falcon 9 rockets from launch pad 40 at Cape Canaveral, and it's developing a facility at Vandenberg to handle polar orbit satellite missions, including early test flights of its Falcon Heavy, which would be the world's most powerful launcher.
"We are looking at a number of alternatives," Musk told Spaceflight Now in email.
According to Musk, the search is focusing on U.S. territory due to trade restrictions that could be imposed by International Traffic in Arms Regulations, which were intended to inhibit the transfer of U.S. weapons technology to other countries.
"The Cape and Vandenberg are great for U.S. government launches, but not well optimized for commercial," Musk said. "Just as it makes sense to use commercial airports for commercial air flights, I think the same principle applies to rockets."
SpaceX has not disclosed specific sites for the new commercial launch facility.
The company says it has more than $3 billion in revenue on the books through 2017, and it has sold more than 40 missions on the Falcon 9 rocket. More than half of those flights are for commercial customers, according to SpaceX.
Logistics costs will be a factor in the decision.