Money-saving missile detection sensor powered on
BY STEPHEN CLARK
SPACEFLIGHT NOW
Posted: November 4, 2011


The U.S. Air Force announced Thursday an innovative infrared missile detection sensor launched in September on a commercial communications satellite is functioning as expected, fulfilling a groundbreaking partnership between the private and public space sectors.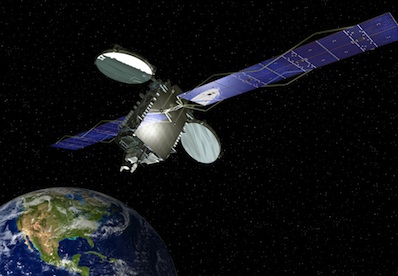 Artist's concept of the SES 2 satellite in orbit. Credit: Orbital Sciences

The Commercially Hosted Infrared Payload, also known as CHIRP, was powered up in late October on the SES 2 communications satellite, a privately-owned spacecraft launched Sept. 21 from French Guiana.
CHIRP features a wide field-of-view infrared staring sensor that covers one-quarter of the globe from an orbit 22,300 miles above the equator. The Air Force uses infrared sensors to detect missile launches and support other military missions.
Developed by Science Applications International Corp., CHIRP will detect bright spots against the backdrop of Earth. Infrared space sensors can monitor large explosions and wildfires, in addition to their primary missile early warning mission.
Not only is CHIRP testing a next-generation sensor that could be applied to future programs, the payload is hosted on-board a commercial satellite, a new paradigm that could save money for the Defense Department and other government agencies.
"This is an important first step for the Air Force," said Col. Scott Beidleman, director of development planning at the Space and Missile Systems Center in Los Angeles. "Now that the payload completed functional check out, the next step is calibration followed by execution of planned experiments. Analysis results will provide actionable information for acquisition decision makers. Also, given the path-finding nature of CHIRP, the Development Planning Directorate is gathering invaluable lessons learned on these technologies and commercial hosting."
The Pentagon and NASA are looking into placing hosted payloads on more commercial satellites, especially given heightened funding pressures in a tough government spending environment. NASA followed the progress of the CHIRP program and sent a representative to French Guiana for CHIRP's launch on a European Ariane 5 rocket.
The CHIRP program cost $216 million, including payload development expenditures. A single dedicated Air Force Space-Based Infrared System satellite for missile warning costs more than $1.2 billion, and that figure doesn't include development spending.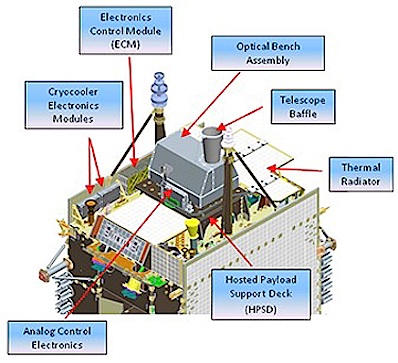 Diagram of the CHIRP payload. Credit: SES Government Solutions

The CHIRP staring sensor is also less complex and provides improved performance of the SBIRS global scanning payload, according to the Air Force.
"The business proposition is very tempting," said Antonio Elias, executive vice president for advanced programs at Orbital Sciences Corp., a leading industrial proponent of hosted payloads.
According to an Air Force spokesperson, CHIRP had a budget of $82.5 million integration, launch and operations.
Owned by SES World Skies and manufactured by Orbital Sciences, the SES 2 satellite is positioned along the equator at 87 degrees west longitude. Its transponders are designed to beam television and digital media to North America.
Orbital Sciences devised an architecture for hosted payloads to hook up to one of a satellite's transponders. Engineers added an antenna to listen for commands for CHIRP, intercept the signal and direct the message to CHIRP. A similar data path is available to downlink information back to Earth.
"We invented a device to allow an instrument to cleverly hijack communications on a channel without having to wire anything on the spacecraft," Elias said.
The design minimizes interference with the SES 2 satellite's primary communications mission, and it reduces the cost and complexity for CHIRP, according to Elias.
Orbital says it offers the hosted payload option on all of its satellites, but the final decision is up to the spacecraft owner. SES Government Solutions agreed to place the CHIRP payload on the SES 2 satellite.
Elias said hosted payloads require government customers to change their attitude from traditional multi-billion dollar programs with long development times.
"For hosted payloads to really work, the government customer has to change their mindset. They have to develop a little bit based on speculation," Elias said.
Commercial communications satellites are built in two years, while the design and development of advanced sensors for a specific military mission can take much longer. So a payload needs to be almost ready for flight before it can assigned to a host satellite.
Orbital is leading satellite integration and testing for the next-generation satellite fleet for Iridium, a leading mobile communications provider. The Iridium NEXT constellation consists of 81 satellites, including spares, and are available for hosted payloads.
The Iridium NEXT program represents an unprecedented opportunity for hosted payloads, but the company says it needs commitments by the end of 2012. Iridium CEO Matthew Desch said it's doubtful every slot for a hosted payload will be filled on Iridium NEXT. "The train is leaving now," Elias said.