Control system blamed for Chinese rocket mishap
BY STEPHEN CLARK
SPACEFLIGHT NOW
Posted: September 5, 2011


A Chinese Long March rocket crashed with an experimental satellite last month due to a failure in the launcher's second stage attitude control system, Chinese space officials announced Monday.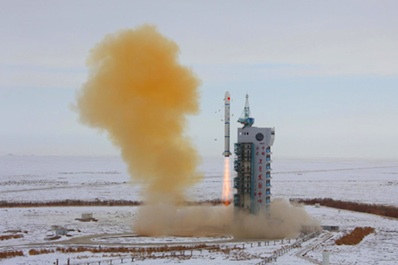 File photo of a Long March 2C rocket. Credit: CALT

The China Aerospace Science and Technology Corp., or CASC, released the results of an investigation into the Aug. 18 launch mishap, concluding the Long March rocket's second stage vernier engine system was to blame for the failure.
A Shijian 11 technology research spacecraft was lost in the failed launch, which originated from the Jiuquan space base in northwest China.
The inquiry found the anomaly's cause was a failed connection between a servomechanism and a vernier engine on the Long March rocket's second stage, causing the vehicle lose control of its orientation and fall back to Earth.
Servomechanisms sense errors in the rocket's attitude for the vehicle's engines to correct. The second stage Long March 2C rocket is powered by a single main engine and four smaller vernier steering engines to keep the rocket pointed in the right direction.
Each of the second stage vernier engines generate up to 2,650 pounds of thrust during their burn.
China rescheduled the launch of its first prototype space station module in the wake of last month's launch failure. Named Tiangong 1, which means heavenly palace, the 19,000-pound module will be launched on a Long March 2F rocket.
The Long March 2F, which successfully boosted all three of China's manned space missions into orbit, is derived from the Long March 2C launcher that failed Aug. 18. The man-rated booster features safety upgrades and more advanced technology to haul humans.
An unnamed spokesperson with the Tiangong 1 project told Chinese state media last week the launch would be delayed because the Long March 2F rocket belongs to the same series as the vehicle that malfunctioned.
China officially says the Tiangong 1 launch will occur in the second half of this year, but some analysts predicted the liftoff was supposed to happen in late August or early September. No new launch date is currently available.
Tiangong 1 will be the target of an unmanned flight of China's Shenzhou capsule later this year. The Shenzhou craft will attempt an automated rendezvous and docking with the Tiangong module several hundred miles above Earth.
If the docking is successful, it will form a mini-space station that could be visited by human crews in 2012.