Virginia launch facilities spared by Hurricane Irene
BY STEPHEN CLARK
SPACEFLIGHT NOW
Posted: August 29, 2011


Rocket launch facilities along Virginia's Eastern Shore escaped significant damage this weekend as Hurricane Irene swept up the Atlantic coastline, according to a NASA spokesperson.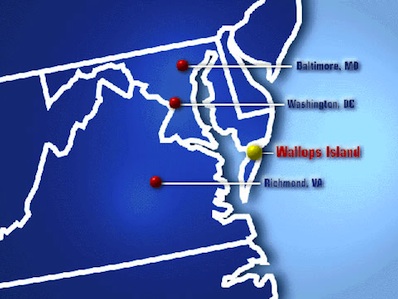 Credit: NASA/Wallops Flight Facility

The Wallops Flight Facility was "fortunate" to sustain "minimal damange" during the weekend storm, according to the site's official Twitter postings.
There was "no damage to any of the launch pads on the island," according to Keith Koehler, a Wallops Flight Facility spokesperson. "There was some sand that had covered some sections of the roads on the island but they were cleared Sunday afternoon."
Wallops Flight Facility and the Mid-Atlantic Regional Spaceport, a state-owned commercial spaceflight development agency, manage the site for suborbital, orbital and balloon launches from Virginia's Eastern Shore. The base's two largest launch pads are designed to support flights of the Minotaur and Taurus 2 rocket families.
Situated about 100 miles southeast of Washington, the rocket launch facility experienced winds of more than 60 mph and received drenching rains. But the Wallops Island launch pads did not see the severe storm surge originally feared.
Hurricane Irene plowed up the U.S. East Coast on Saturday and Sunday, producing heavy rains, high winds and storm surges from North Carolina to New England. News reports said the storm was responsible for 35 deaths and $7 billion in damage.
But Wallops was spared from major damage.

Photo of Taurus 2 rocket hardware inside the Wallops Horizontal Integration Facility. Credit: NASA/Orbital Sciences Corp.

The Horizontal Integration Facility for the Taurus 2 rocket program also suffered no significant impacts from Hurricane Irene. Koehler said small puddles of water entered the building under the large main doors, but none of the rocket equipment inside was damaged.
Two Ukrainian-built first stages and a solid-fueled second stage for the Taurus 2 rocket are inside the integration building. The first cargo module for the Orbital Sciences Corp. Cygnus resupply freighter for the International Space Station is also at Wallops.
Orbital Sciences is developing the Taurus 2 rocket and Cygnus cargo craft to ferry logistics to the space station under a $1.9 billion contract with NASA. The first test flight of the Taurus 2 rocket is scheduled for no earlier than December.