Cargo vessel for station resupply arrives in Virginia
BY JUSTIN RAY
SPACEFLIGHT NOW
Posted: August 25, 2011


The pressurized cargo module for Orbital Sciences' first Cygnus commercial resupply spacecraft to the International Space Station arrived at NASA's Wallops Flight Facility in Virginia this week.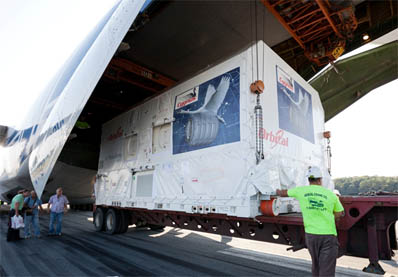 The shipping container holding the Cygnus cargo module is unloaded. Credit: NASA/Wallops Flight Facility



Built in Italy by Thales Alenia Space, the vessel was flown to the U.S. launch site aboard an Antonov transport aircraft on Wednesday.

The module will be integrated with the Cygnus service compartment in preparation for blastoff aboard a Taurus 2 rocket early next year on a NASA-sponsored demonstration mission to the space station.

"This is one more important step in our partnership with U.S. private industry to build safe, reliable and cost effective cargo transportation systems," said Philip McAlister, acting director of commercial spaceflight development at NASA Headquarters. "We are pleased that Orbital has made this accomplishment and look forward to the company flying the Cygnus spacecraft in 2012."

Orbital Sciences and SpaceX were chosen by NASA under the Commercial Orbital Transportation Services (COTS) program to develop dependable means of flying cargo to the space station following retirement of the space shuttles. Both firms are building spacecraft and rockets to carry out test flights in the coming months.

"The arrival of the first pressurized cargo module at Wallops is an important milestone for the Cygnus program, signifying that we are making great progress toward carrying out the COTS demonstration mission early next year," said Frank DeMauro, Orbital's Cygnus program manager.

"With the first fully-assembled service module currently in testing at our Dulles, Virginia satellite design and production facilities, it won't be too long before both of the major elements are united at Wallops for final system integration, followed by integration with the Taurus 2 rocket that will launch Cygnus to the International Space Station."

After passing the COTS test next year, Orbital will begin conducting eight scheduled space station resupply mission with Cygnus spacecraft under a $1.9 billion contract through 2015.

The pressurized cargo module delivered to Wallops this week is designed to haul about 4,400 pounds of supplies. Orbital plans to enhance future modules to carry about 6,000 pounds.

SpaceX flight-tested its Falcon 9 rocket and Dragon capsule last year. The company hopes to fly a COTS demonstration to the station in December, then begin its dozen operational resupply missions next year under a $1.6 billion deal with NASA.


Additional coverage for subscribers:


VIDEO: CYGNUS CARGO MODULE ARRIVES AT WALLOPS PLAY | HI-DEF


SUBSCRIBE NOW