NASA pursues tests of solar sail, laser communications
BY STEPHEN CLARK
SPACEFLIGHT NOW
Posted: August 21, 2011


Kicking off a new line of technology demonstration missions, NASA announced plans Monday to demonstrate a laser communications system, a precise atomic clock and a futuristic solar sail in space by 2016, but officials cautioned budgetary negotiations may keep the high-tech missions on the ground.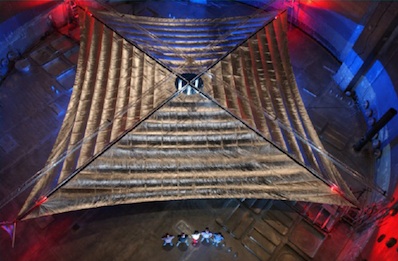 Photo of a solar sail deployed in ground testing. Credit: NASA

"NASA has selected three proposals as technology demonstration missions that we believe will transform space communications and in-space propulsion," said Michael Gazarik, NASA's deputy chief technologist. "The missions will develop and fly a space solar sail, a deep space atomic clock and a space laser communications system."
Launches of the three demo missions are expected in 2015 and 2016 as piggyback payloads. The experiments would fly on already-planned rocket launches or as hosted payloads on existing satellites.
"These technology demonstration missions will improve our communications, navigation and in-space propulsion capabilities, enable future missions that could not otherwise be performed, and build the technological capability of America's space industry," said Bobby Braun, NASA's chief technologist.
The mission trio is the first set of flight tests selected since NASA started a fresh program in 2010 focusing on the development of advanced technologies for future applications in space travel.
NASA's technology office plans to invest $175 million in the three missions. Additional funding will come from other NASA divisions and external federal agencies, according to Gazarik.
Gazarik told reporters Monday each team included a tentative total cost in their proposal to NASA. The solar sail demo is expected to cost $20 million, the deep space atomic clock project will run about $60 million, and the laser communications payload is projected to cost $170 million, Gazarik said.
The final cost figures will be available after negotiations between NASA, the experiment teams and potential cost-sharing partners inside and outside the agency.
NASA selected the three winners out of 47 proposals received. The space agency solicited suggestions from the research community addressing one of four areas: advanced space communications; positioning, navigation and timing; orbital debris removal and mitigation; and autonomous rendezvous, formation-flying and docking.
Bonnie James, NASA's program executive for the technology demonstration missions, said affordability was one of the factors in the agency's decision on which projects to award funding.
Although the White House requested more than $1 billion for NASA's technology development effort in fiscal year 2012, the Republican-led House included just $375 million for the program in its draft budget for next year. The space agency's high-tech research program is working with $512 million this fiscal year, which ends Sept. 30.
With such uncertainty in the budget, Gazarik acknowledged NASA made "conservative" assumptions about federal money for the technology program through the next few years, saying they didn't adopt the White House's $1 billion dream budget when considering what missions to select in the competition.
"All of this is subject to the appropriations process," Gazarik said, adding it would not be prudent at this time to discuss specific numbers in NASA's budget projection.
All three missions announced Monday will fly into space as secondary passengers on commercial launch vehicles. Two of the experiments will take advantage of excess capacity on existing spacecraft to accomplish their objectives. The rideshare strategy is one way of reducing the program's overall cost.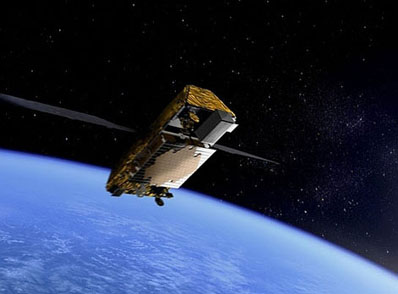 Artist's concept of a next-generation Iridium communications satellite in orbit. Credit: Thales Alenia Space

The deep space atomic clock, led by researchers at the Jet Propulsion Laboratory in California, will fly as a hosted payload on a single next-generation Iridium communications satellite. It will be ready to fly within three years of the start of full-scale development, NASA said.
The mission features a miniaturized mercury-ion atomic clock 10 times more accurate than today's systems. It will make use of GPS navigation signals to demonstrate precise orbit determination, proving the clock could be used to supplant deep space radio navigation.
The laser communications instrument will be stationed in geosynchronous orbit 22,300 miles over the equator, a prime location to conduct communications experiments with orbiting satellites or ground stations. It will be bolted to an unidentified commercial communications satellite and should be ready to launch in four years, according to David Israel, the leader of the investigation from NASA's Goddard Space Flight Center in Maryland.
NASA hopes to gradually shift its legacy radio-based communications network to an optical system, and the laser test is a significant milestone to meet that goal.
"This transition will take several years to complete, but the eventual payback will be very large increases in the amount of data we can transmit, both downlink and uplink, especially to distant destinations in the solar system and beyond," said James Reuther, director of NASA's crosscutting technology demonstrations division.
NASA's new human exploration and operations mission directorate will fund a portion of the laser communications experiment. The NASA unit oversees the International Space Station, the development of future commercial and government spacecraft, and manages the agency's fleet of tracking and data relay satellites that link the space station and satellites with ground controllers.
Optical laser communications could enable data links and bandwidths up to 100 times faster than legacy radio systems, vastly expanding the science and spectacular imagery returned from future human and robotic missions. For example, Gazarik said laser communications would reduce the transmission time of a high-resolution image from Mars from 90 minutes to less than 10 minutes.
"It will be like going from home dial-up Internet service to broadband as far as data transmission rates from Mars," Gazarik said.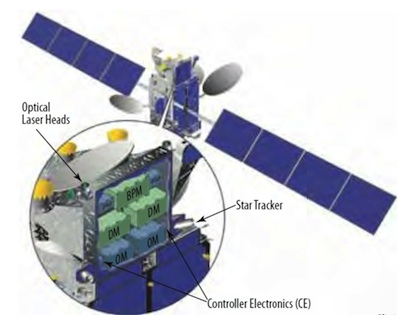 Conceptual sketch of NASA's laser communications experiment aboard a commercial satellite. Credit: NASA

The solar sail mission, led by L'Garde Inc. of California, would unfurl an ultra-thin sail membrane seven times larger than ever flown in space before. The proposed sail has area more than 15,000 square feet, four times bigger than the largest sail ever deployed on the ground.
The biggest solar sail flown in space before was Japan's Ikaros mission, which covered a surface area of about 2,100 square feet. It successfully proved the theory of solar sailing, which relies on pressure from sunlight to accelerate the spacecraft. Ikaros also last year tested rudimentary navigation techniques by tilting its sail from side to side to slightly change its course through the solar system.
Photons, or units of light, from the sun bombard the solar sail and transfer small amounts of energy to the spacecraft without needing heavy chemical propellants. The efficient mode of propulsion could open up a wide range of possible space missions inconceivable with current technology.
"The small sails that have been demonstrated to date are just proof of concept to see that the sail can be deployed and you could actually get it to work and propel youself," Reuther said Monday. "This concept takes it much further than that."
The L'Garde solar sail concept is big enough to actually show utility for specific missions. NOAA is collaborating with NASA and L'Garde on the demonstration in hopes of using the technology on the GeoStorm project, which is looking at locating satellites at gravity-neutral pseudo Lagrange points three times further than Earth than satellites can currently operate.
NOAA places conventional satellites at a Lagrange point 1 million miles from Earth to give warning of approaching solar storms that could disrupt communications, electrical grids and other infrastructure in everyday life. Solar sail technology could allow satellites to be placed at a stationary point up to 3 million miles from Earth, increasing the warning time from 15 minutes to 45 minutes.
The solar sail demo selected by NASA is "taking it far enough along to show that you could, in fact, connect this sail to a future mission to perform a particular task, such as stationkeeping," Reuther said. "Furthermore, the sail is actually a guided sail. It has all the features in it that allow it to change directions [and] operate within space."
NASA, other government agencies and commercial operators could also use solar sails to help remove space junk from Earth orbit and transport cargo into deep space.