A rocket's resurrection?
BY STEPHEN CLARK
SPACEFLIGHT NOW
Posted: August 21, 2011


The familiar green and white Delta 2 rocket now on the cusp of retirement could be given new life to launch a handful of NASA climate research satellites later this decade.
NASA is considering proposals from United Launch Alliance and Orbital Sciences Corp. to add the Delta 2 and Taurus 2 rockets to the space agency's stable of launch vehicles for medium-class science satellites, according to industry and government sources.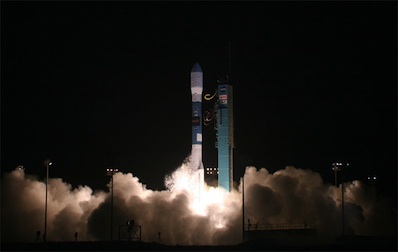 File photo of a Delta 2 rocket launch. Credit: William Hartenstein/United Launch Alliance

The companies submitted bids in an interim "on-ramp" period established by NASA to fill a void between lightweight rockets and the more costly intermediate-class Atlas 5 rocket.
NASA is facing a cost crunch in the rocket business as rising launch prices threaten to scale back the agency's Earth science satellite program.
United Launch Alliance's Delta 2 rocket is the only medium-class rocket available that meets NASA requirements to launch the agency's most complex and expensive payloads. It has carried 60 percent of NASA's scientific satellites into space over the last decade, and it can haul from 5,600 pounds to 12,000 pounds into low Earth orbit.
But a 10-year omnibus contract signed last year between NASA and four launch companies didn't include the Delta 2. The Air Force stopped using the venerable launcher in 2009, and without a stable anchor customer, the Delta 2's future seemed uncertain.
When the Air Force retreated from the Delta 2 program, NASA picked up the cost of maintaining the rocket's ground infrastructure to ensure it was ready to launch a series of research missions through this year. There are now two NASA launches left on the Delta 2's manifest -- one from Florida and one from California.
ULA didn't propose the Delta 2 rocket for the new NASA Launch Services contract awarded last year. Instead of picking the Delta 2, NASA ended up selecting ULA's larger Atlas 5 rocket, the Orbital Sciences Corp. Pegasus XL and Taurus XL launchers, SpaceX's Falcon 9 rocket and the Athena 1c and 2c vehicles from Lockheed Martin Corp. The contract's overall value could be as much as $15 billion for up to 70 missions over the next decade.
When the space agency chooses rockets to launch unmanned satellites or robotic science probes into the solar system, managers usually must pick one of those approved vehicles to launch them from Earth.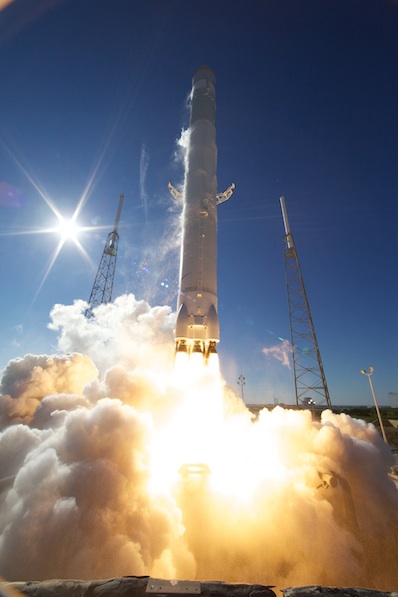 File photo of a Falcon 9 rocket launch. Credit: Chris Thompson/SpaceX

But as launch costs skyrocket -- rising by 50 percent in three years in some cases -- NASA is seeking more cost-effective solutions to launch a slate of Earth science satellites. Tightening federal budgets put more pressure on finding less expensive rockets to launch NASA payloads.
ULA says it has components for five Delta 2 rockets left in its inventory. The rocket's production line has already been shut down.
Vernon Thorp, ULA's program manager for NASA missions, said his company is proposing adding the Delta 2 to the space agency's pool of rocket choices for future satellite missions.
His sales pitch is simple: "It works."
"It's a good performance fit and it has a great track record," Thorp said. "NASA knows what they're getting with Delta 2."
Although its last mission is now set for October, Thorp said ULA foresees no issue with a multi-year gap between this year's launches and follow-on missions as late as 2014. The company can occupy its workforce on the larger Atlas 5 and Delta 4 launch vehicles until crews are needed again for the Delta 2, he said.
The five leftover Delta 2 vehicles are built to fly in the rocket's Heavy configuration, which are powered off the ground by bigger 46-inch solid rocket boosters. The Delta 2's launch pad at Vandenberg Air Force Base, Calif., is not set up to support launches with the more powerful boosters.
Thorp said ULA could restart procurement of the Delta 2's smaller 40-inch diameter solid rocket boosters for West Coast missions, assuming NASA shows interest. Most of the NASA satellites requiring a rocket like the Delta 2 would launch into polar orbit from the West Coast.
The rocket's solid-fueled boosters are built by ATK in Utah.
NASA needs reliability

The Delta 2 rocket is the only launch vehicle in its class with a Category 3 certification, meaning it's in the running to launch any NASA scientific spacecraft that will fit on it. ULA's larger Atlas 5 rocket, which has launched NASA probes to Mars, Jupiter and Pluto, also holds a coveted Category 3 certification from the space agency.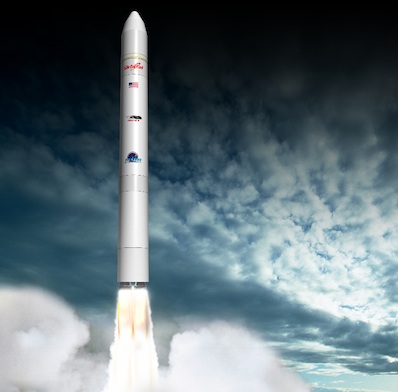 Artist's concept of a Taurus 2 rocket launch. Credit: Orbital Sciences

The SpaceX Falcon 9 rocket, which is in roughly the same class as the Delta 2, is now eligible to be awarded contracts for individual missions, but the certification process won't begin until NASA issues such a task order. According to a Government Accountability Office report in November 2010, the Falcon 9 rocket may not receive a top Category 3 certification until 2014 despite having racked up two successful launches in 2010.
A rocket must be certified at least six months before a NASA launch, according to agency policy.
Since its first launch in 1989, the Delta 2 has amassed 147 successful flights in 149 tries.
Most of NASA's medium-class payloads lacking a reliable, economic launch vehicle are Earth science satellites. Because those spacecraft go into orbit over Earth's poles, they must blast off from the U.S. West Coast. Launches from Florida, which are more suited for equatorial orbits or interplanetary missions, can't reach polar orbit because the rocket would overfly populated areas.
The reflight of the Orbiting Carbon Observatory, or OCO 2, is scheduled for February 2013. It's the most immediate concern for NASA's rocket selection team.
Although NASA had a contract to launch OCO 2 on a solid-fueled Taurus XL rocket from California, agency officials have stated the Taurus XL must be recertified or demonstrated before placing another NASA payload aboard the vehicle. NASA stopped making payments to Orbital Sciences for the OCO 2 launch this spring.
That's because the Taurus XL suffered back-to-back launch failures in 2009 and 2011, costing NASA nearly $700 million with the loss of two satellites. One of the doomed payloads was the original Orbiting Carbon Observatory in 2009.
OCO 2 will track concentrations and movements of atmospheric carbon dioxide, including human-produced greenhouse gases. Results from OCO 2 will help scientists make better predictions about how increased carbon dioxide will impact Earth's climate and inform government leaders as they develop policies to confront climate change, according to NASA.
Having ceased payments for the Taurus XL launch of OCO 2, NASA is now shopping for a new rocket to deliver the spacecraft into orbit. The Delta 2, Athena and the U.S. military's Minotaur rocket could do the job. But the law requires NASA to consider commercial rockets before turning to military launch vehicles. Even then such a decision requires approval by the Secretary of Defense.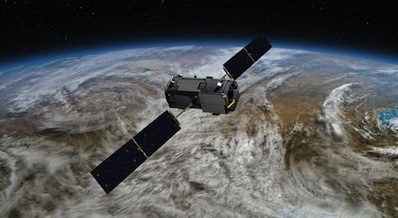 An artist's concept of the Orbiting Carbon Observatory 2, one of the satellites waiting to be assigned a rocket. Credit: NASA

Other satellites in need of a medium-class launch vehicle in the next few years include the joint U.S.-French Jason 3 ocean observation satellite scheduled to launch in 2013 or 2014, the Soil Moisture Active Passive satellite in 2014, and the second Ice, Cloud and land Elevation Satellite, or ICESat 2, slated to blast off in early 2016.
NASA typically awards launch contracts for each satellite mission about three years ahead of liftoff. Some of the spacecraft awaiting rocket assignments, such as OCO 2 and Jason 3, are scheduled to launch in less than three years, so the missions could face delays and overall cost increases as a result of the rocket dilemma.
Responding to the urgent need for rocket options, NASA opened up a fresh round of proposals -- called an on-ramp in NASA terminology -- in July and August for companies to submit offers to add new rockets to the NASA Launch Services contract.
Orbital Sciences and ULA responded with the Taurus 2 and Delta 2 rockets, respectively.
NASA officials declined to comment on the proposals because it is still an open competition, but the agency expects to announce a decision by the end of this year, according to a NASA spokesperson.
The Taurus 2, mostly unrelated to the troubled Taurus XL, is being developed by Orbital Sciences to deliver cargo to the International Space Station. The Dulles, Va.-based company says it wants to sell the expendable rocket for launches of NASA and U.S. military payloads.
"We are submitting proposals both to NASA and to the Air Force so that they can include Taurus 2 on the contracts that they have for space launch vehicles," said David Thompson, Orbital's chairman and CEO, in a conference call last month. "My expectation would be that we will not see the first order placed for a Taurus 2 under those contracts until sometime after the first launch late this year."
According to Orbital, the first launch of the Taurus 2 is scheduled for December from a new launch facility at Wallops Island, Va. If the test flight goes well, the next mission would demonstrate Orbital's Cygnus cargo freighter on a voyage to the space station.