Chinese rocket fails to orbit experimental satellite
BY STEPHEN CLARK
SPACEFLIGHT NOW
Posted: August 18, 2011


A Chinese Long March rocket failed to orbit an experimental Shijian satellite Thursday, weeks before the country plans to send a man-rated space station module into orbit.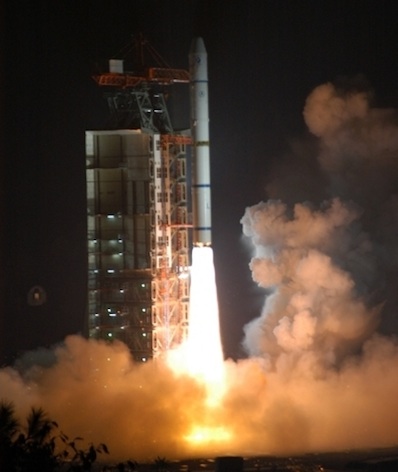 File photo of a Long March 2C rocket launch. Credit: CNSA

Chinese state media sources reported a Long March 2C rocket lifted off at 0928 GMT (5:28 a.m. EDT) from the Jiuquan launching base in northwest China. But the two-stage launcher failed to inject the payload into orbit, according to the Xinhua news agency.
The rocket's passenger was the fourth satellite in the Shijian 11 series of scientific and technology research spacecraft. Analysts speculate the satellites may be part of an early warning constellation for the Chinese military, but China has not divulged the specific mission of the series.
Two Shijian 11 payloads were shot into orbit in July. The first Shijian 11 spacecraft launched in 2009.
Thursday's flight was the third Chinese space launch in the last week, following the successful orbital deliveries of a communications satellite for Pakistan and a Chinese ocean observing satellite.
So far this year, China has attempted nine space launches from its three spaceports. Thursday's mishap was the first launch failure this year for China, and it was the second space launch attempt to fall short of orbit worldwide in 2011.
The last Chinese rocket anomaly was in 2009, when an Indonesia communications satellite was placed in the wrong orbit.
China is preparing to launch the first test flight of a future space station module as soon as this month. Named Tiangong 1, which means heavenly palace, the 19,000-pound module will be launched on a Long March 2F rocket.
The Long March 2F, which successfully boosted all three of China's manned space missions into orbit, is derived from the Long March 2C launcher that failed Thursday. The man-rated booster features safety upgrades and more advanced technology to haul humans.
Tiangong 1 will be the target of an unmanned flight of China's Shenzhou capsule later this year. The Shenzhou craft will attempt an automated rendezvous and docking with the Tiangong module several hundred miles above Earth.
If the docking is successful, it will form a mini-space station that could be visited by human crews in 2012.