Indian satellite launched to serve rural communities
BY STEPHEN CLARK
SPACEFLIGHT NOW
Posted: July 15, 2011


A beefed-up Indian rocket soared into orbit Friday with a 3,100-pound communications satellite to link impoverished rural communities with education and health centers.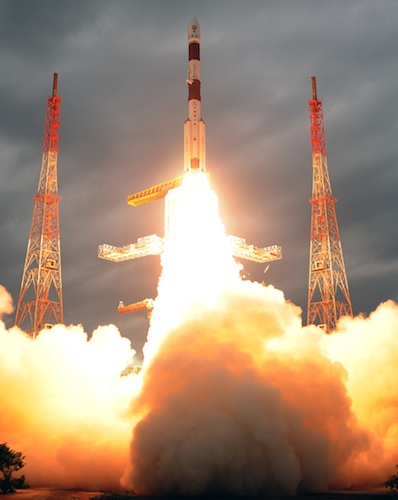 The Polar Satellite Launch Vehicle lifted off at 4:48 p.m. local time Friday in India. Credit: ISRO

The 14-story Polar Satellite Launch Vehicle lifted off at 1118 GMT (7:18 a.m. EDT) from the Satish Dhawan Space Center on Sriharikota Island, India's primary launch site on the country's east coast. Liftoff was at 4:48 p.m. local time.
Initially developed to launch polar-orbiting observation satellites, the PSLV has also found a niche delivering light communications spacecraft to orbit. It also launched India's first probe to the moon in 2008.
The PSLV rumbled into a cloudy sky over Sriharikota, disappearing from view less than a minute after liftoff as it powered its way off the ground on nearly 2 million pounds of thrust with a core stage and six large solid rocket boosters carrying extra propellant for the launcher's hefty communications satellite payload.
The souped-up version of the rocket launched Friday is called the PSLV XL. Friday's flight was the second PSLV mission this year, following the successful launch of the Resourcesat 2 Earth observation satellite in April.
A liquid-fueled second stage accelerated the rocket to 11,000 mph, then two more stages fired to inject the GSAT 12 communications satellite in the correct orbit.
The rocket's fourth stage released the payload about 20 minutes after liftoff, and the Indian Space Research Organization confirmed the launch reached the planned orbit.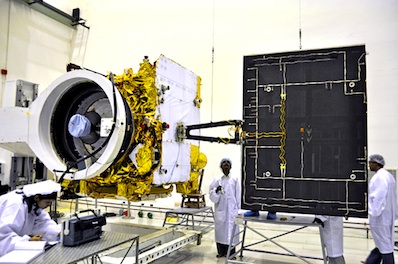 Photo of the GSAT 12 satellite during ground testing. Credit: ISRO

The PSLV was aiming for an orbit with a low point of 176 miles, a high point of 13,000 miles and an inclination of 17.9 degrees, according to ISRO.
It was the 19th flight of the PSLV, which has amassed a streak of successful launches over the last decade. India's larger booster, the Geosynchronous Satellite Launch Vehicle, suffered back-to-back failures on two flights in 2010.
GSAT 12 will raise its orbit with a liquid apogee motor over the next few days, eventually reaching a circular orbit 22,300 miles over the equator. Controllers will guide the spacecraft to a permanent operating position at 83 degrees east longitude, where it will be co-located with the INSAT 2E and INSAT 4A communications satellites.
The satellite's 12 extended C-band transponders will reach across India, beaming telemedicine, remote education, weather forecasts and other public service information to rural communities.
GSAT 12 replaces capacity on the INSAT 3B satellite launched in 2000, according to ISRO.
The spacecraft is about the size of a compact car and is designed for an eight-year mission.