NewsAlert





Sign up for our NewsAlert service and have the latest news in astronomy and space e-mailed direct to your desktop.


Privacy note: your e-mail address will not be used for any other purpose.







Rosetta glimpses comet and enters hibernation
DR EMILY BALDWIN
ASTRONOMY NOW
Posted: June 9, 2011


Despite being over 160 million kilometres from its final destination, ESA's comet-chasing Rosetta spacecraft has eyed up comet Churyumov-Gerasimenko ahead of its 2014 rendezvous, and will now wait out the rest of its journey in hibernation mode.


Left: Comet Churyumov-Gerasimenko is hidden within a crowded star field in the constellation Scorpius. Middle: The narrow-angle camera allows for a closer look. Right: After refined steps of data processing the comet becomes visible. Image: ESA 2011 MPS for OSIRIS-Team MPS/UPD/LAM/IAA/RSSD/INTA/UPM/DASP/IDA

The images were taken by OSIRIS (Optical, Spectroscopic, and Infrared Remote Imaging System) - which has a ten centimetre diameter mirror - and required a total exposure time of 13 hours. Fifty-two images each of 15 minutes were combined to produce the final view. Even though the comet appears as a single point of light covering just a few pixels, the OSIRIS team are extremely happy with the result.
"The images are a remarkable proof of the camera's performance," says OSIRIS Lead Investigator Holger Sierks. "We had not expected to be able to create first images from so far away."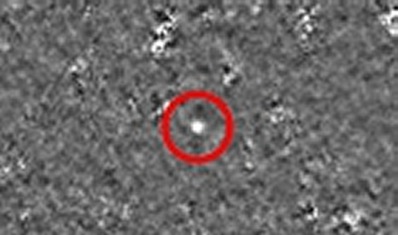 A zoomed in version of the image. Rosetta is some 163 million kilometres from comet Churyumov-Gerasimenko. Image: NASA/JPL-Caltech/UCLA/MPS/DLR/IDA

Having succeeded in these tests, Rosetta will now enter a 31 month hibernation phase to conserve energy prior to its rendezvous with Churyumov-Gerasimenko in 2014. The spacecraft will receive a wake up call in January 2014 and will be reactivated over the months before its closest approach with the comet in July 2014.
"With flybys of asteroids Steins in 2008 and Lutetia in 2010, Rosetta has already delivered excellent scientific results," says Paolo Ferri, Head of ESOC's Solar and Planetary Mission Operations Division. "Hibernation is a necessary step to reach the final target. We are now looking forward to 2014, when Rosetta becomes the first spacecraft to track the life of a comet as it arcs in toward the Sun."