NASA lays claim to Atlas 5 rocket for the rest of 2011
BY STEPHEN CLARK
SPACEFLIGHT NOW
Posted: May 27, 2011


The U.S. Air Force plans to launch navigation and communications satellites on Delta 4 rockets later this year while a battery of NASA payloads, including missions to Jupiter and Mars, occupy the Atlas 5 rocket manifest, according to military officials.


| | |
| --- | --- |
| | The Air Force's SBIRS GEO 1 missile warning satellite launched May 7. Credit: Stephen Clark/Spaceflight Now |
The Pentagon launched the first geostationary Space Based Infrared System satellite, or SBIRS GEO 1, on an Atlas 5 rocket May 7, clearing the way for NASA's Juno and Mars Science Laboratory missions to blast off this summer and fall.

Juno is a radiation-hardened orbited scheduled for launch Aug. 5 on the most powerful version of the Atlas 5 rocket. With five strap-on boosters and a five-meter payload fairing, the Atlas will send Juno on a five-year journey to Jupiter.

NASA's next Mars rover will lift off Nov. 25 on the next Atlas 5 rocket on an eight-month trip to the Red Planet.

The back-to-back NASA missions are keeping some military payloads on the ground, including the U.S. Navy's first Mobile User Objective System narrowband communications satellite.

In testimony before the Senate Armed Services Committee's strategic forces subcommittee, Navy officials said the MUOS 1 satellite is now scheduled for launch in February 2012 and should achieve on-orbit capability three months later.

"We project that the launch will occur in February of 2012," said John Zangardi, deputy assistant secretary of the Navy for command, control, communications, computers, intelligence, information operations and space. "We've been provided with a launch slot, and that was firmed up a few months ago."

The MUOS fleet will replace the Navy's aging and degrading UHF satellite communications network. The system will be used across the military for mobile tactical communications through a cell phone-type architecture.

"Previously, (the) Navy planned for the first MUOS satellite to achieve on-orbit capability in December 2011," Zangardi said in prepared testimony. "However, the launches of several higher priority spacecraft have dictated a primary launch date in February 2012."

The Air Force launched the high-priority SBIRS GEO 1 spacecraft May 7, then yielded the Atlas manifest until for civilian missions until military flights resume in early 2012.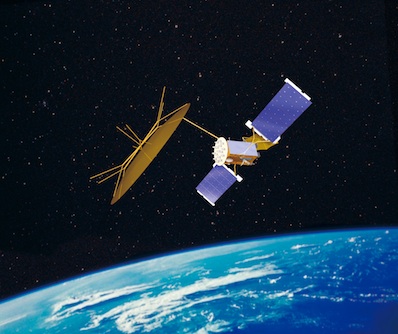 Artist's concept of a U.S. Navy MUOS communications satellite. Credit: Lockheed Martin

"We knew that the NASA missions would block out the Atlas slots at the Cape for these six months, so, in a sense, we managed those slots by ensuring that we would go ahead and get all the necessary Atlas launches off before that shutdown occurred at the Cape," said Doug Loverro, executive director of the Air Force Space and Missile Systems Center. "That's one of the reasons we were so focused on the SBIRS schedule over the last six months is because we knew that if we did not get SBIRS off by the middle of May, we would be blocked off for the next six months, not because of the satellite but because of NASA."
Another military communications satellite, the Air Force's second Advanced Extremely High Frequency spacecraft, is also on the agenda for liftoff in the first half of 2012. The AEHF 2 mission could follow a few months after MUOS 1, assuming the first AEHF spacecraft reaches its orbital station and passes checkout testing.
The NASA payloads don't affect launches of the Delta 4 rocket or missions staged from the nation's polar orbit launch site at Vandenberg Air Force Base, Calif.
The Atlas 5 and Delta 4 boosters comprise the Evolved Expendable Launch Vehicle program, an enterprise led by the Air Force and United Launch Alliance, the joint company formed by Lockeed Martin Corp. and Boeing Co. to consolidate rocket operations.
The two rocket families help ensure pivotal U.S. satellites, including military and scientific craft, have an assured ride into space.
"We will be launching Air Force satellites. One of the ways we can practice slot management is many of our satellites are dual-manifested," Loverro said. "They can fly either Atlas or Delta."
The Air Force plans to launch two Delta 4 rockets from Florida before the end of 2011.
First, a Delta 4 will haul a Global Positioning System satellite into space. The launch of the GPS 2F-2 satellite is scheduled for July 14.
The Air Force's fourth Wideband Global SATCOM communications satellite is on track to launch on another Delta 4 rocket on Nov. 17, according to a spokesperson for the service.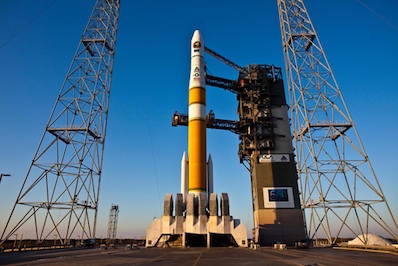 File photo of a Delta 4 rocket on the launch pad. Credit: Pat Corkery/United Launch Alliance

The Atlas 5 and Delta 4 rockets can each launch from Cape Canaveral about six-to-seven times per year based on manpower and workload constraints. The actual launch rate fluctuates based on the readiness of their satellite passengers.
The Air Force and ULA instituted a new management approach to assign multiple potential payloads to a single rocket launch slot two years in advance. Officials select the most ready and important satellite for final launch preparations closer to the appointed liftoff date.
"What we're trying to do with slot management is trying to ensure that when a slot is available, we can ensure it's being utilized by somebody," Loverro said. That may be us, that may be NASA, that may be a commercial (customer). We didn't want to go ahead and foresake a slot because somebody wasn't ready."
Loverro said none of the Air Force's own satellites face any launch delay due to the back-to-back NASA missions this year. The Air Force knew the Atlas launch schedule would be occupied in the second half of 2011 and planned accordingly, accelerating some missions while slowing down others.
Zangardi told lawmakers May 11 the Navy's first MUOS satellite could be ready for launch this year if a flight opportunity became available. But with NASA missions already on the manifest, that isn't likely.