One of two reflectors opened on Intelsat New Dawn
BY STEPHEN CLARK
SPACEFLIGHT NOW
Posted: May 26, 2011


Intelsat has successfully activated the Ku-band communications system on its newest satellite, but the other half of the craft's wireless communications and broadcasting payload remains sidelined by a stuck antenna, a company spokesperson said Thursday.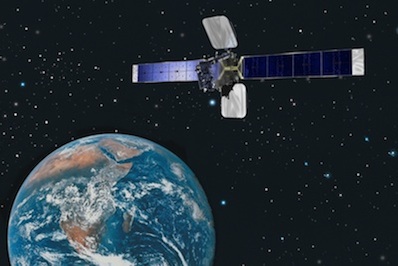 Artist's concept of the Intelsat New Dawn satellite. Credit: Intelsat

The Intelsat New Dawn spacecraft ran into problems deploying its C-band antenna after launching on an Ariane 5 rocket last month, and the 8.8-foot-diameter reflector still won't budge, according to Intelsat officials.
Built by Orbital Sciences Corp., the satellite carries 14 active C-band transponders and 16 Ku-band transponders to serve customers in Africa, the Middle East, Pakistan and Western Europe.
After several days of shaking the antenna and alternating its temperature to no avail, Intelsat officials opted to unfurl the satellite's Ku-band antenna, a similar appendage on the opposite side of the spacecraft's core.
There was some initial worry the Ku-band antenna could be afflicted by the same problem as the C-band reflector, but more careful analysis showed the best course of action would be to send the deployment command.
The Ku-band reflector, also measuring about 8.8 feet across, popped loose without incident. Testing of the satellite's Ku-band payload was completed successfully, according to Alex Horwitz, an Intelsat spokesperson.
Horwitz said "active thrusting" efforts to deploy the C-band antenna through mechanical shaking ended Monday, and Intelsat New Dawn began drifting to its final location in geostationary orbit Tuesday.
The satellite is designed to operate along the equator at 32.8 degrees east longitude at an altitude of 22,300 miles. Its design life is 15 years.
"We are continuing non-thrusting deployment efforts and will provide an update when we have more information to share," Horwitz told Spaceflight Now.
Funded by Intelsat and South African investors led by Convergence Partners, the Intelsat New Dawn project is valued at approximately $250 million. The satellite is designed for wireless broadband, television broadcasting and other media services for Africa and neighboring regions.
Intelsat New Dawn launched April 22 and all other systems on the satellite are functioning as expected, according to Intelsat.
The company has not disclosed potential insurance claims or the financial implications of the C-band reflector anomaly. Intelsat New Dawn was built to replace capacity on the Galaxy 11 satellite, which Intelsat expects to continue operating until 2015.