Solar panel fails to deploy on Telstar 14R satellite
BY STEPHEN CLARK
SPACEFLIGHT NOW
Posted: May 25, 2011


One of two power-producting solar panels on the Telstar 14R communications satellite launched Friday failed to fully deploy, potentially limiting the craft's planned mission to link North and South America, according to its Canadian operator.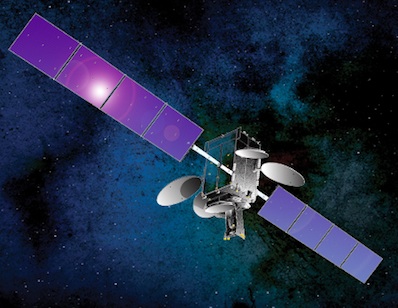 Artist's concept of the Telstar 14R satellite. Credit: Space Systems/Loral

The satellite's north solar array did not fully extend after launch, according to Telesat, the craft's operator based in Ottawa, Canada. Telstar 14R's south solar panel deployed normally is generating electricity.
Telesat says the spacecraft is "stable and is otherwise operating as expected," adding the satellite manufacturer is analyzing data to determine what steps are necessary to overcome the deployment anomaly.
Telstar 14R was built by Space Systems/Loral of Palo Alto, Calif. The satellite is also known as Estrela do Sul 2, meaning "southern star" in Portuguese, because one of its primary coverage zones is over Brazil.
If controllers are unable to resolve the problem, Telesat expects the satellite will support all the existing services provided by Telstar 14, the craft it was supposed to replace.
Telstar 14, also called Estrela do Sul 1, launched in 2004 but was stricken when its north solar array also failed to fully deploy in space. Telstar 14 has been operating only a fraction of its communications payload since then, and Telesat ordered Telstar 14R to replace and expand service from its orbital location in geostationary orbit at 63 degrees west longitude.
Telesat expected Telstar 14R would more than double the communications capacity of Telstar 14. With five beams and 46 Ku-band transponders, Telstar 14R's coverage was to be focused on Brazil, with additional coverage of the Atlantic Ocean, the Andean region and Central America, the southern cone of South America and the continental United States.
Telstar 14R blasted off Friday aboard a Proton rocket from the Baikonur Cosmodrome in Kazakhstan. The launcher propelled the satellite into an accurate orbit, releasing the craft more than nine hours after liftoff to conclude a successful mission.
When Telesat announced the solar array issue, the spacecraft was executing an orbit-raising campaign with its main engine to reach the planned circular orbit 22,300 miles above the equator.
A subset of Telstar 14R's transponders have the ability to switch between coverage zones, giving Telesat flexibility to respond to changing market demands.