Four firms plan to get the most out of NASA investment
BY STEPHEN CLARK
SPACEFLIGHT NOW
Posted: April 25, 2011


The four companies granted almost $270 million by NASA last week face an orchestrated series of hardware tests, design milestones and government reviews of their privately-developed spacecraft over the next year, according to documents released by NASA.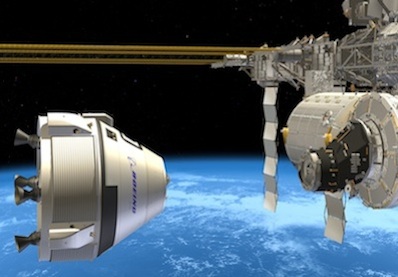 Artist's concept of Boeing's CST-100 spacecraft approaching the International Space Station. Credit: Boeing

Each firm will receive their funding in payments at specific milestones set by the company and agreed to by NASA. The milestones include achievements like engineering reviews, propulsion testing and assembly of prototype hardware through May 2012.
Boeing received the largest Commercial Crew Development award, an agreement valued at $92.3 million, to finish the preliminary design of the CST-100 capsule, a back-to-basics spacecraft solely designed for up-and-down trips to the International Space Station and other destinations in low Earth orbit.
The aerospace giant plans to select a rocket to launch the capsule, which Boeing says will weigh up to 13 metric tons, or more than 28,000 pounds. Boeing will also test the craft's parachutes in an airborne drop and fire a lightweight abort engine built by Pratt & Whitney Rocketdyne.
Engineers at the Langley Research Center in Virginia will drop a mock-up of the CST-100 into a landing pit to check the strength of the craft's airbags. Boeing and NASA already accomplished some drop testing, but engineers will add horizontal velocity this year to simulate windy landing conditions.
A scale model of the spacecraft and launch vehicle will be put through wind tunnel testing to check aerodynamic characteristics, and a propellant tank will be fabricated and tested, according to Boeing.
Other demos on tap soon include the construction of a CST-100 structural test article made of aluminum, testing pyrotechnics to sever connections between the crew and service modules, and evaluating a new thruster design fueled by non-toxic propellant.
John Elbon, Boeing's commercial crew program manager, said he expects Boeing's workforce dedicated to the CST-100 development will increase to between 200 and 250 employees this year. Most of the workers will be based in Houston and Huntington Beach, Calif. Some employees will contribute from Florida and Alabama.
With an early investment from NASA last year, Boeing built a CST-100 pressure shell, verified its weld-less manufacturing processes, constructed a mock-up to test human factors and crew accommodations, fired a prototype abort engine, and developed an automated rendezvous and docking simulator.
"That's all behind us," Elbon said. "We accomplished that with $18 million of NASA investment. We put in a like amount. It was incredible the amount we were able to get done with that amount of money in the environment we're in today."
Elbon said Boeing's $92.3 million CCDev 2 award was close to the company's request.
With room for up to seven astronauts, the CST-100 has a diameter of nearly 15 feet and features just enough capability to deliver a crew to orbit and return them safely to Earth.
The battery-powered capsule can only fly for about two days on its own, but it could stay plugged into the International Space Station's power for more than a half-year. The CST-100 is designed to be reusable for up to 10 missions.
Boeing's yearlong agreement with NASA will conclude with a preliminary design review, a significant step in the development of any spacecraft where the tentative design is confirmed to meet requirements.
If NASA provides more funding, a tall order in the current spending climate, Boeing could make headway toward the CST-100's critical design review, when the specifics of the spacecraft's components are typically frozen.
On the current schedule, Boeing forecasts orbital flight tests by 2014 and an initial operational capability in 2015.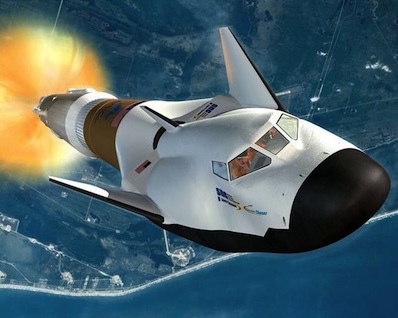 Artist's concept of Sierra Nevada's Dream Chaser space plane launching on an Atlas 5 rocket. Credit: Sierra Nevada

Sierra Nevada Corp., a Colorado-based firm, also plans to reach a preliminary design review for its reusable Dream Chaser space plane by May 2012.
The company took the second-largest sum in NASA's commercial crew announcement, garnering $80 million to take the Dream Chaser from the drawing board to the cusp of flight testing.
Sierra Nevada received $20 million in the first CCDev competition in February 2010, using that funding to develop manufacturing tooling, fire a Dream Chaser maneuvering engine and deliver parts of a structural mock-up of the spacecraft. Sierra Nevada also dropped a scale model of the Dream Chaser from an altitude of 14,000 feet.
Engineers also made progress in the Dream Chaser's guidance, navigation and control system, along with significant aerodynamic analysis to reduce risk in the craft's development and performance.
The Dream Chaser is based on the aerodynamic shape of NASA's HL-20 lifting body, a concept studied by the Langley Research Center as a safer, less expensive option for human space transportation. Although the HL-20 never flew, its design was borrowed from the Soviet Union's BOR-4 space plane that was tested in Earth orbit in the 1980s.
Sierra Nevada updated the HL-20 concept with a composite structure and a hybrid rocket motor.
Launching on an Atlas 5 rocket, the seven-person Dream Chaser would fly to the space station, deliver astronauts and supplies, and return to Earth for a gliding touchdown on a conventional runway.
With the $80 million awarded last week, Sierra Nevada plans to conduct more detailed aerodynamic assessments to select the final shape of the Dream Chaser's air fins. Engineers will also build and activate a full cockpit flight simulator, a flight control integration laboratory and an avionics testbed.
Sierra Nevada says it will finish construction of a full-scale engineering test article and verify the performance of the Dream Chaser's separation system. Company officials will also select several major subcontractors to provide software, a life support system and other components.
With more money, Sierra Nevada says it can proceed toward landing gear drop testing, a piggyback test flight of the Dream Chaser test unit, and eventually a free flight ending with a runway landing by the spring of 2012.
SpaceX, the growing space transportation firm started by Elon Musk, will invest its $75 million from NASA in the design and testing of a side-mounted launch abort system, a miniature rocket engine that would quickly carry a spacecraft away from a failing launch vehicle.
The company's engineering team will also further development of cockpit controls and crew seating for the interior of the Dragon spacecraft, which has already been tested in orbit without passengers. The Dragon is being built first to resupply the space station starting next year.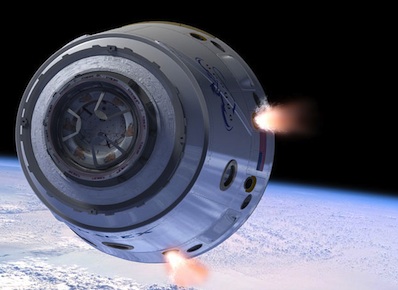 Artist's concept of SpaceX's Dragon spacecraft in orbit. Credit: SpaceX

According to Musk, SpaceX can outfit the Dragon for crewed missions for $1 billion within three years if the project is given a steady stream of funding. SpaceX is the only company publicly disclosing total development cost projections for its reusable commercial crew system.
SpaceX was not part of the first CCDev awards, partly because the Dragon and Falcon 9 rocket were already on the verge of unmanned flight tests, several years ahead of the other competitors. Last year's CCDev agreements focused on fundamental developments of technologies and processes that would lead to a piloted spacecraft.
Ken Bowersox, SpaceX's vice president of astronaut safety and mission assurance, said much of the company's activity over the next year will be adding bells and whistles to the Dragon to make it safe for humans.
"Our plan is to take the current cargo Dragon concept and then evolve it," Bowersox said.
Bowersox said engineers have worked on cockpit designs in computers, but the NASA funding will accelerate translating that work into seat and control panel models for astronauts to get a feel for during visits to SpaceX headquarters in Hawthorne, Calif.
The Dragon's side-mount launch abort system will be designed and built to the point of a full-duration engine firing on the ground by next May. SpaceX selected the novel side-mount design because the abort thrusters can be used in orbit and during landing if they are not needed to respond to a launch emergency.
"The first thing we have to do is build the launch abort system, which we are currently envisioning as a system of thrusters on the side of the vehicle that uses the orbital maneuvering fuel to carry the vehicle away from the booster in the event of a problem," Bowersox said.
SpaceX's ultimate objective is to use the abort engines for a rocket-assisted precision touchdown of the Dragon.
Established by Jeff Bezos, the wealthy founder of Amazon.com, Blue Origin snatched $22 million from NASA last week to continue designing and testing systems for the company's New Shepard biconic spaceship. Blue Origin is also working on a concept for a reusable booster, but the firm plans its first orbital test flights to launch on Atlas 5 rockets.
Blue Origin conducts much of its testing in secret at a sprawling West Texas ranch, but its proposal for government funding required the company to share its vision and development plans.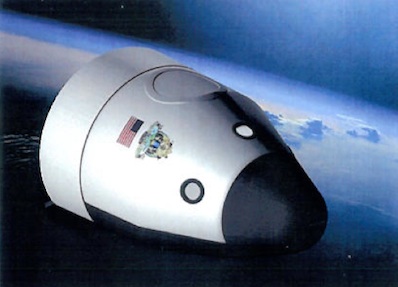 Artist's concept of Blue Origin's New Shepard space capsule. Credit: Blue Origin

The New Shepard's complement of up to seven crew members puts it on par with the other commercial crew winners. The craft can stay at the space station up to seven months at a time and serve as a lifeboat, according to Blue Origin's proposal.
A fraction of Blue Origin's $22 million award will go toward settling on a basic design for the New Shepard, including picking its heat shield, defining its exact shape, and setting specific requirements.
Blue Origin will spend the bulk of the government money on testing the company's unique pusher escape system, which has a similar purpose as a launch abort system, and advancing development of a cryogenic hydrogen-fueled engine capable of producing up to 100,000 pounds of thrust. The engine will help power Blue Origin's reusable booster into space, according to documents released by NASA.
The hardware demos include a ground firing of the pusher escape system motor, then a test in which the system will simulate escaping a rocket on the launch pad. Blue Origin also plans to test the liquid-fueled cryogenic engine's thrust chamber assembly.
The company foresees a series of incremental test flights, starting with suborbital missions to the edge of space before pressing on to more challenging ventures into low Earth orbit.