Orbital picks upgraded solid motor for Taurus 2 rocket
BY STEPHEN CLARK
SPACEFLIGHT NOW
Posted: April 25, 2011


Orbital Sciences Corp. has selected an upgraded Castor 30 solid-fueled upper stage to provide a performance boost for the Taurus 2 rocket and meet NASA's contractual requirements for cargo deliveries to the International Space Station, officials announced Monday.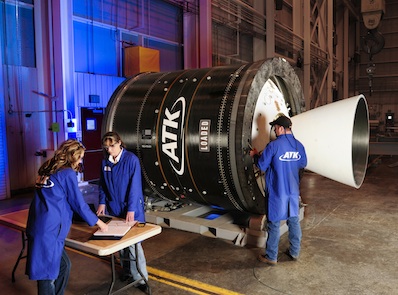 File photo of a Castor 30A solid rocket motor. Credit: ATK

The Castor 30XL motor, built by ATK, will be used as the second stage on the Taurus 2 rocket beginning on its fifth flight scheduled for 2013. The Castor 30XL contract is worth $57 million, according to ATK.
ATK is already providing a basic version of the Castor 30 motor for the first four Taurus 2 missions. A Castor 30A second stage will help propel the first two Taurus 2 rockets into orbit this year, then a higher-performing Castor 30B motor will be used on the third and fourth flights in 2012, officials said.
The Castor 30XL is a lengthened version of the Castor 30A, which is designed to ignite at high altitudes above 100,000 feet, produce up to 89,000 pounds of thrust and fire for 146 seconds. The Castor 30XL's performance details were not released.
Both stages are the same diameter, but the extended Castor 30 stage is more than 19 feet long, nearly 8 feet longer than the Castor 30A. The larger motor means the Taurus 2 rocket will be able to lift more cargo into orbit.
"The Castor 30XL is another important addition to our expanding portfolio of commercial propulsion products, which include the GEM, Orion and Castor solid rocket motor lines," said Scott Lehr, ATK Aerospace Systems vice president and general manager of strategic and commercial systems. "We leveraged our heritage flight-proven and cost-effective technologies to develop a customized, higher-performing second stage solution for Orbital's Taurus 2 launch vehicle."
Orbital Sciences shopped around for an enhanced second stage to increase the lift capacity of the Taurus 2 rocket, studying liquid-fueled engines from the U.S. and foreign propulsion markets.
"We settled on a lower cost, less risky approach to an enhanced mission performance solution to meet contractual requirements, which consists of selected weight savings and a solid motor upgrade instead of a liquid propulsion solution," said James R. Thompson, Orbital's vice chairman and chief operating officer.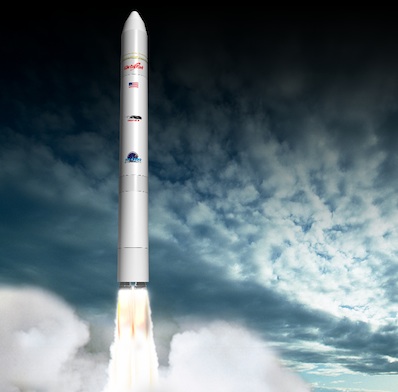 Artist's concept of the Taurus 2 rocket. Credit: Orbital Sciences

Orbital Sciences holds a $1.9 billion Commercial Resupply Services contract with NASA to serve the International Space Station with eight flights of the Taurus 2 rocket and the robotic Cygnus cargo freighter. The contract requires Orbital to deliver 20 metric tons, or about 44,000 pounds, of equipment to the complex over the eight missions.
NASA is partially funding the development of the Taurus 2 and Cygnus vehicles in a public-private partnership called the Commercial Orbital Transportation Services, or COTS, program.
But engineers will have to beef up the Taurus 2 rocket to meet the requirement. The first operational resupply flight will haul up to 3,500 pounds of provisions and experiments to the station, but flight experience and the addition of the more powerful Castor 30XL stage will allow later flights to deliver up to 6,000 pounds per mission.
NASA is transitioning to a mixed fleet of vehicles following the space shuttle's retirement this summer. Commercial resupply craft from Orbital Sciences and SpaceX will take up U.S. responsibility for space station logistics, and Russian, European and Japanese vehicles will continue to deliver supplies.
The steady increase in Taurus 2 capability will satisfy the cargo numbers in Orbital's contract with NASA. It will also make the Taurus 2 more competitive in securing agreements to launch NASA unmanned science missions, U.S. military satellites and commercial spacecraft.
"We have had a long and successful history of working with Orbital as their solid propulsion provider," Lehr said. "We are very pleased to be able to provide an upgraded stage to support their critical NASA COTS and CRS progams, as well as other NASA, DoD and commercial mission requirements."
The Taurus 2 rocket's first stage is powered by two kerosene-fueled Aerojet AJ26 engines. The AJ26 is a modified Russian NK-33 engine originally built in the 1960s and 1970s for the Soviet Union's doomed N1 moon rocket. The first stage tank structures are designed and manufactured in Ukraine.
Its launch site is at Wallops Island, Va.
Orbital Sciences officials announced Thursday the Taurus 2 rocket's first launch will be a demonstration flight for NASA without a payload. A follow-up Taurus 2 mission in December will test the Cygnus spacecraft's ability to approach the space station and be grappled by the lab's robot arm.
The first operational Cygnus flight is scheduled for early 2012.