Taurus 2 risk-reduction flight approved for October launch
BY STEPHEN CLARK
SPACEFLIGHT NOW
Posted: April 21, 2011


NASA has agreed to pay approximately $100 million to Orbital Sciences Corp. for a test flight of the Taurus 2 rocket to reduce risk on future launches to resupply the International Space Station, company officials said Thursday.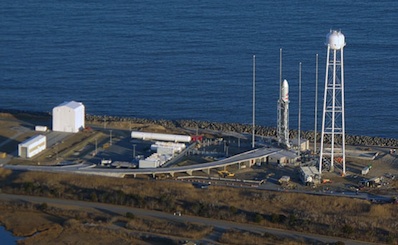 This artist's concept shows a Taurus 2 rocket on the launch pad at Wallops Island, Va. Credit: Orbital Sciences

The test flight is scheduled to blast off in early October from a new launch pad on Wallops Island, Va.
The launch will not carry Orbital's Cygnus cargo freighter, a separate development which will resupply the space station eight times through 2015. The Cygnus spacecraft should be ready for its in-orbit demonstration by December, according to David Thompson, Orbital's chairman and CEO.
Orbital and NASA agreed in principle last year to conduct the demonstration launch, but the final payment from the government was held up amid delays in passing a federal budget for the remainder of this fiscal year.
The budget was signed into law last week, giving NASA the money it needed to pay Orbital for the risk-reduction flight. The value totaled approximately $100 million, according to Barron Beneski, an Orbital spokesperson.
The Taurus 2 and Cygnus vehicles are being developed with government and company resources under a public-private partnership.
"Schedule remains tight with some slippage since our last report, and cost pressures continue," said J.R. Thompson, Orbital's vice chairman and chief operating officer.
The Taurus 2's first pair of kerosene-fueled Aerojet AJ26 engines have passed acceptance testing and are already at the Wallops launch site, along with two first stage structures destined for ground testing and the rocket's inaugural mission.
The vehicle's second stage, a solid-fueled Castor 30A motor from rocket-builder ATK, has completed structural testing in advance of the first launch, according to Orbital.
The Taurus 2's second 90-foot-long first stage recently arrived in Wallops on a barge from Ukraine, where it was designed and built by Yuzhnoye and Yuzhmash, respectively. A ground test article first stage was shipped to the United States last year, and it will be transferred to the launch pad this summer for fueling tests.
But progress in construction of the privately-operated launch pad will determine when the first launch actually happens.
"Our top priority at Wallops is completing and certifying all launch complex systems," J.R. Thompson said. "This will pace our schedule for Taurus 2 entering the marketplace."
Workers have finished pouring more than 21 million pounds of concrete at launch pad 0A. Orbital is now installing the facility's propellant tanks and fuel plumbing before moving the Taurus 2 rocket to the pad.
Speaking with investment analysts in an earnings conference call, officials said the launcher's transporter and erector system is also at Wallops awaiting integration with the launch complex. According to J.R. Thompson, the site should be finished by August, in time for a test firing of the Taurus 2's AJ26 engines on the pad in early September.
If everything goes as planned, the Taurus 2 should be ready for launch in early October.
Orbital's robotic Cygnus cargo freighter is expected to launch on the second Taurus 2 flight in December. The Cygnus craft will rendezvous with the space station in a shakeout mission for NASA's Commercial Orbital Transportation Services program.
J.R. Thompson told industry analysts the assembly and testing of the first Cygnus spacecraft is underway at Orbital's headquarters in Dulles, Va. The first edition of the Cygnus flight software has also been released, Thompson said.
If this year's two missions are successful, the company plans to begin operational resupply missions to the station in the first quarter of 2012.