NASA awards $269 million for commercial crew program
BY STEPHEN CLARK
SPACEFLIGHT NOW
Posted: April 18, 2011


Hopeful commercial spacecraft will be ready to carry humans into orbit by the middle of this decade, NASA awarded $269.3 million Monday to four companies designing and testing components for private space transportation vehicles.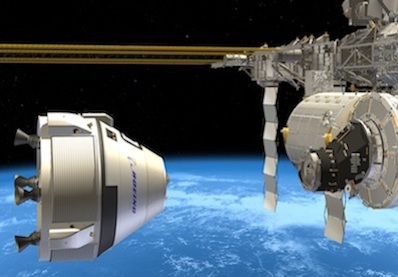 Artist's concept of Boeing's CST-100 spacecraft approaching the International Space Station. Credit: Boeing

Boeing Co. will receive $92.3 million from the development announcement, the largest of the four agreements unveiled by NASA.
Sierra Nevada Corp. captured $80 million, SpaceX was awarded $75 million and Blue Origin will get $22 million, according to NASA.
The funds were made available by the federal budget passed by Congress and signed into law last week.
Each company signed Space Act Agreements for NASA to provide government funding when the firms achieve major milestones such as design reviews and hardware tests. The agreements run through approximately May 2012.
The announcements begin the second round of NASA's Commercial Crew Development, or CCDev, program designed to pay seed money to U.S. companies developing rockets and spacecraft for human passengers.
"Given enough time and money, I'm confident that multiple U.S. companies can develop safe, reliable and cost-effective commercial crew transportation systems," said Phil McAlister, NASA's acting director of commercial spaceflight development.
The CCDev 2 funding will go toward maturing the designs of each company's vehicle and testing key systems on the ground, according to Ed Mango, manager of NASA's commercial crew program.
"We are targeting the middle part of this decade to hopefully have services available for purchase," McAlister said. "That is very much dependent on funding and technical progress on the partners."
NASA is working with private industry to provide crew transportation services to the International Space Station and other destinations in low Earth orbit while the government focuses on deep space exploration. Once the space shuttle is retired this summer, NASA astronauts will ride Russian Soyuz vehicles into orbit until a U.S. alternative is available.
"We're committed to safely transporting U.S. astronauts on American-made spacecraft and ending the outsourcing of this work to foreign governments," NASA Administrator Charles Bolden said. "These agreements are significant milestones in NASA's plans to take advantage of American ingenuity to get to low Earth orbit, so we can concentrate our resources on deep space exploration."
McAlister said each company proposed investing their own funds to pay for an average of between 10 and 20 percent of their overall development costs. There were some outliers above and below that level, but he declined to be more specific.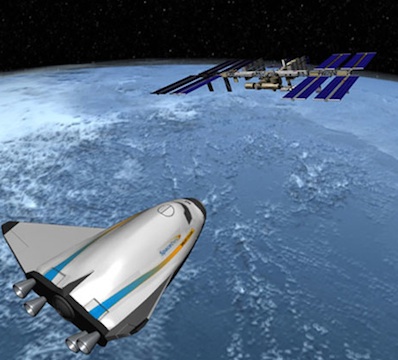 Artist's concept of Sierra Nevada's Dream Chaser spacecraft approaching the International Space Station. Credit: Sierra Nevada Corp.

Speaking to reporters Monday evening, Boeing officials said they plan to continue work on the CST-100 capsule initially started in the first round of CCDev funding.
"By the end of CCDev 2, our design will be firmed up and we'll have it synced up with NASA requirements so we understand our vehicle will meet those requirements," said John Elbon, vice president and program manager of Boeing's commercial crew program.
Boeing and its propulsion subcontractor, Pratt & Whitney Rocketdyne, will continue testing the capsule's abort engine. Engineers will also conduct additional drop tests of a mock-up of the spacecraft with horizontal velocity to simulate landing in windy conditions.
Parachute drop testing and demonstrations of the separation system between the CST-100's crew and service modules are also planned over the next year, Elbon said.
According to Elbon, Boeing expects to select a launch vehicle for the capsule's early test flights by the end of May. The company says it will conduct a pad abort test in 2013 and three orbital flight tests in 2014 before the capsule is operational in 2015. The CST-100 will be able to carry up to seven astronauts into orbit.
Sierra Nevada Corp. will continue development of the Dream Chaser space plane, a lifting body vehicle that will blast off on top of an expendable rocket and glide back to Earth for landing on a runway.
Based in Colorado, Sierra Nevada plans to finish work on flight simulators and an avionics test laboratory, select the final shape of the Dream Chaser's air fins, complete a Dream Chaser structural test article and test its separation system.
The reusable Dream Chaser will have room for up to seven crew members. Sierra Nevada says the space plane could be ready for flight testing by 2014.
SpaceX will invest its award in an innovative abort engine, crew accommodations and cockpit displays for the Dragon capsule, an unmanned cargo delivery vehicle now being tested to resupply the space station.
The Dragon can be ready for crew transportation missions within three years if SpaceX continues receiving adequate NASA funding. It will cost about $1 billion to outfit and test the Dragon for human flights, according to Elon Musk, SpaceX's founder and CEO.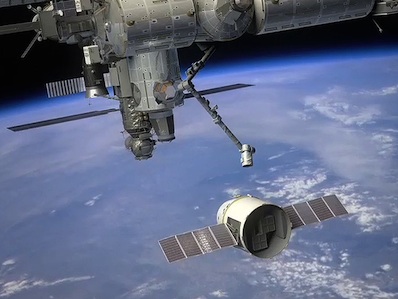 Artist's concept of SpaceX's Dragon spacecraft approaching the International Space Station. Credit: SpaceX

SpaceX selected a side-mounted abort system to carry the Dragon to safety in the event of a major launch mishap. Under the CCDev agreement, SpaceX will conduct propulsion tests of the abort engine and provide crew cabin prototypes for evaluation by NASA.
The company says its Dragon spacecraft will fly 11 unmanned missions before a crew straps in for a flight.
Blue Origin, the Washington-based company established by Amazon.com founder Jeff Bezos, is designing a biconic-shaped capsule to launch on an Atlas 5 rocket. It will use its $22 million award to mature the vehicle's design, further develop a novel pusher escape system, and accelerate engine testing.
"We feel the portfolio of concepts selected today best meet the goals of CCDev 2 within the available funding," McAlister said. "There is diversity in spacecraft approaches, with two capsules, a lifting body and a biconic-shaped spacecraft. There is diversity in launch vehicles they propose to use."
United Launch Alliance, ATK, Orbital Sciences Corp. and Excalibur Almaz received no funding from NASA. Those four companies, along with today's winners, were called in for due diligence meetings with NASA officials earlier this year.
Boeing, Sierra Nevada, Blue Origin, ULA and Paragon Space Development Corp. were awarded approximately $50 million in February 2010 for conceptual design and early development work throughout last year.
According to McAlister, the next phase of the commercial crew program will ask industry to finalize the end-to-end design of their spacecraft and launch vehicle. The next competition will be open to all U.S. companies, not just the firms awarded money Monday.
NASA expects to settle on a procurement and competition strategy for the next CCDev round by the end of this summer, McAlister said.