Spending bill will put an end to the Constellation program
BY STEPHEN CLARK
SPACEFLIGHT NOW
Posted: April 14, 2011


A federal budget bill passed Thursday by the U.S. Congress will loosen restrictions on NASA efforts to shut down the Constellation moon program and start work on fresh launch and exploration vehicles.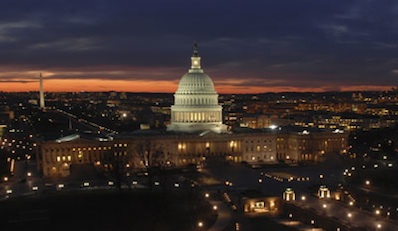 Credit: Architect of the Capitol

NASA's budget is set at $18.45 billion this year in the long-awaited federal spending bill, approximately $250 million less than last year's funding level.
The legislation pays for NASA operations through the end of September, when Congress could face another heated budget battle on federal spending for fiscal year 2012.
Congress sent the budget bill to the White House, where President Obama was expected to sign it into law before the government's account runs dry Friday night.
The bill was hammered out between President Obama and leaders in the House and Senate after a failure to agree on budget cuts nearly forced a government shutdown last week. Named H.R. 1473, the bill cuts $38 billion from the overall federal budget for fiscal year 2011, which expires Sept. 30.
Since Oct. 1, NASA and other federal agencies have been operating under a series of short-term budget bills called continuing resolutions. Thursday's bill is another continuing resolution, but it will run for nearly six months.
Perhaps more important than NASA's top-line budget number, the bill permits NASA to formally end the terminated Constellation moon program and redirect efforts toward a new heavy-lift rocket and multipurpose crew vehicle, fresh exploration programs that will likely recycle substantial work from Constellation.
Previous law barred NASA from restructuring its budget to shut down the Constellation program, which was recommended to be cancelled by the Obama administration in February 2010. Lawmakers agreed to end the program in a budget blueprint authorization act signed into law in October.
But Congress never passed a long-term spending bill until Thursday, meaning the restrictive language from last year's budget remained the law of the land despite agreements to end Constellation.
The language was put in last year's budget by Sen. Richard Shelby, R-Ala., whose state is home to many jobs in the Constellation program.
"Among other things, this bill lifts funding restrictions that limited our flexibility to carry out our shared vision for the future," NASA Administrator Charles Bolden said in a written statement. "With this funding, we will continue to aggressively develop a new heavy-lift rocket, multipurpose crew vehicle and commercial capability to transport our astronauts and their supplies on American-made and launched spacecraft."
NASA's inspector general reported in January that NASA was spending a rate of more than $575 million per year on Constellation projects the agency would have otherwise considered canceling or scaling back. By some accounts, NASA may have already spent nearly $300 million on such unnecessary work since fiscal year 2011 began Oct. 1.
H.R. 1473 provides $3 billion for NASA's new exploration program, including $1.8 billion for the Space Launch System heavy-lift rocket and $1.2 billion for a crew capsule. Spending on those vehicles are in line with the NASA authorization act, a tentative spending plan passed last year by the previous Congress.
"We appreciate the work of Congress to pass a 2011 spending bill," Bolden said. "NASA now has appropriated funds to implement the 2010 authorization act, which gives us a clear path forward to continue America's leadership in human spaceflight, exploration and scientific discovery."
What's missing in the budget is a line item for technology development. The bill also cuts NASA's space operations budget by more than $600 million from the 2010 level, an expected reduction due to the planned retirement of the space shuttle. It also denies a boost in aeronautics funding requested by the White House last year.
NASA's science budget was increased more than $400 million from last year to approximately $4.95 billion.