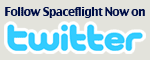 NewsAlert





Sign up for our NewsAlert service and have the latest news in astronomy and space e-mailed direct to your desktop.


Privacy note: your e-mail address will not be used for any other purpose.





Juno unpacked from shipping crate
BY STEPHEN CLARK
SPACEFLIGHT NOW
Posted: April 9, 2011


One day after it arrived in Florida, the Juno spacecraft was removed from its transport container Saturday and unwrapped of protective plastic at the Astrotech processing facility in Titusville, Fla.
Cranes first lifted the lid from the box containing Juno, then workers rolled the spacecraft into the clean room from an airlock chamber that received the probe when it arrived via truck. The next step was to remove the plastic shielding and packing material from the spacecraft while constantly monitoring for potentially high nitrogen levels in the atmosphere from the purge system used to keep Juno pristine during its cross-country journey.
Full processing of the spacecraft is due to begin next week.
Photo credit: Stephen Clark/Spaceflight Now
Photo credit: Stephen Clark/Spaceflight Now
Photo credit: Stephen Clark/Spaceflight Now
Photo credit: Stephen Clark/Spaceflight Now
Photo credit: Stephen Clark/Spaceflight Now
Photo credit: Stephen Clark/Spaceflight Now
Photo credit: Stephen Clark/Spaceflight Now
Photo credit: Stephen Clark/Spaceflight Now
Photo credit: Stephen Clark/Spaceflight Now
Photo credit: Stephen Clark/Spaceflight Now
Photo credit: Stephen Clark/Spaceflight Now
Photo credit: Stephen Clark/Spaceflight Now
Photo credit: Stephen Clark/Spaceflight Now
Photo credit: Stephen Clark/Spaceflight Now
Photo credit: Stephen Clark/Spaceflight Now
Photo credit: Stephen Clark/Spaceflight Now
Photo credit: Stephen Clark/Spaceflight Now
Photo credit: Stephen Clark/Spaceflight Now
Photo credit: Stephen Clark/Spaceflight Now

Photo credit: Stephen Clark/Spaceflight Now





-->