Where did the Lacrosse 2 radar-imaging satellite go?
BY JUSTIN RAY
SPACEFLIGHT NOW
Posted: April 5, 2011


The long-lived Lacrosse 2 spy satellite has done a disappearing act after 20 years in space, leading sky-watchers to believe the craft has been retired and deorbited into the Pacific.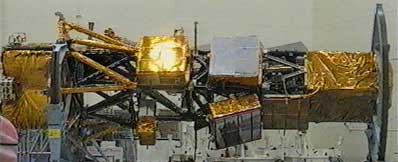 What is widely believed to be a Lacrosse-type satellite under construction was shown in an NRO video released in 1998 without describing the craft's identity. Credit: NRO video/Spaceflight Now



Launched atop a powerful Titan 4 rocket on March 8, 1991 from Vandenberg Air Force Base, Calif., the radar-imaging spacecraft flew into a low-Earth orbit inclined 68 degrees to the equator.

It joined a sister-satellite deployed by the space shuttle Atlantis in December 1988, as the U.S. military began assembling a constellation of spacecraft that could perform surveillance of the Earth's surface in daylight or darkness, clear skies or cloudy ones.

A third Lacrosse went up in 1997, followed by a fourth in 2000 and the final in 2005, all aboard Titan 4 boosters. The first in a new-generation of smaller radar satellites was dispatched last September atop an Atlas 5 rocket from Vandenberg.

The Lacrosse satellites can be seen with the naked eye as bright dots flying overhead when lighting conditions are suitable near sunrise or sunset. They are routinely monitored by satellite-tracking hobbyists who keep precision records on spacecraft and their maneuvers.

"Nearly the entire orbital history of Lacrosse 2 has been documented by hobbyists," said Ted Molczan, a respected satellite observer.

But Lacrosse 2 was a no-show for sky-gazers on March 26. Subsequent days of searches to hunt for the satellite, perhaps in a slightly different orbit, found no sign of the craft.

The hobbyists figure it was dropped out of orbit and ditched into the ocean, a typical means of retirement for old satellites at the end of their useful lives.

"As the list of no-show reports grows, it becomes more likely that Lacrosse 2 has indeed been deorbited, a few weeks after the 20th anniversary of its launch," said Molczan.

"To the degree that longevity is indicative of value, U.S. taxpayers were well-served."

He said on the night of March 25, shortly after the last reported sighting, the craft's orbit passed over the remote South Pacific region where satellites commonly make their commanded plunge into the atmosphere to burn up. Surviving bits can fall harmlessly to the sea.

The original Lacrosse launched by the shuttle was deorbited in 1997. The others continue circling the planet to gather intelligence for U.S. national security.