SpaceX enters the realm of heavy-lift rocketry
BY STEPHEN CLARK
SPACEFLIGHT NOW
Posted: April 5, 2011


A new kerosene-fueled super-rocket being developed by SpaceX should be ready for a test flight from the California coast by 2013, introducing a cost-effective fire-breathing booster three times cheaper and twice as capable as its competitors, the company's founder announced Tuesday.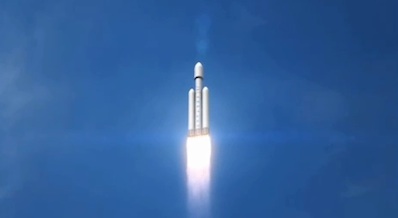 Artist's concept of the Falcon Heavy rocket. Credit: SpaceX

The Falcon Heavy rocket, an evolved version of the medium-lift Falcon 9 rocket, will be shipped to Vandenberg Air Force Base in California by the end of 2012. Liftoff of the 227-foot-tall launcher should occur sometime in 2013, according to Elon Musk, SpaceX's founder and CEO.
Powered by 27 Merlin engines, the massive rocket will soar into space on 3.8 million pounds of thrust and deliver up to 117,000 pounds into a 120-mile-high low Earth orbit, more than twice the lift capacity of the space shuttle or the Delta 4-Heavy rocket.
"This is a rocket of truly huge scale," Musk said. "117,000 pounds is more than a fully loaded Boeing 737 with 136 passengers, luggage and fuel."
It could fire more than 30,000 pounds straight to Mars, Musk told reporters at the National Press Club in Washington.
Just as eye-popping as the Falcon Heavy's power is its price.
SpaceX announced the new rocket will cost between $80 million and $125 million per mission. Do the math and you'll see the Falcon Heavy could place payloads into orbit for $1,000 per pound, a fraction of the cost of competitors.
"Falcon Heavy represents a huge economic advantage," Musk said. "Falcon Heavy costs about a third as much per flight as a Delta 4-Heavy but carries twice as much payload to orbit, so it's effectively a six-fold improvement in the cost per pound to orbit."
The Falcon Heavy's game-changing capability and price led to questions on Musk's sales pitch.
The high-tech tycoon responded by highlighting the synergy between the heavy-lift rocket and the existing Falcon 9 design, the consistency of SpaceX's earlier launch cost projections and plans to drastically expand the company's production facilities in Hawthorne, Calif.
Musk was also bullish on the Falcon Heavy's flight rate, saying he expects it to launch 10 times a year. He forecasts another 10 flights of the Falcon 9 rocket annually, bringing SpaceX's projected overall flight rate to nearly two missions per month.
"We expect to be launching Falcon Heavy a lot," Musk said. "Falcon 9 can address about half the market. Falcon Heavy can address the other half of the market, which is the largest government and commercial satellites, as well as opening up new market opportunities for satellites and spacecraft that simply cannot be carried to space by the currently available rockets."
Even if his ambitious flight rate doesn't materialize, Musk said he could hold Falcon Heavy's launch price where it is with as few as four flights per year.
SpaceX might need an emerging market to find enough payloads to fill that many missions. Four Falcon Heavy flights a year would double the world's annual space lift capacity.
Although the first Falcon Heavy flight will blast off from Space Launch Complex 4 at Vandenberg, subsequent missions would mostly originate from either SpaceX's existing launch pad or a retired space shuttle facility at Cape Canaveral, Fla.
Musk said the inaugural mission from California will be paid for by SpaceX as a demo flight, but he is "highly confident" the company can sign a U.S. government or commercial customer for the second mission.
He said SpaceX is in an "advanced stage of discussions" with government and commercial clients for Falcon Heavy launch deals.
According to SpaceX, the Falcon Heavy will be designed to meet NASA's published human-rating standards. Its structures will be able to withstand forces 40 percent higher than normal flight environments, it will have triple-redundant avionics and could recover to still reach orbit after the loss of an engine.
The Falcon Heavy is not quite big enough to compete with the Space Launch System, a heavy-lift rocket being designed by NASA to haul nearly 200,000 pounds into orbit.
SpaceX is one of several companies working under small study contracts with NASA to evaluate commercial suggestions for the government-run heavy-lift system. Musk said he has ideas for an even larger SpaceX heavy-lifter to challenge the Space Launch System in the future.