NASA to set exploration architecture this summer
BY STEPHEN CLARK
SPACEFLIGHT NOW
Posted: March 31, 2011


NASA's top human space exploration official told U.S. lawmakers Wednesday the agency expects to settle on a design and schedule for a new heavy-lift rocket and crew capsule by this summer, but experts say it's unlikely the vehicles will meet a mandate to be ready for flight by 2016.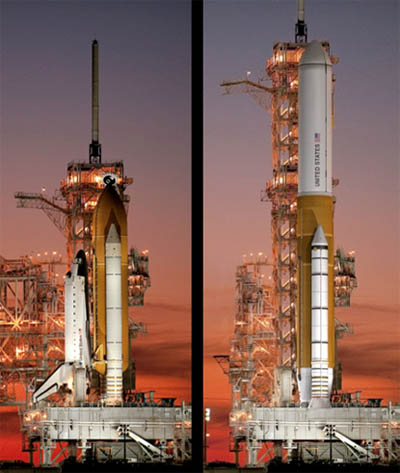 An early concept for a shuttle-derived heavy-lift launch vehicle. Credit: NASA

Testifying before the House Science, Space and Technology committee, NASA exploration chief Doug Cooke said the space agency still has a few months of work to go before rolling out the details of how the super-booster and spaceship will be built.
Officials are designing the Space Launch System and Multi-Purpose Crew Vehicle after the NASA Authorization Act of 2010 directed the agency to develop and fly a heavy-lift rocket by the end of 2016.
But an interim report delivered to Congress in January said NASA would be unable to meet the legislative deadline under current budget projections, even if the rocket and capsule used hardware recycled from the retired space shuttle and cancelled Constellation programs.
That report was released before the Obama administration unveiled its fiscal year 2012 budget request in February, which cut more than $1 billion from the heavy-lift rocket and crew capsule next year compared to the funding blueprint authorized by Congress last fall.
The preliminary findings didn't indicate how long NASA expects the development to take, but Cooke told a House space and aeronautics subcommittee Wednesday the final report should be out this summer.
"We're targeting some time in late June," Cooke said.
According to Cooke, this summer's report will set the basic architecture for the SLS and MPCV programs, an analysis of the costs and benefits of the preferred and alternative designs, and a review of existing Ares and space shuttle contracts and their applicability to future development work.


| | |
| --- | --- |
| | Doug Cooke is associate administrator for NASA's exploration systems mission directorate. Credit: NASA/Bill Ingalls |
NASA has already shifted its Constellation contracts to focus on continuing work on components officials deem likely to be included on future space vehicles. ATK is continuing a ground test campaign for a five-segment solid rocket motor and Lockheed Martin Corp. is pressing on with development of the Orion spacecraft. The solid motor and Orion capsule are top candidates to be used on the Space Launch System and Multi-Purpose Crew Vehicle.

Committee members were eager to hear more Wednesday and accused NASA of not following instructions set in last year's authorization law.

Cooke declined to project when a heavy-lift booster and crew capsule could be on the launch pad.

Scott Pace, director of the Space Policy Institute at George Washington University, argued for more funding for NASA's exploration program, saying less money now will lead to more delays and rising costs later on.

The heavy-lift rocket's "reference design" features a 27.5-foot-diameter first stage powered by five hydrogen-fueled space shuttle main engines and boosted by two five-segment solid rocket motors stemming from development already underway for the canned Ares 1 launcher.

Such a rocket would meet the performance requirement from last year's authorization act, which told NASA to build a booster capable of carrying between 70 and 100 metric tons to low Earth orbit.

An upper stage based on the J-2X engine, another holdover from the Ares rocket program, could be added later to increase the heavy-lift booster's lift capacity to orbit up to 130 metric tons, according to NASA.

Cooke said NASA teams are studying alternative rocket concepts, including a kerosene-fueled core stage, to be included in the final report this summer.