European states finally agree to space station extension
BY STEPHEN CLARK
SPACEFLIGHT NOW
Posted: March 23, 2011


HOUSTON -- European Space Agency member states agreed last week to continue their involvement in the International Space Station program through 2020, but the nations will re-evaluate funding at the next space ministers' meeting in 2012.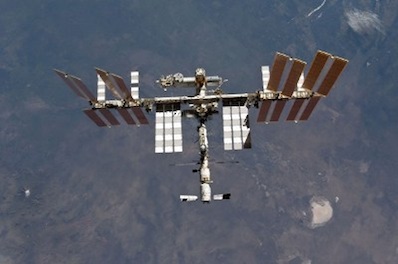 The International Space Station as seen from the shuttle Discovery after departing in early March. Credit: NASA

ESA member states participating in the space station program committed 550 million euros, or about $777 million to cover their share of the outpost's exploitation program until the next ministerial council meets in 2012.
ESA is about an 8 percent partner in the orbiting space lab.
The funding decision was made at an interim ESA council meeting in Paris on March 16 and 17.
European governments also formally supported the continued use of the space station until at least 2020 after the program's other four partners already expressed support for the life extension.
But specific funding and program details beyond 2012 remain up in the air because the ESA council opted to defer those decisions until the next ministerial meeting.
During the 2012 council, government officials will try to resolve funding issues between member states, some of which wish to increase space station involvement as others prefer more modest investments.
Germany and France are at the center of the disagreement, which some officials fear could fester until next year's council meeting.
Other questions still unresolved include the potential evolution or redesign of the Automated Transfer Vehicle, Europe's homemade cargo freighter to deliver supplies to the space station.
At least three more ATVs are under contract for launch through 2014 to help pay for Europe's responsibility for the space station's operating costs. But ESA will have to supply more ATVs or find another way to pay the continent's share of lab's recurring costs if the station is extended until 2020.
ESA officials support altering the ATV's design to include a returnable capsule to bring cargo and experiments back to Earth, a capability the program will lack in significant quantities after the space shuttle is retired later this year.