NASA hopes to find money for Taurus 2 test flight
BY STEPHEN CLARK
SPACEFLIGHT NOW
Posted: February 11, 2011


WASHINGTON -- Bound by restrictions set in a temporary budget resolution, NASA has not yet committed full funding of a risk reduction test flight of the Taurus 2 rocket, one of the launch vehicles the agency hopes will be ready to resupply the International Space Station by the end of this year.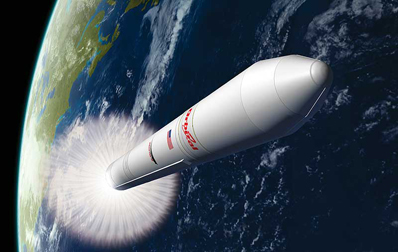 Artist's concept of the Taurus 2 rocket. Credit: Orbital Sciences

NASA and industry officials said Thursday the demonstration launch is a top priority, but the space agency is struggling to find money to pay for the flight.
The Orbital Sciences Corp. Taurus 2 rocket is being developed along with the Cygnus cargo freighter to deliver supplies to the space station. The company has a $1.9 billion contract for resupply services with NASA.
NASA is also subsidizing the design and development of the Taurus 2 and the Cygnus vehicles, along with a separate SpaceX resupply system that features the Falcon 9 rocket and Dragon spacecraft. The agreement is part of the Commercial Orbital Transportation Services program.
The space agency supplied $20 million to Orbital in December as a down payment on the test flight, which will inform engineers on the Taurus 2 rocket's exact performance, according to Frank Culbertson, Orbital's senior vice president of advanced programs.
"We were just able to get them started," said Alan Lindenmoyer, manager of NASA's commercial crew and cargo program at the Johnson Space Center in Houston. "We haven't been able to completely commit to that yet. We're waiting for more decisions on the budget authority."
Officials previously said the Taurus 2 test launch will cost NASA between $100 million and $200 million.
The first Taurus 2 flight was scheduled to launch a Cygnus demonstration mission going to the space station. That flight was slated to haul extra propellant for in-orbit demos and limited logistics, but data from an earlier Taurus 2 test launch would help engineers optimize the Cygnus craft's mass, perhaps permitting the addition of more cargo, Culbertson said.
Without the test flight, engineers aren't sure of the rocket's actual lift capability and must conservatively plan extra margins in case of an under-performance.
Culbertson said the Taurus 2 is on track for a first launch in late August or September from a new pad at Wallops Island, Va.
The agency's original agreement with Orbital called for $178 million in federal funding for Taurus 2 and Cygnus development. The NASA Authorization Act signed into law last year called for $300 million in augmentation funds to introduce more test milestones to reduce risk before the commercial vehicles fly to the space station.
Orbital's share of the extra money was supposed to go toward the Taurus 2 test launch, which wasn't part of the original agreement with NASA.
But Congress never passed an appropriations bill last year, instead approving a continuing resolution, a temporary budget measure that funds the federal government near 2010 levels.
The stopgap budget resolution went into effect at the start of fiscal year 2011 in October. The continuing resolution was extended in December to continue paying for government operations through March 4.
Congress will have to either extend the continuing resolution again or pass full appropriations legislation to avoid a government shutdown.
Phil McAlister, NASA's acting director of commercial spaceflight development, said he expects more clarity on the outlook for the Taurus 2 test flight when the current budget expires in March.
Even if NASA is still restricted by a continuing resolution beyond March, the agency could have some authority to shuffle its internal budget to pay for the launch. That's how the agency came up with $40 million for both Orbital and SpaceX in December.
"I believe this is a high priority for NASA and there's a good chance we'll see additional money for the augmentation effort," Lindenmoyer said.
McAlister agreed it was a priority, noting Orbital will have to put forward its own financial investment in the extra Taurus 2 launch.
"We think we can find a way, but it depends on some negotiations," McAlister said. "It's not always cut and dry."