Boeing probes international market for human spacecraft
BY STEPHEN CLARK
SPACEFLIGHT NOW
Posted: February 10, 2011


WASHINGTON -- Boeing is weighing international sales of its CST-100 commercial crew spacecraft if NASA selects the firm to continue development of the capsule, a company official said Wednesday.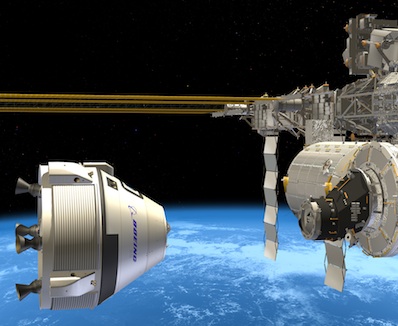 Artist's concept of the CST-100 spacecraft approaching the International Space Station. Credit: Boeing

The aerospace powerhouse is designing and testing systems for its CST-100 space capsule, a craft the company says could begin flying astronauts to low Earth orbit by 2015. It will launch on existing rockets to lessen development risk and costs.
When the CST-100 carries U.S. crews, the capsule would launch on Atlas 5, Delta 4, or Falcon 9 rockets from Cape Canaveral, Fla. In addition to flights to the International Space Station, Boeing has an agreement to provide transportation to Bigelow Aerospace, a Las Vegas-based firm working on a manned private space complex with government and corporate research applications.
Boeing is also exploring opportunities in the international market, according to John Elbon, the company's vice president and general manager of commercial crew programs.
The CST-100 is designed to launch up to seven space fliers on several different rockets, opening the possibility of selling flights to other governments.
"There's an interesting opportunity that we're just starting to flesh out," Elbon said Wednesday. "The spacecraft that we're designing is rocket-agnostic. It would be possible to sell this like a commercial airplane to countries who perhaps have a launch vehicle who would like to launch it in their own country."
Russia and China are the only two countries besides the United States with an orbital human spaceflight capability.
India is planning its own two-person space capsule to launch on a next-generation version of its GSLV rocket in 2016.
Senior Boeing officials are in India this week as part of a trade delegation led by U.S. Commerce Secretary Gary Locke. Boeing and other U.S. defense companies were previously kept out of the burgeoning Indian market by export restrictions, but the federal government is lifting the embargo for the the Defense Research and Development Organization and the Indian Space Research Organization.
Boeing and other U.S. firms now hope to sell Indian companies and agencies aircraft, satellite and rocket technology. Human spaceflight assistance is also on the table, according to a report this week in the Deccan Chronicle, a major English-language newspaper in India.
"With our legacy in space exploration design, development and integration, we believe that we can provide value-added assistance to the human spaceflight program," the Deccan Chronicle quoted Vivek Lall, Boeing's top defense official in India, as saying this week.
Lall said Boeing could offer launch escape system, vehicle health monitoring and abort triggers, life support and crew accommodation technologies.
Indian officials have not publicly discussed purchasing the CST-100 spacecraft directly from Boeing for human missions.
Elbon said Wednesday that Boeing has not had any "serious dialogue" with potential international customers, and the company is "just starting to look" at the possibility of making turnkey deals with other countries.
Japan and the European Space Agency also possess operational rockets capable of lifting the CST-100 capsule to orbit.


| | |
| --- | --- |
| | Artist's concept of a Boeing CST-100 capsule on top of an Atlas 5 rocket. Credit: Boeing |
NASA awarded Boeing $18 million last year, funding the early stages of CST-100 design and systems demonstration in a commercial space act agreement.

Boeing says engineers completed a landing bag drop demonstration and a test to upright the capsule in case it lands upside down. The company also manufactured a pressure vessel and completed checks on the structure at Bigelow's facility in Las Vegas, Elbon said.

"It was pretty impressive to do that in a nine-month period from a clean sheet of paper," he said.

Pratt & Whitney Rocketdyne test fired the engine for the CST-100's pusher abort system twice last week, and initial results from that milestone show no issues, officials said.

Boeing expects to fulfill its contractual commitments to NASA by March, when the agency is expected to dole out another $200 million to several companies working on commercial crew transportation vehicles.

If Boeing is selected again by NASA, the company plans a preliminary design review by the end of 2011. A critical design review, which will freeze the capsule's layout, is on tap for 2012, according to Elbon.

Pad and ascent abort tests are scheduled for 2013 and 2014, followed by an automated unmanned orbital demo mission. A two-person team of Boeing test pilots will ride the ship to orbit on the first manned mission in 2015, Elbon said.