Orbital Sciences takes role in Iridium Next satellite fleet
BY STEPHEN CLARK
SPACEFLIGHT NOW
Posted: February 4, 2011


Orbital Sciences Corp. has reached agreements to assemble and test 81 next-generation Iridium communications satellites, then purchase excess payload capacity on the spacecraft once they are in orbit.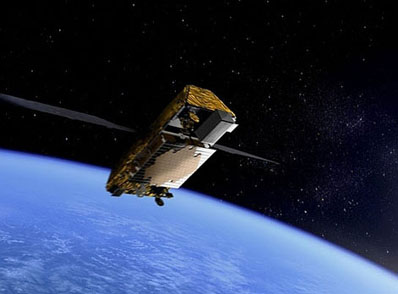 Artist's concept of an Iridium Next satellite in space. Credit: Thales Alenia Space

Iridium Communications Inc. is developing the new satellites to refresh its aging first-generation mobile messaging fleet beginning in 2015. Thales Alenia Space won a $2.1 billion contract last year to be the Iridium Next constellation's prime contractor.
Thales selected Orbital last month to integrate the spacecraft platforms and communications payloads in Gilbert, Ariz. Orbital will then test the satellites before sending them to their launch site.
The bulk of the satellites will be launched on Falcon 9 rockets from Vandenberg Air Force Base, Calif.
In a separate announcement Thursday, Iridium said it signed an agreement with Orbital to reserve hosted payload capacity on the company's new satellites.
Under the agreement, Orbital will make several non-refundable deposits totaling $10 million this year for a right of first refusal on 20 percent of the fleet's capacity to host third-party payloads, according to an Iridium press release.
Orbital and Iridium have agreed to basic terms to purchase the payload space on behalf of Orbital's customers.
Iridium officials say each next-generation satellite has about 110 pounds of mass reserved for hosted payloads. Secondary instruments would also receive about 50 watts of continuous power and a communications rate of about 1 megabyte per second.
The hosted payloads would be connected to a structural, electrical and communications interface on the spacecraft to receive power and transmit data.
The U.S. Air Force is evaluating placing innovative research experiments and space weather sensors on Iridium satellites. Other government agencies could fill the hosted payload capacity with Earth observation or communications payloads.
The federal government is seeking commercial solutions for many space missions to reduce costs.
With Thursday's announcement, Orbital and Iridium will work together to market the hosted payload capacity to the government market. Orbital would also be responsible for integrating the hosted payloads on Iridium spacecraft at its Arizona facility.
In an Iridium press release, company CEO Matt Desch said he expects to announce further hosted payload deals in the next 12 to 18 months.
Desch foresees hosting a combination of payloads on some individual satellites, rather than spreading secondary payloads across all 66 primary Iridium Next spacecraft. The other 15 satellites will be spares either launched into space or kept on the ground.