Wife of space shuttle commander shot in Arizona
BY WILLIAM HARWOOD
STORY WRITTEN FOR CBS NEWS "SPACE PLACE" & USED WITH PERMISSION
Posted: January 8, 2011


Rep. Gabrielle Giffords, 40, an Arizona Democrat married to veteran astronaut Mark Kelly, was shot in the head during a public meeting outside a Tucson supermarket Saturday. A dozen bystanders also were shot -- and some reportedly killed, including a 9-year-old child -- when a lone gunman allegedly opened fire.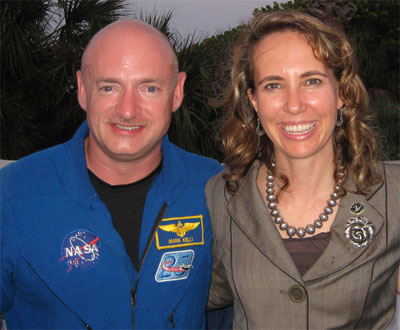 Space shuttle commander Mark Kelly and Rep. Gabrielle Giffords, who were married in 2007. Credit: Giffords Flickr photostream



Scheduled to command the shuttle Endeavour in April, Kelly immediately flew to Tucson from Houston, officials said. His twin brother Scott, in orbit commanding the International Space Station, was informed of the shooting by flight controllers at the Johnson Space Center.

"She's in critical condition," said Peter Rhee, a surgeon at the University of Arizona trauma center where 10 gunshot victims were taken. "The neurosurgeons have finished operating on her and I can tell you ... I'm very optimistic about recovery."

He said he was optimistic "because she was following commands. She was shot one time, in the head, through and through. I can't tell you right now, obviously, for forensic purposes what direction (the bullet went). But she was shot through and through on one side of the head. It went through her brain."

Asked if he was optimistic about a full recovery, Rhee said "we cannot tell what kind of recovery, but I'm about as optimistic as it can get in this situation."

President Obama said in a statement the shooting was "an unspeakable tragedy."

"While we are continuing to receive information, we know that some have passed away, and that Representative Giffords is gravely wounded," he said. "We do not yet have all the answers. What we do know is that such a senseless and terrible act of violence has no place in a free society. I ask all Americans to join me and Michelle in keeping Representative Giffords, the victims of this tragedy, and their families in our prayers."

The shooting occurred in front of a Safeway supermarket in Tucson where Giffords was hosting an event called "Congress on Your Corner" intended to let members of the 8th Congressional District to meet their congresswoman.

According to The New York Times, a former emergency room doctor who witnessed the shooting said the gunman approached Giffords from behind, "held a gun about a foot from her head and began firing."

"He must have got off 20 rounds," the witness told the Times. The gunman was tackled by bystanders and later was identified as Jared Laughner. Police said he used a pistol with an extended magazine.

Some initial media reports said Giffords was killed, but other officials later said she was alive, in surgery and in critical condition. By 4 p.m., officials were saying she was expected to survive, which Rhee later confirmed.

"I am horrified by the senseless attack on Congresswoman Gabrielle Giffords and members of her staff," said Speaker of the House John Boehner, R-Ohio. "An attack on one who serves is an attack on all who serve. Acts and threats of violence against public officials have no place in our society. Our prayers are with Congresswoman Giffords, her staff, all who were injured, and their families. This is a sad day for our country."

Elected to the House in 2006 and only the third Arizona woman to serve in Congress, Giffords was considered a centrist Blue Dog Democrat and a supporter of the military and immigration control. She is a member of the House Committee on Armed Services, the Committee on Foreign Affairs and the Committee on Science and Technology.

Giffords was unusually accessible and held scores of public meetings, prompting the Arizona Republic to dub her "the Energizer rabbit with a brain." The Washington Post quoted former Labor Secretary Robert Reich as saying "I wouldn't be surprised if she's the first or second female president of the United States. She's of that caliber."

In her capacity as chairwoman of the Subcommittee on Space and Aeronautics, Giffords played a key role in recent debate over NASA's future direction and was widely respected for her thorough knowledge of the issues. She married Kelly, veteran of three shuttle flights, in November 2007.

An ardent supporter of the manned space program, Giffords questioned the Obama administration's decision to scuttle the Constellation moon program, an initiative promoted by President Bush, and the Ares rockets NASA was designing to replace the space shuttle.

The administration's change of course was based in large part on a report by a presidential panel led by aerospace executive Normal Augustine that concluded the Constellation program was not sustainable given realistic budget expectations. The panel supported a shift to commercial launch providers in the near term and development of a new heavy lift rocket for deep space exploration in the long term.

But the Augustine panel also said NASA would need significant additional funding to make any manned space option viable.

Giffords was critical of the Augustine panel's options, saying "I thought we were going to take a hard, cold, sobering look at the Constellation program and tell us exactly what we needed to do here in Congress, with our budget, in order to maximize the chances of success. But that's not what I see."

"Instead of focusing on how to strengthen the exploration program in which we've invested so much time -- four years, billions of dollars -- we have a glancing attention to Constellation, even referring to it in the past tense in your summary report and instead spending the bulk of the time crafting alternative options that do little to illuminate the choices that I think are really confronting the Congress and the White House.

"So where does that leave us? I think in place of a serious review of potential actions that could be taken to strengthen and improve the Constellation program, we've been given a set of alternatives that in some sense look almost like cartoons, lacking detailed costs, schedule, technical, safety, other programmatic specifics that can't be subjected to the rigorous and comprehensive analysis and validation that NASA's required to go over.

"So I guess I'll ask my colleagues on this committee, what are we going to do with this report? I know that we are going to see more details. But in the absence of mismanagement or technological show stoppers ... none of which the Augustine panel has indicated has occurred in this program, can any of us in good conscience recommend canceling the exploration systems development programs that Congress has funded and supported over the past four years?"

Giffords said she did not see "the logic of scrapping what the nation has spent years and billions of dollars to develop."

"And for the nation's sake, I hope we can break this cycle of false starts that was mentioned by many of my colleagues before," she said. "The future of America's human spaceflight is really at risk. And I'm hoping before the panel is dismantled we can get some real, solid numbers ... so we can make the decisions as to what to do with our future in manned spaceflight."

Giffords strongly disagreed with a compromise later put forward by the Senate, and ultimately approved by the administration, that called for an additional shuttle flight and immediate development of a new heavy lift rocket to replace the shuttle.

Speaking on the House floor before a key vote Sept. 30, Giffords said the legislation "lacks serious budgetary discipline" and includes an "unfunded mandate to keep the shuttle program going through all of fiscal year 2011 even after the shuttle is retired, which NASA estimates will cost the agency more than half a billion dollars."

Giffords criticized the proposed heavy lift rocket as a launcher designed "not by our best engineers, but by our colleagues over on the Senate side. By NASA's own internal analysis, they estimate this rocket will cost billions more than the Senate provides."

"In short, the Senate bill forces NASA to build a rocket that doesn't meet its needs, with a budget that's not adequate to do the job and on a schedule that NASA's own analysis says is unrealistic," Giffords said. "That is not my idea of an executable and sustainable human spaceflight program."