'Human-rating' document hits the Web with new name
BY STEPHEN CLARK
SPACEFLIGHT NOW
Posted: December 16, 2010


DENVER -- NASA last week released updated requirements for commercial space operators to meet when carrying NASA astronauts to the International Space Station, but the agency says not to call it "human-rating."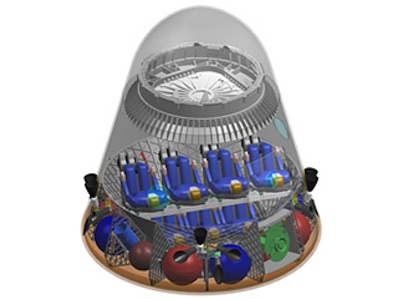 Cutaway view of the SpaceX Dragon spacecraft in crew configuration. Credit: SpaceX



The document released Dec. 10 is the second iteration of an evolving set of requirements, standards and processes the agency will levy upon commercial space vehicles with NASA crews.

After considering recommendations from industry following the release of a commercial human-rating plan in May, NASA published and baselined a consolidated list of criteria in a document named "Commercial Crew Transportation System Requirements for NASA LEO (low Earth orbit) Missions."

Why the name change?

NASA wanted to avoid confusion between standards for commercial spaceflights to the space station and government-run exploration missions to deep space destinations, according to Michael Braukus, an agency spokesperson.

"If NASA were to say a system is human-rated, then people might think it was safe to fly that system to the moon or to Mars, when, in fact, the certification is tied to a specific mission," Braukus said in an e-mail Wednesday. "Thus, we are now using the term "ISS crew transportation system certification" as opposed to the generic term of "human-rating."

The certification requirements include basic standards dictating the spacecraft should provide a safe and habitable crew environment, have failure tolerance to avoid catastrophic events, be designed to overcome some instances of human error, and accommodate equipment permitting the crew to monitor and control the vehicle.

Other standards include the ability to evacuate the craft unassisted on the launch pad and after landing, plus execute an abort during ascent on computer, crew and ground commands.

The 39-page document also sets minimum risk metrics for catastrophic failures resulting in crew fatalities.

The probability of loss of crew in a 210-day mission to the space station should have a mean value no greater than 1-in-270. Loss of crew probabilities during launch and re-entry should each be 1-in-1,000 or less in each phase of flight.

NASA is tailoring the standards released last week into a specific set of programmatic requirements for space station crew transportation missions, according to a posting on the agency's website.

Called 1100-series documents, the more detailed guidelines will be released in their entirety in early 2011 for review by the companies that could be developing and operating the spacecraft.

The five 1100-series documents outline mandatory crew transportation certification requirements, technical, safety and crew health specifications, the roles of NASA and industry and how to achieve government certification, design reference missions and goals for a space station human transportation system, and ground and flight operations processes.

While the broad certification document released Dec. 10 only runs 39 pages, the 1100-series specifications reportedly run hundreds of pages each.

NASA expects to finalize the 1100-series documents by the end of March 2011, about when the agency plans to award the second round of seed money for the Commercial Crew Development program, or CCDev 2.

All documents will include "rationale" sections describing the intent and reasoning for each requirement. The rationale statements are the result of industry feedback since May, according to NASA.

In the website update accompanying the document release, NASA said they want to ensure the documents are "not overly burdensome" and give companies "maximum flexibility" in their development.

"There are some communities that feel more requirements are appropriate," the update said. "Others feel fewer requirements are better. NASA is attempting to balance these competing interests into the development of a set of documents that will enable our commercial partners to apply innovative solutions while leveraging NASA's extensive experience with respect to safe human spaceflight."

In addition to ideas from potential commercial providers, NASA also looked internally for guidance in assembling the certification criteria. The agency's safety and mission assurance office, chief engineer and health divisions, space station, space shuttle and launch services programs, and the commercial crew planning office all provided input.

Companies have been seeking a single set of standards on which to design crew transportation spacecraft. Before May, NASA had no public documents suitable for the new commercial crew effort, which was greenlighted by the White House in its annual budget request in February 2010.

Congress approved funding of the program, albeit at reduced levels, this fall. But lawmakers still have not appropriated next year's federal government budget, leaving NASA and other agencies operating on stopgap funds.