NASA chooses Atlas 5 rocket to launch MAVEN to Mars
BY STEPHEN CLARK
SPACEFLIGHT NOW
Posted: October 21, 2010


NASA has selected an Atlas 5 rocket to launch an orbiter in November 2013 to study the ancient climate record of Mars, the agency announced Thursday.


| | |
| --- | --- |
| | File photo of the an Atlas 5 rocket liftoff. Credit: Patrick Corkery/United Launch Alliance |
The Mars Atmosphere and Volatile Evolution, or MAVEN, spacecraft will collect the most detailed data ever obtained on the Red Planet's atmosphere. Scientists expect MAVEN will help unravel the mystery of how Mars transitioned from a wetter, warmer planet to the barren landscape of today.

The MAVEN spacecraft will blast off in November 2013 on a United Launch Alliance Atlas 5 rocket from Cape Canaveral, Fla. The mission will use the Atlas 5's basic configuration with no solid rocket boosters, a single-engine Centaur upper stage and a 4-meter payload shroud.

The preliminary launch period, when the orbits of Earth and Mars are properly aligned for an interplanetary journey, opens Nov. 18 and closes Dec. 7 in 2013. MAVEN will arrive at Mars in September 2014.

The total value of the launch service is $187 million. That cost includes the Atlas 5 rocket and additional contracts for payload processing, launch vehicle integration, mission-unique ground support, and tracking and telemetry services, according to a NASA press release.

The MAVEN agreement is the agency's first launch deal under the second NASA Launch Services contract announced in September. The new NLS contract covers launches of robotic NASA spacecraft for the next decade.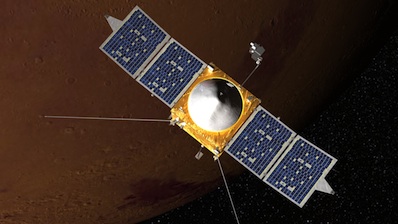 Artist's concept of the MAVEN spacecraft circling Mars. Credit: NASA/GSFC



MAVEN's launch contract was held up after the last NLS deal expired June 30, according to a senior NASA official.

NLS contracts are multiple award indefinite delivery, indefinite quantity pacts with launch companies covering potential flight opportunities. NASA can order up to 70 missions in the new NLS contract for a maximum value of $15 billion.

Managed by NASA's Goddard Space Flight Center, MAVEN received management approval to proceed into full development during an Oct. 4 confirmation review. That decision point followed a successful preliminary design review this summer.

The MAVEN spacecraft is a downsized version of the Mars Reconnaissance Orbiter bus built by Lockheed Martin Corp. The mission's cost is $438 million, not counting the launch services contract unveiled Thursday.